A daily series, Connect! Unite! Act! seeks to create face-to-face networks in each congressional district. Groups regularly socialize but also get out the vote, support candidates and engage in other local political actions that help our progressive movement grow and exert influence on the powers-that-be. Visit us at Daily Kos every morning at 7:30 A.M. Pacific Time to see how you can get involved. The comment thread is fun and light-hearted, but we're serious about moving the progressive political agenda forward.
The orange pinpoints are the location of each organized group of Daily Kos readers.
If you'd like to join a group, click on a point and a box will pop up showing contact links.
If you'd like to start a group, contact navajo for instructions.
View Interactive Map of Daily Kos Regional Communities in a full screen version.
Welcome to WHAT IF Wednesday!
WHAT IF... Imaginary or Mythological critters were REAL?
If Unicorns and werewolves and flying horses were real, which one would you like to have for a pet/companion?
Me? I would want a Dragon from PERN. Like young Jaxom, pictured here with Ruth the White Dragon: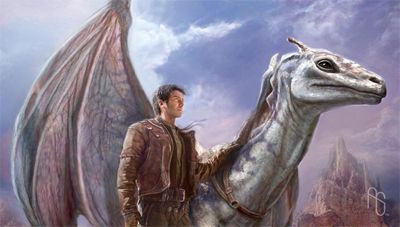 "Jaxom and Ruth"
© Aaron Sims Agency, all Rights Reserved
I was going to limit the choices to non-sentient critters, but I couldn't do that, because the Pernese Dragons are sentient, as are Werewolves and Mermaids and a variety of other non-human beings.
So go all out and think of the strangest and most interesting mythological or legendary critters of all time, and tell the rest of us which one of them YOU would most like to have as pet or companion.
Here's some assistance for those without a favorite at hand:
List of mythical creatures, organized by type
List of mythical creatures, organized alphabetically
30 mythical humanoid creatures



as always...


#StrongerTogether for a better future for OUR posterity
Please be sure to open a new tab to www.NetrootsRadio.com and listen along to:

The After Show
Hosted by justiceputnam and winkk
8:00 am PST each weekday

The Kagro in the Morning Show
Hosted by David Waldman and his DKos Crew
6:00 am PST each weekday.

Jibber Your Jabber with Wink
Hosted by Wink Edelman
9:00 pm PST Wednesday and Sunday.
Latest Updates on Regional Meet-Up News Can Be Found Below the Orange Group Hug.