Holy Bush
, look at this, Republican administrations are bad for American Workers. You can just slap me stupid and call me Rummy.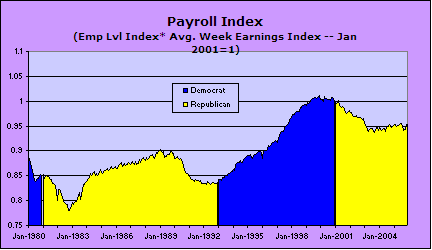 Today's topic in the endlessly interesting (for data freaks) Jobs in America Series is the growth of wages over the Reign of King George II, Royal Emperor of the Kingdom of Bribealot. All Hail the King, kneel before his Highness, else you may be hit with the royal bull excrement which flows from his magnificence. Bow especially deep if he and the Members of The Royal Court are discussing the economy.
In the previous three episode a few brave souls sat through endless charts detailing Unemployment (Vol.I), Employment by Age (Vol.II), Employment by Industry (Vol. III), so now I'll take you on a fantasy tour of Workers Wages.
Please join me below the fold, Hands and Feet must remain inside the car at all times, No Flash Photography please.