Yonkers, NY, is the 4th largest municipality (by population) in New York state. It's nickname is The City of Vision. Believe it or not, Yonkers was once the birthplace of the elevator, synthetic plastic, and the first golf course in these United States.
Recently, that vision has dimmed, and Yonkers is at risk of being the birthplace of something far less uplifting than the elevator.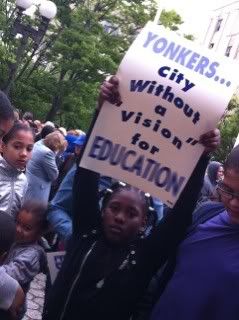 A few weeks ago, our mayor presented a city budget that cuts $42million from Yonkers public schools, while every other municipal division (police, fire, sanitation, mayor/council offices) remained intact. One consequence has been the decision of the superintendent to pinkslip more than 700 teachers and support staff (school psychologists, teachers' aides, bus monitors) due to the elimination of prekindergarten and reduction of kindergarten to half-day status. The Yonkers Public Schools (YPS) are also cutting high school sports and extracurricular programs, and would cut art and music, but those were already eliminated in the last few years, and there's nothing there left to cut.
I, along with a growing group of parents in Yonkers, have been active in speaking at rallies, city council open hearings, calling state representatives and city council members, and writing letters to local newspapers. It seems the more information we gain, the more convoluted and confused the situation appears to be...