This sentiment pretty much nails what I thought about him for many years after I was first introduced to his story & his writings in the wake of discovering Allen Ginsberg & the other Beats my freshmen year of college. The first Burroughs book I read was Naked Lunch – in hind sight probably not the best one to begin with but the one that got & still seems to get all the "press." When I finished it the first time, I didn't know what had hit me, pretty much resolved that he was a shady (to be charitable about it) character, and decided not to read any more of his books.
I revisited that attitude after Mr. Burroughs' death in early August 1997 (just a few months after Allen Ginsberg's death). By then, I knew much more about these artists & authors who dared to be different during a time in the 1940s & 1950s when it was dangerous to do so. So, in what I believed at the time to be an attempt to 'honor him,' I gave Naked Lunch another chance. While on some levels I better understood what Mr. Burroughs was trying to do in that book, it still pretty much zapped my brain & left me shaking my head at the end of it.
Soon after that, I was at the Borders bookstore (remember Borders?) north of my house, and there was a big Burroughs tribute display I decided to check out. Part of that display included 2 books I'd never heard of – The Cat Inside and Last Words: the Final Journals of William S. Burroughs.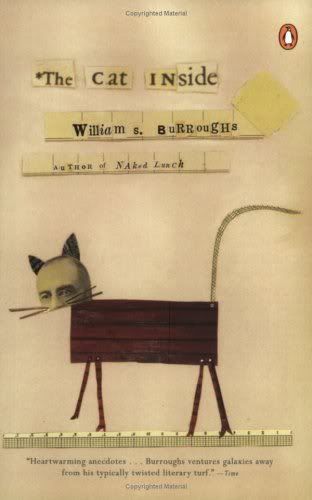 A quick perusal of those books made me realize there was much more to William S. Burroughs than Naked Lunch & what I thought I knew about him up to that point. So, today, on the 100th anniversary of his birth in St. Louis, I present my tribute to him – part biography & part apology for my short – sighted judgmental attitude I held about him for a number of years during which time I was introduced to & knew people who knew him and who could've introduced me to him, but I was still "too creeped out" to take advantage of the opportunity; I will regret that decision for the rest of my life.