From today's Democracy Now!:

AMY GOODMAN: We go now to two guests. Rann Bar-On is an Israeli peace activist who participated in Saturday's protest in Haifa. He is a lecturer in mathematics here in the United States at Duke University. He has been in Haifa visiting his parents for the last two weeks. And Max Blumenthal is with us, senior writer for AlterNet.org, best-selling author. His recent book, Goliath: Life and Loathing in Greater Israel.

We welcome you both to Democracy Now! Let's start in Haifa. I want to start by asking you, Rann Bar-On, what happened in this peace demonstration?

RANN BAR-ON: Hi, Amy. We were about three or four hundred left-wing activists demonstrating against the war, for peace between Arabs and Jews, refusing to be enemies. As we arrived, my partner and I saw well over a thousand activists from—militant activists from the right, surrounded by police and others, screaming, "Death to Arabs! Death to leftists!" As we were protesting, they moved towards us. The police allowed them to move towards us. The police allowed them to attack us, to throw stones at us. Later on, as we were trying to leave, the police took—the police did not attempt to allow us to leave. They took over an hour to evacuate us while we were under heavy attack by stones and other missiles. Many were injured. We've had over 30 injured. Two women are still in hospital. There were gangs roaming the streets, beating up anyone they thought was an Arab or member of our demonstration. The police were—

AMY GOODMAN: Rann Bar-On, can you explain why you went out into the streets to protest?

RANN BAR-ON: Absolutely. I believe that what Israel is doing in Gaza is a racist attack. It is not self-defense in any way. And it is a continuation of Israeli policy that has always discriminated against the Arab population. What happened to us at the protest is not new. This is something that is a trend that has been continuing for many years. There has been much incitement from the political class that has allowed even so-called moderate right-wingers to join cries saying, "Death to Arabs! Death to leftists!" and attacking activists and Arabs in the street.
Goodman continued by interviewing Max Blumenthal, who made the argument that Israel is becoming fascistic in his book
Goliath: Life and Loathing in Greater Israel
:
MAX BLUMENTHAL: Well, I guess I hate being vindicated for the facts that I produced in this book, that I described in this book, the facts on the ground inside Israeli society. And what we saw in Haifa, what I understand, is that these right-wingers who attacked Rann and other leftists, who are heavily demonized in Israeli society, incited against at the highest level by figures like the foreign minister, Avigdor Lieberman, that these right-wingers arrived in buses, that this was a very organized attack. It's apparent to me that extreme right-wing elements have infiltrated the police, which have allowed them to attack leftists across Israel, to attack antiwar protesters. They've infiltrated them much in the way that Golden Dawn has done in Greece.

The right wing, the current inception of the street-level right wing, which kind of acts as the street muscle for Netanyahu's governing coalition, particularly the right-wing elements represented by Naftali Bennett of the Jewish Home Party, they are not just settlers or religious nationalists. Many of them were army reservists, who came together as part of the orange cells that protested the withdrawal from the Gaza Strip in 2006. They formed a group called Im Tirtzu, which intimidates leftists and Palestinians on college campuses across Israel. And they are still a major part of the army, including the army officer corps. So the violence that we're seeing in Gaza is not just related to a particular military strategy; it's also influenced by the ideology that has captured the hearts and minds of these young men who have learned to demonize the other and see Palestinians and antiwar and human rights elements as absolutely subhuman. It's playing out unofficially through a vigilante campaign in Israel, but in Gaza what we're witnessing is the official revenge campaign orchestrated by Netanyahu and the military.
An article in the
Jewish Daily Forward
describes the same event:
hat all changed recently, on the evening of July 12, when a group of several dozen extreme-right activists, some of them wearing T-shirts with neo-Nazi designs, attacked a peaceful demonstration against the carnage in Gaza and the targeting of civilians on both sides — and for a cease-fire and peace. The right-wingers announced in advance that they would be coming to physically assault us in the protest. However, police paid no heed to the warnings, nor to the threats made on the scene when the protest began, nor to our requests that the very few police officers present would call for backup and try to physically separate the two demonstrations.

When the air raid sirens wailed in Tel Aviv that evening, we knew one thing for sure: The thugs in front of us were more dangerous than the rapidly approaching Hamas-fired rockets. While the Iron Dome intercepted the rockets, by the evening's end one leftist activist was injured and hospitalized, an independent journalist had his video camera stolen and dozens of others were hit, pushed, thrown to the ground or had eggs thrown at them. Two local coffee shops were vandalized as the right-wingers suspected that demonstrators were hiding inside.

Now, I've been shot at, beaten, arrested and spent two years in prison for conscientious objection, but this brutal attack by dozens of bullies chanting, "Death to Arabs" and "Burn the leftists" — just two weeks after a young Palestinian boy was torched to death — was one of the most frightening experiences I've ever encountered.

One of the organizers of the mob, a local rapper dubbed "The Shadow," later took to social media to express his pride in having given peace activists a lesson that nowhere can they protest in safety, not even in Tel Aviv, and mentioned how police on the scene showed their support for his actions. Not a single attacker was arrested, by the way, despite the fact that the attacks took place right in front of trained riot policemen. An official police representative later explained this by saying that "no one pressed charges." Violent threats toward leftists by "The Shadow" and others continued on social networks and in the comment sections of media outlets in the days to come, creating a very real and physical fear among many activists.
Israel is a fascist state. And yet we give them a totally unbalanced amount of foreign aid (graph from vox.com):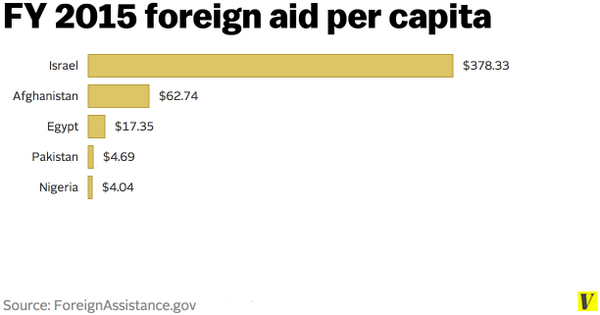 Why? Because game recognizes game.