Civilian employment data has long been recognized as the lagging indicator of economic recovery from a recession - and for good reason. Businesses operating without the means to maintain or augment their workforce numbers and/or compensation are hesitant to invest in such draining factors affecting their business.
That being said, there is a disturbing disconnect between some economic indicators that suggest conditions are ripe for business investment in labor and negative employment data recently released by the Department of Labor. As you already know, unemployment has been creeping up to its present 10.2% mark since it began rising in the spring of 2008. Below is a chart detailing unemployment activity during the past several quarters: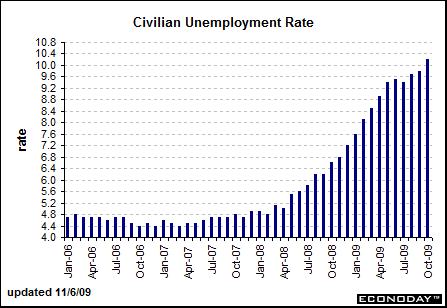 *Source: Haver Analytics
The $64,000 question is: When will unemployment begin to recede? According to recent data related to nonfarm productivity, labor, Business Fixed Investment (BFI), and Net Cash Flow, perhaps the answer rests with private-sector businesses decision-makers. Please follow me below the fold for a look.