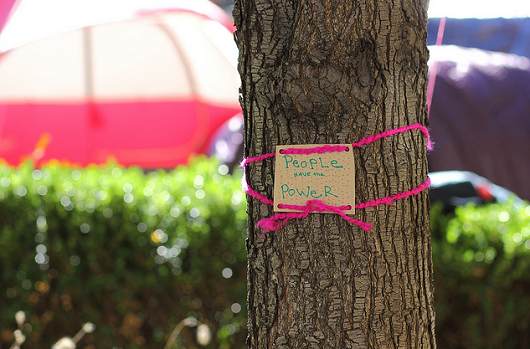 By Jeff Cech – Pittsburgh, Pennsylvania
Ed. - Working America Canvass Organizer Jeff Chech was a founding member of Occupy Pittsburgh. On November 14th, the Pittsburgh City Council surprised many observers when it issued a resolution in solidarity with Occupy Pittsburgh.
However, BNY Mellon is lobbying the city government to evict the encampment. We urge readers to call Pittsburgh Mayor Luke Ravenstahl at 412-255-2626 and ask him to stand with the City Council, the 99 Percent, and the First Amendment – not big corporations like BNY Mellon.
Occupy Pittsburgh got its start with a gathering of 400 in a local church on October 5, 2011. After several more of these "General Assemblies" and hours of discussions and preparation, we marched to the location of our current encampment on October 15th. That day we left from Freedom Corner, the place where African American demonstrators in Pittsburgh met and marched from during the Civil Rights Movement, and moved nearly 4,000 strong into downtown.
The turnout for our inaugural march and rally was evidence that the Occupy message resonates with the American people across a broad range of economic, political, social, and geographical demographics. Many recognize that it's time to throw off the chains of Wall Street and the big banks and demand economic fairness.
Anyone confused about Occupy's primary, driving concern need to hear only one of its rally cries: "Banks got bailed out, we got sold out."
Occupy Pittsburgh is the only encampment in the country that sits on bank property. Taking land from the bank sends a loud and clear message about the movement, both to its supporters and its opponents.
The BNY Mellon Green is a piece of privately owned green space within Pittsburgh's Golden Triangle. A city ordinance states that privately owned parks in that area must be "free and open to the public without restriction." While allowing camp-outs may not be the original intent of that law, it provided a stronger, more legally defensible way of staging an occupation than camping in a city park, and it saved us from immediate confrontation with police.
The first night of camping was trying. When we got on site, the ground was swampy. A rumor spread that BNY Mellon Employees had been seen hosing down the grass the night before to make the space unusable. I didn't bring a tent with me, so I laid down a tarp and my sleeping bag and fell asleep - not beneath any visible stars, but looking up at skyscrapers crowned with glowing monikers Mellon, UPMC, Citizens Bank, ALCOA. I lay down at the feet of giants, and woke up about an hour later with the feet of a rat on my head. I jumped out of my sleeping bag and paced for most of the remaining night. The next day I got a tent.
Occupy Pittsburgh has been on the BNY Mellon green for two months now. We have a food tent, a library, a medical tent, and much more in our community. On Sunday, December 11th we have planned a day for camp reorganization, cleaning and winterization. It will be an all-day event getting the site ready for the harsh winter months ahead. This event seems to have upset BNY Mellon.
The bank, we're told, assumed that we would go home once it got cold. Now that we've proven our staying power, the giant is grumbling. Word has gotten to us that BNY Mellon has been contacting city government officials and pressing for our forced removal. The last several days have been filled with emergency Occupy Pittsburgh meetings. We're trying to learn exactly when the raid is planned. Pittsburgh's mayor says that he wouldn't allow for our eviction without a court order, but there's some speculation around how long it would take BNY Mellon's team of high-priced lawyers to have one issued. A day? Five minutes?
No matter when it comes, or what happens to the tents, you can't tell a People's Movement to get off of your lawn and expect it to disappear. Occupy is building strength. Its age is still measured in months and weeks, but we know that making real progress often takes years. The Civil Rights Movement lasted more than a decade, and got stronger with every step forward. Occupy will follow the same course. It may take time, but we're ready to keep pushing ahead.
Originally Posted on Working America's Main Street Blog.