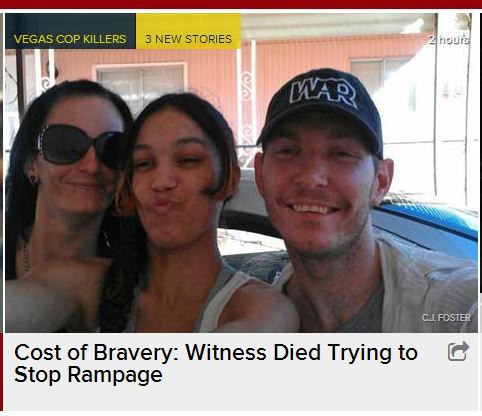 NBCnews.com is currently running a front page story about Joseph Robert Wilcox, the man who was shot in Las Vegas after confronting the insane domestic terrorist couple, Jerad and Amanda Miller.
The headline on the piece reads "Cost of Bravery."
This will not be a long or complex diary. I just want to say that Joseph Robert Wilcox was undoubtedly brave -- but he was also a victim of wingnut, NRA propaganda and his blood is most assuredly on the hands of Wayne LaPierre and every concealed-carry ranter who ever led cheers for the power of "a good guy with a gun."
I am beyond hoping that incidents like these will do anything to change gun culture in this country. But maybe pointing out how this ugly reality differs from the outcome of a John Wayne western might be a start.
And maybe it also starts with not celebrating Joseph Robert Wilcox as a brave hero, and recognizing instead that he is just another in an unending line of gun-violence victims.