silence








.is
a
looking








bird:the








turn
ing;edge,of
life








(inquiry before snow
Continue Reading
There's a deer inside the elk fence.
I heard something outside and was wondering. (When one lives inside an elk exclusion fence, one tends to listen for noises like that, even if unconsciously.)
It's night, dark and quiet, a clear sky after today's hours of downpour.
I'm not sure how it got past the perimeter and into the compound The gates are closed. It's possible that since a deer is smaller than an elk it squeezed in somewhere we weren't expecting.
Continue Reading
All wailing wailers people, wi you don no say, this is the 50th anniversary of the Wailers, from 1962 to 2012

Now, this one is taken from the chronicles of the Original Wailers to you from the son of Marley (Kymani) the son of Tosh (Andrew) and yours truly Jah Bunny Wailer - the Wailers
-Bunny Wailer
Continue Reading
SEC filings, press releases, and other contemporaneous documents released between 1997 and 1999 indicate that Mitt Romney may have parlayed a $23m investment and seat on the board of troubled software firm The Learning Company (TLC) into an ownership stake in Mattel, Inc. worth as much as $100,000,000 as of June, 1999.
On September 25 of that year, Romney, in his role as CEO of the 2002 Salt Lake City Olympic Organizing Committee, stood before the world to announce that the SLOC had signed an exclusive licensing agreement with Mattel for the production of stuffed-animal representations of the Olympic mascots.
Romney made no mention of his personal ownership interest in Mattel. Less than two weeks later, Mattel made a bombshell announcement.
On October 4 Mattel disclosed that The Learning Company had incurred millions in product returns and bad debt write-offs and that the TLC division of Mattel would incur a $50-$100 million loss rather than the large profit that had been forecast previously.
Mattel, whose stock had traded as high as $27.23 when the TLC merger was completed, at $24.14 on June 25 (the date upon which Romney's ownership is documented and worth estimated), closed at $11.69 on October 4.
CNBC would later label the Mattel/TLC merger as 'one of the five worst of all time.'
The market had discovered, and Mattel had admitted, that The Learning Company was essentially a worthless shell.
Mitt Romney, by virtue of his control of a seat on the TLC board, would have most certainly known this to be true.
Thus, and by virtue of his statement of 25 September, 1999, Mitt Romney exposes himself to the potential for very serious allegations of fraud, namely:
That he used his position as CEO of the SLOC to influence the choice of Olympic sponsors and licensees to his own personal benefit.
That he used his position as CEO of the SLOC to make public statements about the health of Mattel which he knew or should have known, to be materially false.
That he used his position as CEO of the SLOC to influence the investment decisions of shareholders or potential shareholders of Mattel, or to influence the price of Mattel's stock, while failing to disclose his own material interest in Mattel.
That he failed to disclose to the SLOC, to the USOC, and to the IOC, a clear conflict of interest with respect to his ownership status in Mattel.
I'm missing two key pieces of information, however. The first is a primary citation of the June 22, 1999 Bear Stearns report timestamping Lee, Bain, and Centre's Mattel ownership on that date. That document either does, or does not exist. If it exists, I need it.
The second is harder: Between June 22 1999, through September 25, and into October 4, what happened with Romney/Bain's (estimated) 4.1 million shares of Mattel? Did they sit on them, dump them, what? Is it possible to know? How much does it matter if the June 22 date can be validated?
Either this is some serious stuff, or I've managed to foolishly convince myself that it is. I've been looking at it since I started researching my previous diary: Mattel Toys, troubled firm partly owned by Bain, signs on as Olympics Sponsor, 9/25/1999. At the time, it looked like there could be some evidence of petty graft with respect to the stuffed animals. This could be magnitudes worse.
Right now I need your help. Please read it. Try to follow my argument, try to tear it apart or show me where its holes are. Let me know where you need clarification or are confused.
Thank you.
Continue Reading
You show up exhausted from your flight in to SLC, but you're quickly whisked away to your room at the Marriott, where a brand new Sealy mattress awaits you.
On the mattress lie three cute stuffed animals in the likeness of the Olympic mascots, you pick one up to snuggle and notice the Mattel logo on the tag.
As you step to the washroom to rinse your face, you notice, next to the hygienically sealed bar of soap, an equally hygienically sealed item, a small commemorative pin, you pick it up to take a closer look:
Continue Reading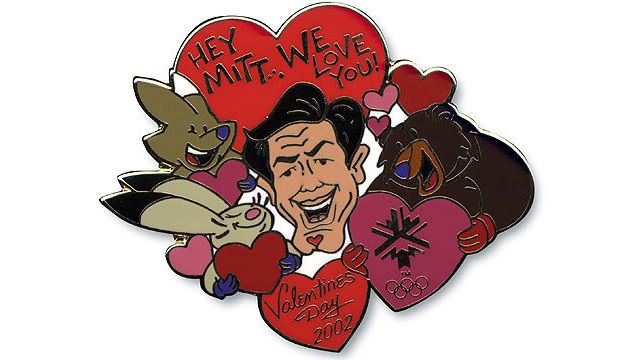 A toy company pays the 2002 Salt Lake Olympic Committee (SLOC) a million dollar licensing fee for the rights to produce and sell stuffed animal likenesses of the Olympic mascots.
The SLOC makes an honest mil, and children everywhere smile.
But when the CEO of the licencor is the CEO and owner of a company with an ownership stake in the licencee, and when both of those CEOs are named Mitt Romney, you know there is a bigger story there, and you know that things are about to get interesting.

September 25, 1999
By Jerry Springer
Desert News Staff Writer

Mattel To Bring Mascots to Life
Toymaker signs on as Licensee for 2002 Games

On Friday the Salt Lake Organizing Committee, announced that Mattel, the renowned maker of such toys as Barbie, Cabbage Patch Dolls, Chatty Kathy, and Hot Wheels, has signed on as a Games Licensee. The deal guarantees SLOC more than $1 million in advance payments from sales royalties.

"There is no better company than Mattel to help us bring the Olympic Mascots to life for children of all ages." Said SLOC President Mitt Romney.

Romney said SLOC was immediately drawn to Mattel because of the company's worldwide reputation and an existing distribution network rivaled by no other toymaker. "To have a toymaker of Mattel's stature is a great benefit" Romney said. "They are a premier manufacturer."
What Mitt Romney neglected to mention on September 25, 1999 was his own personal ownership stake in Mattel, and the not quite so plush and cuddly story behind it.
Below the orange indictment we'll help #retroactively restore the record.
Continue Reading
And so the plot thickens as do the links between Bain and the 2002 SLC Winter Olympics.

Fraser Bullock (born 1954 in Alberta) is an American entrepreneur who is the Managing Director of Sorenson Capital and former COO of the Salt Lake Organizing Committee of the 2002 Winter Olympics. Prior to joining the SLOC team Bullock had run his own private equity firm.[1]

He graduated with a B.A. in 1978 and an MBA in 1980—both of the degrees from Brigham Young University.[2] Bullock has served as a director of the Utah Athletic Foundation -- the non-profit that manages the Utah Olympic Park, The Utah Olympic Oval in Salt Lake City and, to an extent, The Soldier Hollow Nordic venue—from 2002 through the present.
Fraser was among the founding members of Bain Capital and also worked at Bain & Company.
Continue Reading
Below the orange blotter please find posted an entire Grateful Dead show from the early 1990s. If that's not your thing that's cool too.
It's possibly the Flag Day 1991 show which would be June 14th, it could be a bit earlier, June 3rd. perhaps. The original YouTube poster didn't post the date or set list. It's a really polished show from the 'View from the Vault' series. Notable tunes so far include Jackaroo and Row Jimmy Row...
Continue Reading
You can add a private note to this diary when hotlisting it:
Are you sure you want to remove this diary from your hotlist?
Are you sure you want to remove your recommendation? You can only recommend a diary once, so you will not be able to re-recommend it afterwards.