Crossposted from the PeoplesView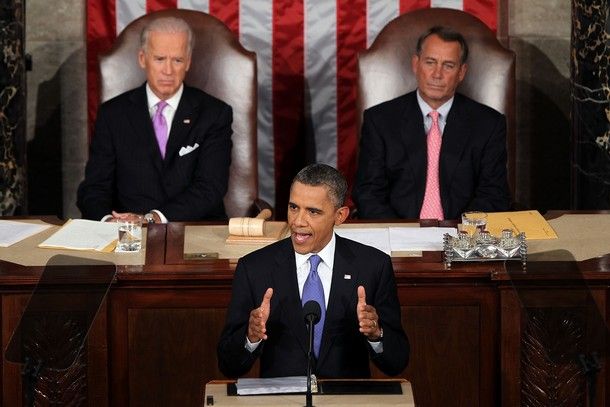 PASS THIS JOBS BILL said President Obama 17 times during his address to congress last night in his 32 minutes speech that outlined his plans to help millions of Americans left jobless by laying out a jobs package worth $447billion and calling on congress to fulfill their responsibility expected from them by the American People.
If you have not heard the speech in its entirety, please do so but I will highlight the details of what is in this jobs bill right below the video:
The president's speech was flawless, forceful, precise and detailed it included the following:
1) The plan has ideas that have been supported by both Republicans and Democrats in the past that should not be controversial and easy to pass.
2) Everything in the bill is paid for.
I am sending this Congress a plan that you should pass right away. It's called the American Jobs Act. There should be nothing controversial about this piece of legislation. Everything in here is the kind of proposal that's been supported by both Democrats and Republicans -- including many who sit here tonight. And everything in this bill will be paid for. Everything.
3) Cut businesses payroll tax in half to 3.1% (A $65 Billion payroll tax holiday) on their first $5 million in payroll in 2012 which covers about 98% of small business. In addition, a complete payroll tax holiday if they hire new workers or if they raise workers' wages by up to $50 million above the prior year.
It's not just Democrats who have supported this kind of proposal. Fifty House Republicans have proposed the same payroll tax cut that's in this plan. You should pass it right away.

4) Employee payroll tax holiday for 160 million workers that would halve the tax rate to 3.1 percent in 2012 which is one-year extension worth $175 Billion, providing a $1,500 tax cut to the typical American family.
Pass this jobs bill, and the typical working family will get a $1,500 tax cut next year. Fifteen hundred dollars that would have been taken out of your pocket will go into your pocket. This expands on the tax cut that Democrats and Republicans already passed for this year. If we allow that tax cut to expire -- if we refuse to act -- middle-class families will get hit with a tax increase at the worst possible time. We can't let that happen. I know that some of you have sworn oaths to never raise any taxes on anyone for as long as you live. Now is not the time to carve out an exception and raise middle-class taxes, which is why you should pass this bill right away. (Applause.)
5) A tax credit of $4,000 to employers for hiring long-term unemployed workers.
Pass this jobs bill, and companies will get a $4,000 tax credit if they hire anyone who has spent more than six months looking for a job. (Applause.) We have to do more to help the long-term unemployed in their search for work. This jobs plan builds on a program in Georgia that several Republican leaders have highlighted, where people who collect unemployment insurance participate in temporary work as a way to build their skills while they look for a permanent job.
6) A plan that will extend a 100 percent expensing tax break for companies who invest in plant and equipment allowing them to take immediate tax deduction.
7) Reforms regulations to help facilitate access to capital for entrepreneurs and small businesses.
Now, I realize that some of you have a different theory on how to grow the economy. Some of you sincerely believe that the only solution to our economic challenges is to simply cut most government spending and eliminate most government regulations. (Applause.)

Well, I agree that we can't afford wasteful spending, and I'll work with you, with Congress, to root it out. And I agree that there are some rules and regulations that do put an unnecessary burden on businesses at a time when they can least afford it. (Applause.) That's why I ordered a review of all government regulations. So far, we've identified over 500 reforms, which will save billions of dollars over the next few years. (Applause.) We should have no more regulation than the health, safety and security of the American people require. Every rule should meet that common-sense test. (Applause.)
8) Increased hiring tax credits for veterans from $5,600 to $9,600 to encourage the hiring of unemployed veterans.
Pass this jobs bill, and companies will get extra tax credits if they hire America's veterans. We ask these men and women to leave their careers, leave their families, risk their lives to fight for our country. The last thing they should have to do is fight for a job when they come home.
9) Ensures that up to 280,000 teacher are not laid off work while keeping cops and firefighters on the job.
Pass this jobs bill, and thousands of teachers in every state will go back to work. These are the men and women charged with preparing our children for a world where the competition has never been tougher. But while they're adding teachers in places like South Korea, we're laying them off in droves. It's unfair to our kids. It undermines their future and ours. And it has to stop. Pass this bill, and put our teachers back in the classroom where they belong. (Applause.)

10) Modernizing and renovating at least 35,000 public schools across the country
The American Jobs Act will repair and modernize at least 35,000 schools. It will put people to work right now fixing roofs and windows, installing science labs and high-speed Internet in classrooms all across this country. It will rehabilitate homes and businesses in communities hit hardest by foreclosures. It will jumpstart thousands of transportation projects all across the country. And to make sure the money is properly spent, we're building on reforms we've already put in place. No more earmarks. No more boondoggles. No more bridges to nowhere. We're cutting the red tape that prevents some of these projects from getting started as quickly as possible. And we'll set up an independent fund to attract private dollars and issue loans based on two criteria: how badly a construction project is needed and how much good it will do for the economy. (Applause.)
11) Investments in infrastructure and Infrastructure Bank to modernizing roads, rail, airports and waterways while putting hundreds of thousands of workers back on the job.
Pass this jobs bill, and we can put people to work rebuilding America. Everyone here knows we have badly decaying roads and bridges all over the country. Our highways are clogged with traffic. Our skies are the most congested in the world. It's an outrage.

Building a world-class transportation system is part of what made us a economic superpower. And now we're going to sit back and watch China build newer airports and faster railroads? At a time when millions of unemployed construction workers could build them right here in America?
12) A $49 billion, one year extension of unemployment benefits to prevent 5 million Americans looking for work from losing their benefits.
The plan also extends unemployment insurance for another year. (Applause.) If the millions of unemployed Americans stopped getting this insurance, and stopped using that money for basic necessities, it would be a devastating blow to this economy. Democrats and Republicans in this chamber have supported unemployment insurance plenty of times in the past. And in this time of prolonged hardship, you should pass it again -- right away. (Applause.)
13) A plan to allowing for Americans to refinance their mortgages at today's near 4 percent interest rates, which can put more than $2,000 a year in a family's pocket.
My administration can and will take some steps to improve our competitiveness on our own. For example, if you're a small business owner who has a contract with the federal government, we're going to make sure you get paid a lot faster than you do right now. (Applause.) We're also planning to cut away the red tape that prevents too many rapidly growing startup companies from raising capital and going public. And to help responsible homeowners, we're going to work with federal housing agencies to help more people refinance their mortgages at interest rates that are now near 4 percent. That's a step -- (applause) -- I know you guys must be for this, because that's a step that can put more than $2,000 a year in a family's pocket, and give a lift to an economy still burdened by the drop in housing prices.
I watched the speech live and I must say the delivery of the speech by President Obama was forceful and on point at times vigorous capitalizing on his oratory skills demanding action from Congress to act now with urgency. It was beautiful. I personally was very proud of my President to see once again him swing that bat hard to hit the ball out of the ball park. I liked it. I liked the fact that he is pushing back hard and taking it straight to the American people.