Republican shills for Big Carbon are launching a direct assault on NASA funding designed to gut any future enhancements to the Earth Sciences capabilities to monitor changing conditions on our planet from orbit using satellites.

House GOP Wants to Eviscerate NASA Earth Sciences in New Budget

By Phil Plait

A passel of anti-science global warming denying GOP representatives have put together a funding authorization bill for NASA that at best cuts more than $300 million from the agency's current Earth science budget.

At worst? More than $500 million.

The actual amount of the cut depends on whether some caps enacted in 2011 are removed or not. If they are, then Earth sciences gets $1.45 billion. If not, it gets $1.2 billion. The current FY 2015 budget is $1.773 billion.

Compare that with the White House request for FY '16 of $1.947 billion for Earth sciences. The bill will be marked up (amended and rewritten) by the House Science, Space, and Technology Committee today.
The authorization bill passed along party lines (19 Republicans to 15 Democrats) and will move to the House floor eventually for a vote. Rep. Edwards put in an amendment to restore the Earth sciences budget but was voted down ... again along party lines. So there you have it. If this authorization is upheld by the House, it will be reconciled with a Senate version, and then negotiated with the White House. But for now, the huge and devastating cuts to NASA's ability to monitor our warming planet will be the baseline.
From the LA Times:
The GOP attack on climate change science takes a big step forward

By Michael Hiltzik

Living down to our worst expectations, the House Committee on Science, Space and Technology voted Thursday to cut deeply into NASA's budget for Earth science, in a clear swipe at the study of climate change.

The committee's markup of the NASA authorization bill for fiscal 2016 and 2017 passed on a party-line vote, Republicans in the majority. The action followed what appears to be a deliberate attempt to keep Democrats out of the loop. According to Rep. Eddie Bernice Johnson (D-Texas), the committee's ranking Democrat, her caucus "did not even know [the markup] existed before last Friday. ... After we saw the bill, we understood why."
From the Washington Post:
Cutting NASA's earth science budget is short-sighted and a threat

By Marshall Shepherd

When I went to bed last night, I had no intention of writing this commentary. However, I literally could not sleep contemplating the reckless cuts to NASA's earth sciences budget being proposed by some in the U.S. House of Representatives.
NASA Administrator Charles Bolden, one of the few people that has actually seen our home planet from the vantage point of space, issued a statement noting that proposed cuts, "gut our Earth science program and threatens to set back generations worth of progress in better understanding our changing climate, and our ability to prepare for and respond to earthquakes, droughts, and storm events…" This statement is measured and appropriate, but I am writing to amplify this statement.

Cuts in the $300-500 million dollar range as proposed literally take NASA's earth science program from the "enhanced" smart phone era back to the first-generation "flip" phones or maybe the rotary phone. It also fundamentally challenges the Congressional mandate of the 1958 Space Act creating NASA.
NASA chief: House budget may 'set back generations worth of progress' in climate research
These Republican imbeciles and the charlatan "experts" they follow are all bought and paid for by fossil fuel billionaires like the Kochs, and other obscenely wealthy individuals blinded by their own insatiable greed.
We haven't seen such a heavy handed attack on science since 1616 when Pope Urban VIII disturbed by Copernicus' Theory of Sun Centered Universe banned its printing and publication, eventually resulting in the trial of Galileo a few decades later.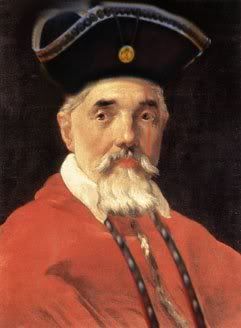 Pope Urban VIII
Role Model for House Republicans