I think we're all familiar with Obama Derangement Syndrome, I just know if it's simply increasing or morphing into Obama Omnipotence Syndrome. Two incidents in the last two days have me wondering if it's getting worse. This is probably too short for a diary, but I just had to share these two stories.
Follow me below the orange scribble.
Continue Reading
Sargent Roswell Cornell (Dory) Doremus, U.S. Army Air Force, 1942-1945 died on Friday. He was 2 weeks shy of his 92nd birthday. Dad was truly a member of Tom Brokaw's Greatest Generation.
Born just after the Influenza epidemic, he survived Scarlett fever as a child, endured the Great Depression and enlisted to serve in WWII. The Army Air Corps, in their wisdom, assigned him, a city kid who had never shot a gun to gunnery school. They then assigned his entire aerial gunnery class to be aerial gunnery instructors, so he never left the country. During the war, married my mother. After the war he traveled west and used his GI Bill to get a degree in Mechanical Engineering. I suspect he could just as easily become an Electrical Engineer since he tinkered with electrical projects his entire life. He pursued a career as a mechanical engineer and went to work nearly every day for the next 46 years, he was only involuntary unemployed for 6 months the entire time. In that time he raised 2 children and provided college educations for both of them. He leaves behind my mother, my sister and I, five grandchildren and three great grandchildren.
Continue Reading
OK, so it's been a while. Life happens. Did get a few things done though.
Framed the old plastic sign and mounted on the fence on the drive into the center.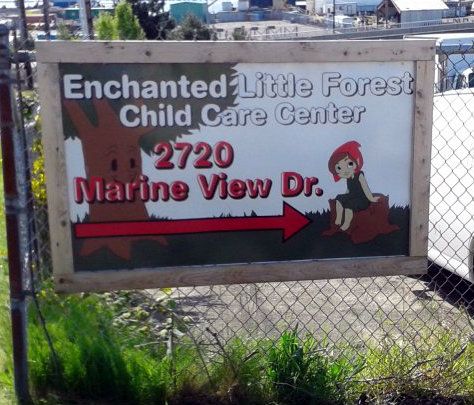 The frame is made from recycled deck boards, the plastic sign is sandwiched between the frame and the aluminum sheet that used to hold it to the fence here.
Reworked the old banner with a new phone number for the new south center.



I don't deal well with being on the second part of an extension ladder. I just know it's going to collapse under me at any moment. And this sign is a good 15' in the air. My old Boy Scout knots mostly worked on it too.
More beyond the orange Cheeto
Continue Reading
Earlier I joked that I thought that my wife and daughter were trying to save the world one child at a time. I was wrong, they are trying to save the world one child at a time. Most commercial day care centers only accept a few kids (~10%) on state assistance (DSHS). The state typically pays about 80% of the going rate for care, they pay in arrears, you have to care for the kids for the month, invoice the state and wait for the check. When we started, we needed the revenue, so we accepted DSHS. Now, we run close to 40% on assistance, including kids placed with the support and encouragement of Child Protective Services (CPS). We work with parents to keep their assistance, remind them when they have to reapply and all. We've carried more than a few families while their benefits are being reestablished. And we've certainly kept a few private pay families on board while a parent was on a layoff.
We're no stranger to family dramas, custody agreements, restraining orders and the like. So we know that some of our children have difficult histories. They might be developmentally behind, have difficult family lives, fostered, we've accepted them all.
So what makes me think we've gone beyond that?
Read on beyond the orange squiggle to find out.
Continue Reading
Well, I hate to call it the old center. Day to day we actually call the older one north, and the newer one south. As I said before, It's actually my wife's business, something for reasons that are slowly becoming clear after 2 1/2 years, that she decided that she wanted to do after her job at WAMU was eliminated in the Chase takeover. My job is maintenance, repair, bookkeeping, furniture building and sometime financier.
My wife is dyslexic, as are both of our children. I prefer that term to the "Learning Disabled" moniker that the professionals prefer to use. She may teach stubborn to Missouri mules, but she isn't learning disabled. She's clawed her way thru a public education, a Bachelor's degree, an MBA, a Chartered Financial Analyst's designation and now a certificate in Early Childhood Education is nearly in hand. She's been called dumb or stupid plenty of times along the way.
When the public schools started down that path with our kids she fought back with everything she had. She found an intense program in Atlanta for dyslexic and ADHD kids, The Schenck School, using the Orton-Gillingham approach. For our kids it was a two year immersion in phonics, math and art. There was a tremendous investment in building / rebuilding the kid's self esteem after suffering the slings and arrows of misplaced understanding. Ten percent or more of the population is dyslexic. Famous dyslexics include Einstein, Da Vinci, Thomas Edison, Tom Cruise, heck even Fonzie (Henry Winkler) People with Dyslexia It's the kids who suffer the most. Most schools aren't set up to deal with dyslexia, and many educators refuse to believe it exists. Unknowing teachers and school age cruelty take their toll on dyslexics.
I think this business is her way to save them all.
Let's get to the heavy lifting on the other side of the squiggle.
Continue Reading
By small businesses, I'm not talking about some Department of Commerce "small business", with 500 multimillionaire partners, I mean small mom and pop outfits that are so small they could disappear tomorrow. I had intended this to be about the small businesses that helped us get going and thru some some tough spots. I'll get to them, but there are some other organizations I should mention first.
The first two are The Everett Herald and Kimberley Clark. Kimberly Clark obviously isn't a small business, the Herald seems like a small business until you discover it's owned by The Washington Post. Back in the Mid '80's both organizations agreed to establish a day care facility for their employees in Everett. A modular building was erected on the Herald's property between the two facilities and a day care was started. That day care ran for nearly 15 years. The site became too noisy for a day care and was closed in the late '90's. The main access to the Port of Everett crossed a feeder line for a railroad (BNSF) yard in front of the Kimberly Clark Mill. Truck and train traffic made too much noise. In the intervening years, a new access road was built for the port that bridges over the rails and eliminated the crossing that caused so much noise.
After several years of use as an office building and miscellaneous storage, we rented the building from the Herald and returned it to use as a day care. We offer employees of both Kimberly Clark and The Herald discounts for child care. A couple from the Herald have taken us up on the offer. Sadly, Kimberly Clark closed the mill last month and we don't have any clients from there.
The Herald has been very helpful in getting our first center up and running. They re-built the deck on the north side of the building. North side of almost everything in Everett needs a bit of TLC. They replaced all of the deck boards and added new steps. The added two emergency exits, built a fence around the property, put in a small deck on the south side, and put in a gravel ramp so that we didn't need steps on the exit doors.
The other not so small organization is the US Navy. Navy Station Everett is just down the road from the mill. We can see the ships home-ported in Everett from our front door. We offer a military discount, but, we're competing with an on base center that is run to federal standards, fewer students per teacher. The Navy's center has lower rates, so we've only had client from the Navy so far.
The meat of this story is on the other side of the orange croissant.

Continue Reading
Reduce, Reuse, Recycle, a chant for the ecology movement is also good advice for a small business. So how does it work in a day care setting?
Reduce
So far, the Reduce hasn't been too hard. We don't have a lot of money to spend, so we have to figure out ways to do without. For instance, the Consumer Product Safety Commission has decided that the cribs they previously decreed were safe enough, are now no longer safe. They must ALL be replaced by the end of 2012. There are no retrofits available. Commercial cribs run at least $250 each. We're also required to have an Evacuation crib. The point of this crib is that you place all of the infants in the crib and roll them all to safety at once.


You can see the "off road" wheels and extra structure, that can handle a lot more abuse than the traditional crib. The one in the photo runs over $350. Kits are available to convert a standard crib to off road, they run over $70.
Our first center is licensed for 4 infants, the new one for 8. That's over $3,200 for up to code cribs. There's not much flexibility on the evacuation crib, we'll still have to buy 2 or 3, but it turns out that the infants don't have to sleep in cribs. They can sleep on mini cots like this one.


We already had a bunch of these from another center (see Reuse), that we intended to use for our Waddlers and Toddlers. Turned out they were too much trouble to put out and put away for that group. I guess we get a Reduce and Reuse out of this one.
More below the orange croissant.
Continue Reading
As promised, here's the story on the floors. Que the scary music This is a horror story.
When we did the walk thru back in November, we thought we had a few things to fix. Some painting, clean the floors, patch the walls, fix some ceiling tiles and light fixtures, Nothing difficult, we should be able to do it in a few days and be up and running in no time. When we started the first center, the build out was a real challenge, it took 3 months and most of our money. We tore down a wall, built a new one, installed a bunch of new toilets, had the landlord install some extra fire escapes. Then we had to pull up 2000 sq ft of old ratty carpet, fix the floor and lay tile. This new place was going to be easy. It was already divided up for classrooms, no construction, there was no plumbing to fix, sinks or toilets to install. Everything was in place, we were nearly ready to go.
The truth is beyond the squiggle
Continue Reading
Well, the intro didn't go as well as planned. Hope this goes better. This is the story I was trying to get to anyway. The names have been changed to protect the guilty.
This tale starts on the Tuesday before Thanksgiving 2011. One of our competitors, about 10 miles away, announces to his clients that he's closing at the end of November. What a guy, give your parents 4 days over a holiday weekend to make new care arrangements. Claims he can't make money on it any more, he's got 80 kids and 26 employees. Might have too many employees for the number of kids. He may have over extended himself on opening a second smaller facility that he ended up closing because it had poor access during the winter. Really sounded like he'd lost interest in the whole operation after his wife died.
My wife and our program director get a quick tour on Wednesday and get a grudging appointment for an in depth tour on Sunday. There are 6 classrooms, the largest one is divided into 2 areas. One of the rooms is designated for a Kindergarten, it wasn't being used and was filled with excess stuff from the other rooms. There was a large storeroom with lots of supplies. We did notice that there were a lot of maintenance tasks that needed done. And we noticed that the there really weren't a lot of toys. During the walk thru, the fire alarm went off, at least we knew that worked, but why did it go off? Was something burning? Turns out it was the smoke detector in the utility room, someone had loaded up the drier with wet clothes to dry. They had one of those heat exchangers in there, I doubt that it was working correctly and filled the room with steam, triggering the smoke detector. Something on my list to fix.
More below the orange croissant.
Continue Reading
I really wanted to call this "Adventures in Babysitting", but that would have been a SOPA thing and that's not what we do. We're not in the business of warehousing kids during the day. It's about providing a safe, caring, learning environment. It's actually my wife's business, something for reasons that are slowly becoming clear after 2 1/2 years, that she decided that she wanted to do after her job at WAMU was eliminated in the Chase takeover. My job is maintenance, repair, bookkeeping, furniture building and sometime financier.
A lucky break found her an abandoned daycare center in downtown Everett, an area poorly served by child care facilities (one real estate map claimed 1000 children under 5 in a 5 mi radius). In a previous lifetime it had been a joint venture between the local paper and a local paper-mill. a poor environment and foolish management had closed the center ten years earlier. The environment got improved, the building was subdivided into offices and it operated in that mode for a few years. Eventually the renters moved on and it became a storage building.
She took possesion of the building just after her layoff at WAMU and invested her entire severance, all of her 401(k), a chunk of my severance from a previous employer and my 401(k) and went to work returning the building to a day care. We knocked down a wall or two, built new walls. Tore out some plumbing, installed new plumbing, including toddler sized potties. Ripped up a lot of rotten, dirty old carpet and tried to get a floor surface suitable for tile. Not easy as the building is actually four 11 x 70 modules set side by side. Since we're just a few hundred yards from the shores of the Puget Sound, the tides seem to cause small shifts in the floor surface from day to day.
On past the cheese doodle:
Continue Reading
Really, what the heck did I do to deserve this? I didn't ask for it, I'm really not eloquent enough or prolific enough to deserve it. But, someone gave me a gift subscription. I really haven't received official notification yet. I just happened to notice that there was no space between the Recommend button and the Tip Jar on someone's post. But there it is, a little gold shield on my profile page and no ads between Front Page posts or just above the Welcome Back box.
To whoever it was, THANK YOU!
This really is a Great Online community!
Discuss
You can add a private note to this diary when hotlisting it:
Are you sure you want to remove this diary from your hotlist?
Are you sure you want to remove your recommendation? You can only recommend a diary once, so you will not be able to re-recommend it afterwards.