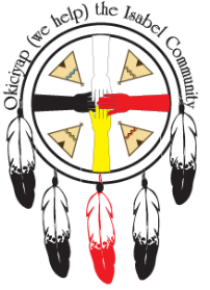 DONATE
by credit card
or PayPal
Okiciyap is a 501(c)(3)
non-profit organization
Donate by Check:
Okiciyap
PO Box 172
Isabel, SD 57633

A favorite fundraising project for many of us in the community at DailyKos is the Okiciyap (Lakota for "We Help") Food Pantry. The food pantry on the Cheyenne River reservation fills an urgent need providing much needed sustenance for young and old alike. It also works with assisting with the education of the young people in the area. In fact, in August our community was able to help Okiciyap provide the local youngsters with backpacks full of the school supplies needed for a good start to the school year. Over the years we have conducted many successful fundraisers for needs both large and small, including a wonderfully successful quilt auction. Now the need is basic and acute, money to buy food to distribute to hungry people.
Even in the best of times the people on the American Indian Reservations of South Dakota have many challenges including chronic poverty and some of the worst unemployment rates in the country. The unemployment rates on high plains reservations can reach unbelievable levels even exceeding 80 percent. And these are far from the best of times.
So exacerbating the normal difficulties with a weak economy came the sequester which made the problems so much worse, as you can read about in Meteor Blades's diary. And we are still crippling the federal programs on the reservations, funding at sequester levels. I can not even begin to imagine how the government shutdown impacted the reservation. But just for good measure throw in an early heavy severe snowstorm.
Incredibly, SNAP (Supplemental Nutrition Assistance Program) cuts are scheduled for November. All over the country food pantries are facing shortages. The donations are often down to sugary sodas and candy, if available at all. Now more than anytime the need is money to buy food. Please, will you help with this?
Follow me below the fry bread thingey for incentives to snag your donations.