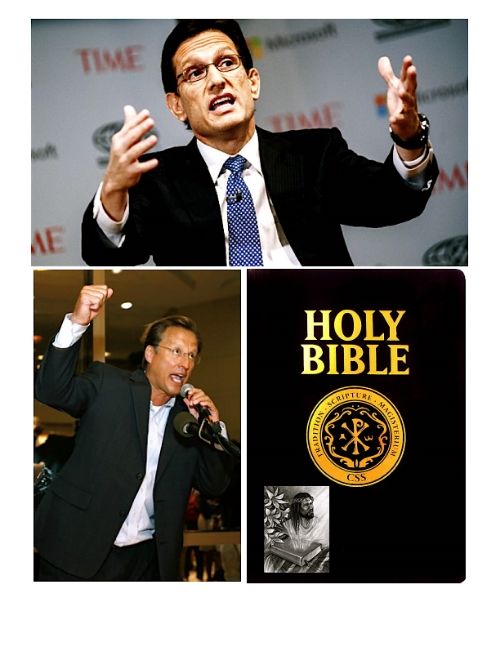 Did House Majority Leader Eric Cantor lose the Virginia Republican Primary (VA-07) to Tea Party candidate David Brat because of an anti-Semitic Evangelical Christian backlash against the only Jewish Republican in Congress?
During his victory speech David Brat, Calls Cantor's defeat "a miracle from God"


Evangelicals Criticize Cantor's Claim Dream Act is Biblical
David Brat, who has a Masters in Divinity from Princeton Theological Seminary in addition to a Phd. in economics, took exception to Cantor's claim that "there's a Biblical root and a tradition in this country that says we don't hold children liable for their parents' acts and when you have kids who may have been brought here let's say at 2 months old unbeknownst to them and they've been here all their lives and they want to serve in our military, my position has been I agree with that principle.
Promenent Evangelical Christians criticized Cantor's assertion that the Dream Act, which would grant citizenship to the children of illegal aliens, is "biblical."

The Bible teaches that all people are sinners, and every law extending new benefits inevitably will be exploited by some to the detriment of others. Would this law encourage some to make false claims about when and how they got to the U.S. illegally? Would it encourage additional illegal immigration? If so, who is hurt by these unintended consequences?
David Brat Just Became the Christian Right's favorite Economist

"In his writings, Brat seems eager to fuse Christianity and the generally secular field of academic economics. A review of several of Brat's academic papers reveals that he sees free-market economics as being intricately linked to ethics and faith. He's not just a professor who happens to believe in God; he wants to put God at the center of his work.
In one unpublished paper from 2005, "Adam Smith's God: The End of Economics," (Word doc here), which I accessed through a Google Scholar search, Brat makes the case that even though Adam Smith (the father of modern economics and author of The Wealth of Nations) is thought of as one of the great figures of the Enlightenment, his "invisible hand" theory should properly be seen in the context of Christian moral philosophy.
"In fact, [Smith's] system really retains most of the fundamental features of the Judeo-Christian system," Brat writes. "On paper he places Stoic reason above Christian revelation. But on the other hand, he chooses the Christian God over the Stoic God. And in the end, his choice of virtues and ends take a decidedly Christian turn."