As a deaf person myself, I take particular interest when I find deaf people in my family history. I've found a few and Wiley Spivey, the great uncle of my paternal grandfather is one of the most interesting characters in my family tree. These are bits and pieces about him that I gathered from various places on the internet and from his obituary.
Wiley was born 4 Feb 1863 in Emanuel County, Georgia to Jasper Spivey and Mary Kea (or Key). Jasper and Mary had 10 children altogether. There are photos of his parents at Find a Grave- Jasper and Mary.
Wiley was deaf, but it is not clear whether he was born that way, or became deaf later. There is an interesting family legend about what caused his deafness:
Family stories say that when the Confederates came to conscript Jasper
Spivey to fight in the War he was taking care of his family and his wife
who was pregnant with son Wiley. Jasper did not intend to join them and
in his anger, he packed his gun and stood on the front porch telling
them if they came any closer he would "blow their brains out." When the
Confederates left and Jasper unpacked his gun, he realized that had he
fired the gun, the explosion would have killed him instead since it had
been packed in such haste. This incident supposedly traumatized his
wife to the extent that Wiley was born a deaf mute. (Olivia Terjesen's family tree at RootsWeb)
But the truth is Jasper had already enlisted in the Confederate Army in May of 1862. Wiley's obituary stated that he'd been "almost deaf and mute" for many years, whatever that means.
His local newspaper, the Coffee County Progress, wrote a nice tribute to him upon his death. It's a longish front-page piece, so I'm not sure if it's properly an obituary, but it begins:
Death, that Grim Reaper, came for Wiley Spivey, 104 years of age, at 2 pm, Sept. 11, 1947, at the local hospital, after a brief illness.
The 104 figure came from Wiley himself, who often bragged about his age, but he was actually 84 years old when he died.
He made his living peddling trinkets from a pushcart on the streets of Douglas, Georgia. After over 40 years, he became such a familiar sight and a beloved resident of the town. Hundreds of people got to know him and learned to communicate with him in sign language.
Did he learn sign language at the Georgia School for the Deaf (est. 1849)? Or did he invent his own? For now, I just don't know, but he must have had some education because he liked to keep up with current events and loved to talk politics with those friends.
According to the obituary, along with the trinkets he sold, for 10 cents, he let people take a peek into a box where he kept a rattlesnake.
For years the snake was said to have been a loyal and faithful companion to Dummy. One day he was seen walking down the street, the snake following a few feet behind him. Needless to say that both of them were given a wide berth, clearing out all pedestrian traffic on that particular side of the street.
I find that story dubious myself, but that's a quote from the obituary.
Wiley had been a homeless man for some years, laying his head down at night wherever he could- benches, inside doorways, empty buildings. Considering that many of Wiley's family members lived in the same town, I've often wondered about that. Were they too poor, barely scraping by, trying to feed their own family? Or did Wiley prefer to be on his own? Was there a feud? Whatever the case may be, there was a good Samaritan in town who built him a small house where Wiley lived with his sister.
Wiley had a very striking face, which was considered an "artist's delight." He was on one of the Coca Cola posters, and one still hangs in the Douglas plant. (message board post at Ancestry) I would love to see that poster, but I have the picture from his obituary.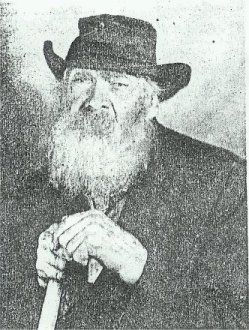 The obituary concludes:
Dummy was a he-man who had long professed to an ardent desire to die "with his boots on." He missed this ambition by but a few hours the other day when friends, finding him ill on the street, took him protestingly to the hospital where death, as it must to all men, however belated, came to Wiley Spivey.
Source of tribute/obituary excerpts and photo from Coffee County Progress Sept. ? 1947
And a little FYI- I've quoted what I found, but deaf people find labels such as dummy and mute very offensive.