Come one, come all to the science gathering of the day. Science talk is here. New discoveries, new takes on old knowledge, and other bits of news are all available for the perusing in today's information world. Over the fold are selections from the past week from a few of the many excellent science news sites around the world. Today's tidbits include restoration as science (case of the collared lizard), 8.7 million species on Earth and counting, thawing permafrost could accelerate climate change, lasting evolutionary change takes about a million years, exotic galaxy reveals tantalizing tale, simple security for wireless, people are biased against creative ideas, and the atomic clock with the world's best long-term accuracy. Pull up that comfy chair and bask in the sunshine. There is plenty of room for everyone. Get ready for another session of Dr. Possum's science education and entertainment.
Featured Stories
In the Ozarks collared lizards have been studied for 20 years by the same researcher.
The major revelation of the work was that burning entire mountains and valleys, called landscape-level burning, undid ecological damage that was slowed but not stopped by smaller prescribed burns.

In fact, it allowed the lizards to undertake their own expanded restoration effort without the assistance of worried biologists.

Moreover, burning benefited many species besides the lizards, including a rare fen orchid and fen dragonfly, that were flying under the radar and would probably never have commanded labor intensive restoration efforts on their own.

In short, fire turned restoration from a time-consuming labor-intensive process to one that ran pretty much on its own.
No wonder the planet seems a bit crowded with an estimated
8.7 million species (PDF)
and counting.
That is a new, estimated total number of species on Earth -- the most precise calculation ever offered -- with 6.5 million species found on land and 2.2 million (about 25 percent of the total) dwelling in the ocean depths.
Climate change news continues to pour out these days and now we have observations about the
thawing permafrost
.
Billions of tons of carbon trapped in high-latitude permafrost may be released into the atmosphere by the end of this century as the Earth's climate changes, further accelerating global warming, a new computer modeling study indicates.

The study also found that soil in high-latitude regions could shift from being a sink to a source of carbon dioxide by the end of the 21st century as the soil warms in response to climate change.
Evolution of species is a constant process but
lasting changes takes about a million years
.
Though slow, however, the process appears to be relentless. Most species change so much that they rarely ever last more than 1-10 million years before going extinct, or developing into a new species, the scientists noted.

The exact cause of these long-term, persistent evolutionary changes is not certain. The scientists said that climate change, in itself, does not appear to be a driving force, because many species have remained substantially unchanged over time periods when climates changed dramatically.

This study is one of the first of its type to help reconcile the rapid evolution seen by biologists in contemporary species; the slow, stable changes observed by paleontologists; and dramatic, macroevolutionary differences in body sizes.
A
new galaxy
with a combination of characteristics never seen before is giving astronomers a peek at process that were part of the formation of our universe.
e galaxy, dubbed Speca by the team of researchers, is only the second spiral, as opposed to elliptical, galaxy known to produce large, powerful jets of subatomic particles moving at nearly the speed of light. It also is one of only two galaxies to show that such activity occurred in three separate episodes.

Giant jets of superfast particles are powered by supermassive black holes at the cores of galaxies. Both elliptical and spiral galaxies harbour such black holes, but only Speca and one other spiral galaxy have been seen to produce large jets. The jets pour outward from the poles of rapidly-rotating disks of material orbiting the black hole. The on-and-off jet episodes have been seen in a dozen ellipticals, but only one other elliptical shows evidence, like Speca, for three such distinct episodes.

(snip)

The scientists believe that Speca, about 1.7 billion light-years from Earth, and the 60-some other galaxies in a cluster with it are providing a look at what young galaxies and clusters may have been like when the Universe was much younger. In the young Universe, galaxies in such clusters would have been gathering up additional material, colliding with each other, undergoing bursts of star formation, and interacting with primordial material falling into the cluster from outside.
At the recent hackers' convention many attendees found their wireless connections hacked by man in the middle (MITM) means in what may have been the first successful 4G breach. A new way of providing
wireless security
avoids that means of attack.
In an MITM attack, the attacker needs to drown out the signal from the legitimate sender. But the researchers' new system ensures that any attempt to do so will be detected. The trick is that, after transmitting its encryption key, the legitimate sender transmits a second string of numbers related to the key by a known mathematical operation. But whereas the key is converted into a wireless signal in the ordinary way — it's encoded as changes in the amplitude of a radio wave — the second string of numbers is encoded as alternating bursts of radiation and silences.

If an attacker tries to substitute his key for the legitimate sender's, he'll have to send the corresponding sequence of bursts and silences. But that sequence will differ from the legitimate one. Through the silences of one, the receiver will hear the bursts of the other. The overlapping sequences will look to the receiver like a wholly new sequence, which won't match up with the transmitted key, indicating an MITM attack.

Of course, the attacker could try to drown out the entirety of the legitimate transmission and then send his own key. But that would require broadcasting a signal of such long duration that it, too, would alert the receiver to an attack.
Creativity is necessary for development of new products and processes but we humans have in an innate
bias
against those ideas.
The studies' findings include:

Creative ideas are by definition novel, and novelty can trigger feelings of uncertainty that make most people uncomfortable.

People dismiss creative ideas in favor of ideas that are purely practical -- tried and true.

Objective evidence shoring up the validity of a creative proposal does not motivate people to accept it.

Anti-creativity bias is so subtle that people are unaware of it, which can interfere with their ability to recognize a creative idea.

For example, subjects had a negative reaction to a running shoe equipped with nanotechnology that adjusted fabric thickness to cool the foot and reduce blisters.
According to a new evaluation the
cesium fountain clock
used to keep United Kingdom time is the most accurate in the world over a long period of time.
The clock is one of an elite group of caesium fountain clocks that have been built by the timing labs in Europe, the United States and Japan as their national "primary frequency standard" for the measurement of time. These national standards are averaged to produce International Atomic Time and Universal Coordinated Time, which are used as time scales worldwide for such critical processes as global communications, satellite navigation and surveying, and time stamping for the computerized transactions of financial and stock markets. The methods used to improve the U.K. clock also can be used to evaluate the caesium fountain clocks of other countries, substantially improving the world's most accurate methods of keeping time.
Other Worthy Stories of the Week
Galaxies are running out of gas
Under-reported greenhouse gas statistics?
Most primitive living eel discovered
NASA satellite finds coldest, darkest stars yet
Scientists want your help to ID creatures in your home
Space station crew enjoys eye level view of Perseid meteor shower
Filling cavities without drilling
Large Hadron Collider experiments eliminate more Higgs hiding spots
Data traveling by light
Hake population has withstood overfishing thanks to warming of the sea
Pioneering ants challenge self-organization assumptions
Astronomers find planet made of diamond
First glimpse into the birth of the Milky Way
Simple way to grow muscle tissue with real muscle structure
Source of spider silk's extreme strength unveiled
Summer drought limits the positive effects of CO2 and heat on plant growth in future climate
Fuel found in old newspapers
Study says climate cycles are driving wars
Irrigation's impacts on global carbon uptake
For even more science news:
General Science Collectors:
Alpha-Galileo
BBC News Science and Environment
Eureka Science News
LiveScience
New Scientist
PhysOrg.com
SciDev.net
Science/AAAS
Science Alert
Science Centric
Science Daily
Scientific American
Space Daily
Blogs:
A Few Things Ill Considered Techie and Science News
Cantauri Dreams space exploration
Coctail Party Physics Physics with a twist.
Deep Sea News marine biology
Laelaps more vertebrate paleontology
List of Geoscience Blogs
ScienceBlogs
Space Review
Techonology Review
Tetrapod Zoologyvertebrate paleontology
Science Insider
Scientific Blogging.
Space.com
Wired News
Science RSS Feed: Medworm
The Skeptics Guide to the Universe--a combination of hard science and debunking crap
At Daily Kos:
This Week in Science by DarkSyde
Overnight News Digest:Science Saturday by Neon Vincent. OND tech Thursday by rfall.
Pique the Geek by Translator Sunday evenings about 9 Eastern time
All diaries with the DK GreenRoots Tag.
All diaries with the eKos Tag
A More Ancient World by matching mole
Astro Kos
SciTech at Dkos.
Sunday Science Videos by palantir
NASA picture of the day. For more see the NASA image gallery or the Astronomy Picture of the Day Archive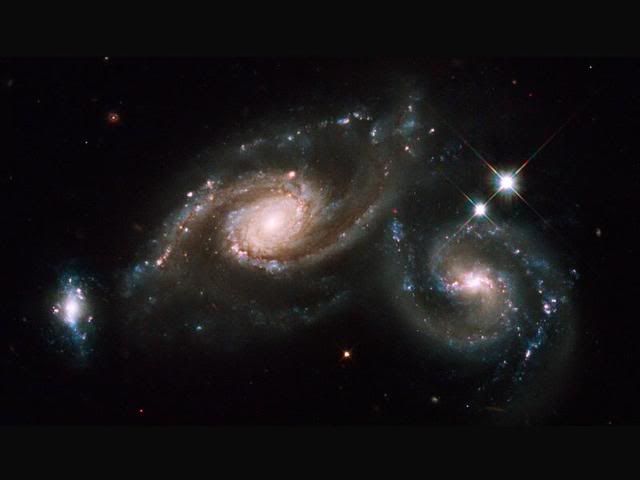 NGC5679, NASA, Public Domain