Wayland was a Scandinavian god. According to the local Christian tradition, after the people became Christians he was forced to shoe horses for a living. One of his greatest achievements was the shoeing of the White Horse—a geoglyph on a nearby Uffington, England hillside. Archaeologically, however, Wayland's Smithy is an ancient mortuary site.
As a mortuary site, Wayland's Smithy was originally a timber mortuary house. About 3700 BCE, Neolithic farmers constructed a large house with two large posts at each end to hold up the roof. The floor was paved with stones. Within this structure the people buried a single individual in a crouched position at one end. In addition, archaeologists found the disarticulated remains of 14 to 17 other people. Insect remains show that the bodies had been left to decompose in open air. The timber structure was allowed to decay. Then it was covered with dirt dug out of two flanking quarries. The result was a low oval mound.
About 3400 BCE, a stone-chambered long barrow was added to the site. This megalithic tomb has a burial chamber with a cruciform plan at one end of an elongated mound. The entrance to the passage leading to the burial chamber is in the center of one end of the mound, flanked by large upright stones that created a ceremonial façade.
The large megalithic curbstones at Wayland's Smithy are shown above.
This stone tomb has a long entrance chamber which ends in a cruciform chamber area. The mound was then surrounded with large upright curbstones. The newer megalithic mound is 185 feet long and 43 feet wide. Archaeologists found that it contained the remains of seven adults and one child.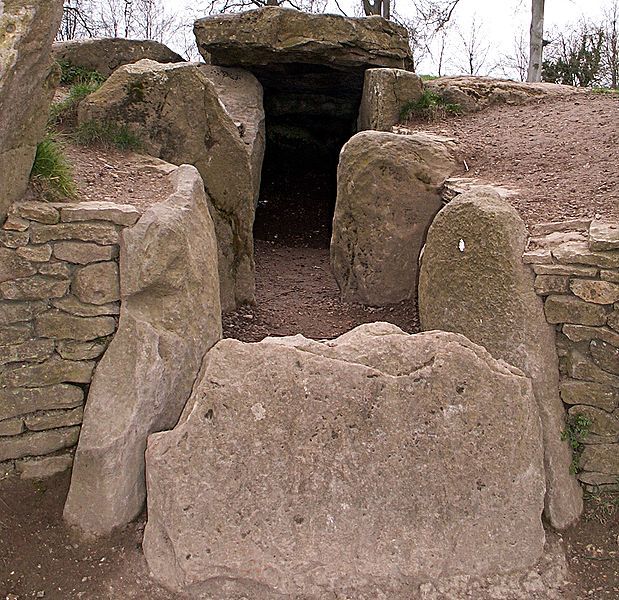 The entrance to Wayland's Smithy is shown above.
From an archaeological perspective, Wayland's Smithy is an important site because it shows the transition from the earlier timbered mortuary house to the later megalithic tomb.
Cotswold-Severn Tombs:
The megalithic tomb at Wayland's Smithy is an example of what archaeologists call a Cotswold-Severn tomb. Other examples of the Cotswold-Severn tombs are found at Nympsfield and West Kennet, England. The tombs are concentrated east of the River Severn in the Cotswold hills, but some are also found in Wales.
They are characterized by collective inhumations, which means that the skeletal remains of several individuals are mixed together in the burial spaces. The Cotswold-Severn tombs appear to have been built during a fairly short time period and were not used very long.
Architecturally, the Cotswold-Severn tombs seem to have been constructed according to a somewhat standardized plan. All have transcepted chambers: in other words, there is no single chamber for the dead, but several chambers off a single corridor. In the case of Wayland's Smithy this results in a cruciform floorplan. They also have a well-developed forcourt in front of the tomb entrance.
Uffington White Horse: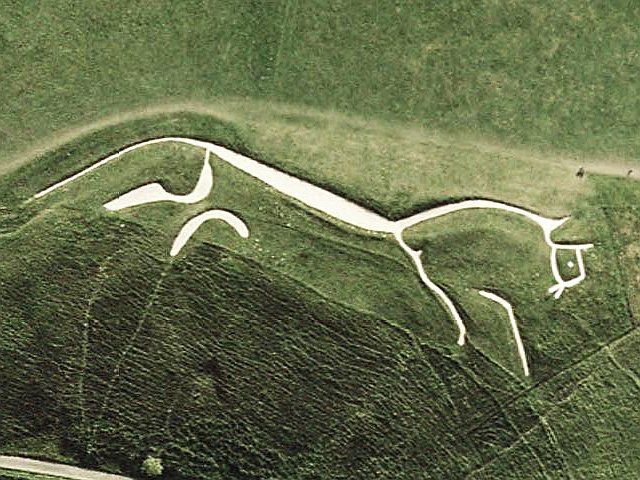 Located near Wayland's Smithy is the Uffington White Horse: a highly stylized figure which is 374 feet (110 meters) long. It was made by digging deep ditches and then filling them with crushed white chalk. This geoglyph was constructed during the Bronze Age sometime between 1400 and 600 BCE. Thus, while the White Horse is geographically close to Wayland's Smithy it was actually constructed 2,000 years later, so it was not really associated with the mortuary site in spite of the local mythology of Wayland shoeing the horse.