Public officials in B.C. are very upset about the lack of input and consultation with the National Energy Board in its decision that will allow increased tanker traffic and allow Kinder Morgan to make long term contracts that will lead to increased tanker traffic through Burrard Inlet which includes Vancouver's harbor. These long term contracts will also make the financing doubling the capacity of the Trans mountain Pipeline to move more oil from the Canadian Tar Sands to ports on the Pacific.
Mayors want more consultation for increased Metro Vancouver oil tanker traffic

METRO VANCOUVER - A group of eight B.C. mayors, including Vancouver's Gregor Robertson, is calling for more scrutiny of projects that could lead to increased oil tanker traffic in Vancouver harbour.
The letter, which was also signed by the mayors of Burnaby and Victoria, came on the heels of decision by the NEB on Thursday that will allow Kinder Morgan to commit most of its dock capacity at the Westridge Terminal in Burnaby to 10-year contracts with offshore buyers.
Previously, Kinder Morgan could only sell its capacity on a month-by-month basis, but now 54,000 barrels of oil per day (bpd) of its 79,000 bpd maximum can be earmarked for long-term contracts, according to Kinder Morgan spokesman Andrew Galarnyk.

The company estimates it will generate $286 million from the long-term contracts that will be used to help build infrastructure for the planned doubling of capacity of the Trans Mountain pipeline.

"We are disappointed that the National Energy Board failed to hold public hearings in coastal communities prior to this approval, especially given that it opens the door for future expansion," said Burnaby Mayor Derek Corrigan, in a news release.

Corrigan said all future applications should be afforded more public consultation and involvement by residents and civic governments.
At the other end of the Transmountain Pipeline another decision by the National Energy Board gave Kinder Morgan the go ahead for the construction of an important piece of infrastructure for doubling the Transmountain Pipeline's capacity.
$210-million expansion will boost capacity at Kinder Morgan's Edmonton oil tank farm

The current Trans Mountain line can now handle up to 300,000 barrels per day and a planned expansion could add 200,000 bpd or more of new capacity by 2017.

"The new (Edmonton) tankage will provide Alberta producers, marketers and refiners additional crude oil and condensate storage options as oilsands production increases and crude oil prices remain volatile," said Bill Henderson, vice-president of Kinder Morgan Canada Terminals, in a statement.

He added the new tanks "allow for unparalleled upstream feeder pipeline connectivity and access to all downstream market outlets, including direct connections into Trans Mountain Pipeline."

Ian Anderson, president of Kinder Morgan Canada, said the new tanks, "add a very important component to Trans Mountain Pipeline's expansion plans and will provide our existing and potential customers with significant crude staging flexibility."

Galarnyk said "customers have indicated that there is a need for merchant storage in the Edmonton area that would permit these customers to access the Trans Mountain system as well as provide volumes to other refineries and pipelines in the Edmonton area."
In its past decisions regarding the Tar Sands Projects the the National Energy Board has acted as the Oil Companies' rubber stamp, and its starting to look like that's the direction they are headed with the Trans mountain Pipeline project.
This comes from the Vancouver Sun.

$210-million expansion will boost capacity at Kinder Morgan's Edmonton oil tank farm

Much of the crude goes by pipeline to Washington state's Puget Sound refineries, while the rest is loaded onto tankers for export. The line also carries refined petroleum and supplies the Vancouver International Airport with jet fuel.
So the existing Trans mountain pipeline is sending most of its up to 300,000 barrels per day to two refineries in my state of Washington.
The project could bring hundreds more tankers to Burrard Inlet per year and see 25,000 more barrels of oil per day shipped to markets in Asia.
link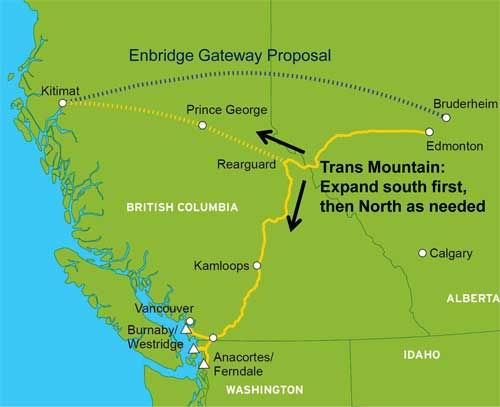 Tanker traffic leads to calls for consultation

With regards to the province's ability to respond to an environmental disaster, a great deal of focus has been placed on unconventional crude oil products being delivered from the oil sands.

Sometimes referred to as sinking oil, these products can behave unpredictably when released into water, from submerging instantly to floating for varying degrees of time.

It's a concern complicated by the confidentiality maintained by Kinder Morgan as to what products are being shipped through the pipeline to overseas markets, a policy meant to maintain its competitive nature.
In other word we won't know what the contents of these tankers are until Kinder Morgan deems in necessary to share that information with authorities FOLLOWING a spill.
Tasked with ensuring a state of preparation for such a disaster in B.C. is the Western Canada Marine Response Corporation (WCMRC).

"Sinking oils need to be addressed fairly quickly," said WCMRC spokesperson Bruce Turnbull.
If a spill happened, WCMRC would receive a spec sheet from Kinder Morgan detailing the nature of the product.
The additional tankers would come right past my island after threading their way through one of two straits each lined with numerous rocks and shoals. So you can imagine how badly I want to stop this project.
Haro Strait

Oil Companies see the Salish Sea as just a watery extension of their pipeline, not a fragile ecosystem full of incredible beauty and complexity.