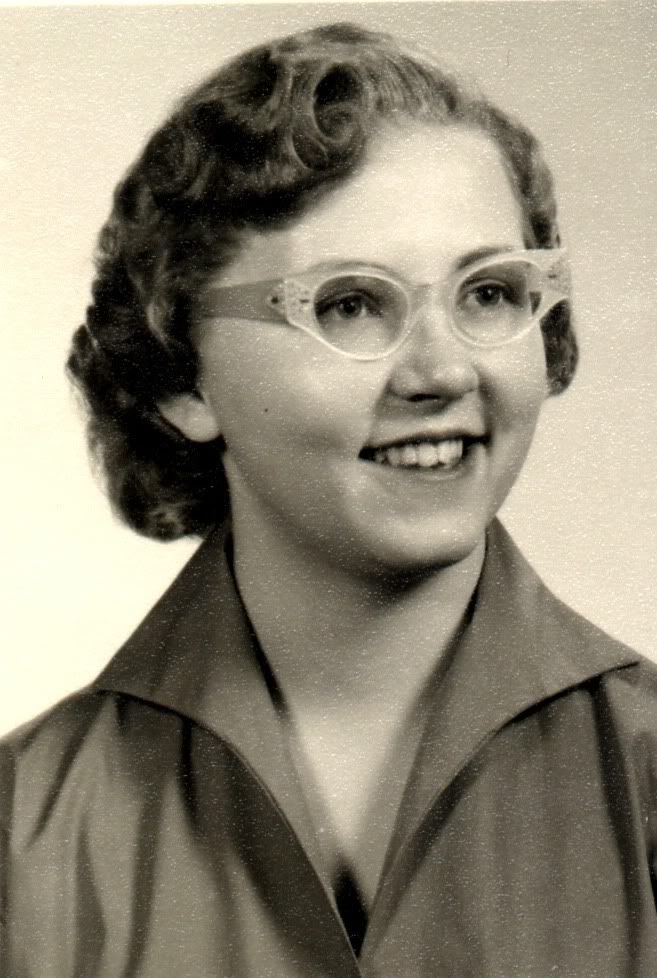 Usually adding data to your family tree is a joyous occasion. It represents the discovery of new information after hours, days, months, or even years of research. This month I added new data to my family tree with a lump in my throat. The death information for my mom.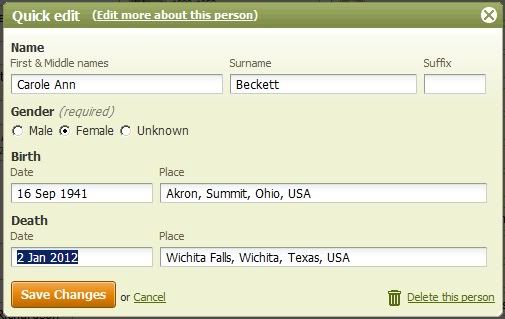 She was the only person on this planet allowed to continue calling me "Jimmy" after Kindergarten. No, I take that back. I didn't let her - that's what she called me and I had no choice in the matter.
Since I was already signed up for an Open Thread (months ago and have been dutifully procrastinating since then), I thought I'd use the opportunity to share a short biography of Mom's life.
Genealogy & Family History Community




Leave the blood feuds at home



Carole Ann Beckett was born on September 16, 1941, in Akron, Ohio to William Donald Beckett and Helen Virginia Harris. She was the second child in the family, born 8 years after her brother. Two younger sisters would follow.
Her father worked at the Goodyear Tire and Rubber Plant in Akron. Though he was a great provider for his family, he was emotionally distant to his children. Carole felt he never said or showed pride in her, though he did occasionally stick up for her when needed. Her mother was very status conscious, resentful and had an "intense" temper which was often directed at Carole.
Carole had a strong personality that clashed with that of her mother's. This was made worse by her inclination to purposely do things that she knew would set her mother off. Most who knew her would probably describe her as being stubborn. When Carole decided she wanted something, there was no more discussion - she was getting her way (later, often much to the frustration of her husband).
Carole had an adventurous streak that brought her out west to Conrad, Montana in August, 1963 at the age of (almost) 22. She was hired as a teacher after obtaining her teaching certificate in Ohio. She was suppose to be accompanied by a close friend, but that girl's father apparently "faked" a medical emergency to keep her from leaving. Carole went ahead on her own.
Being a small town, it didn't take long before she met Hank, a local farmer, 18 years her senior. They would later joke that his friends told him teachers make a lot of money, while her friends told her that farmers make a ton of money.
This is how she described their meeting in their wedding album:

We met at the Evergreen Bowling Alley when he asked me to be his partner at a mixed doubles tournament. After checking with the other members of my bowling team as to who he was and his reputation, I agreed. I was in town as a teacher and had only been there 1 1/2 months.
And what she wrote on the "Our Engagement" page of the same album...
Was short!
"Short" indeed. Carole and Hank were married about 2 months later on December 19th. (Did I mention she tended to get what she wanted?).
Hank's bachelor party is described thus:

We played penny ante poker and had refreshments during and after - the liquid kind. Jim Bean and Walkers, with mix, at first. I drove up to Carole's house by myself. After that I don't remember much.
At that point it switches to Carole's handwriting:
I poured coffee down him, walked him in the snow, & drove him home where I managed to talk him into going to bed.
After 5 years of teaching 3rd and 6th grades, Carole met a dog breeder who inspired her to pursue a business in dog breeding. Once again, she decided that's what she wanted. In 1968, she moved to Grants Pass, Oregon on her own to get the business started. Hank stayed in Montana to keep working for a little while before selling the farm and meeting up with his wife in Oregon. Hank spent the next several months (and all the money from selling the farm) building a kennel for Carole's dream.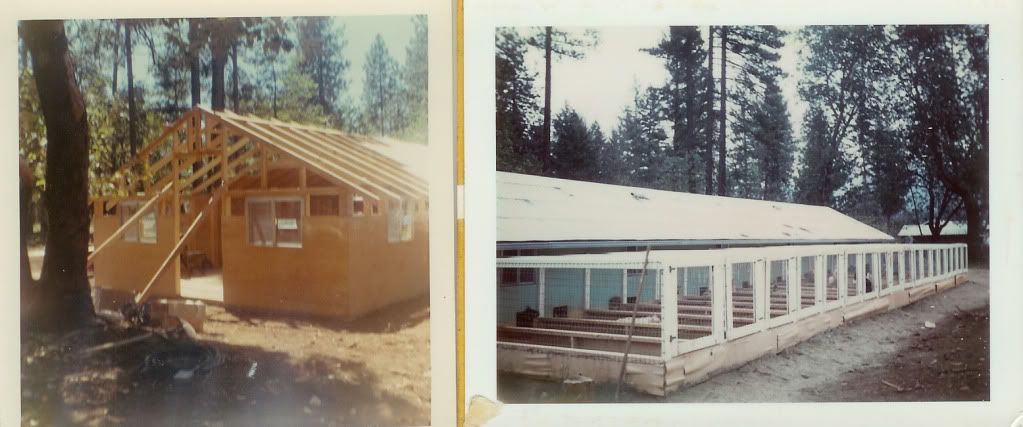 Unfortunately, the dog breeding business was not as lucrative as it was made out to be. So, Carole and Hank had to abandon the kennel and move back to Conrad.
Almost 8 years after their wedding, Carole gave birth to their first child in 1971. Over the next 10 years, they would have 4 more children - all of whom she was extremely proud of (especially her youngest son...). Thankfully, she made sure not to pass on the family dynamic in which she was raised. She may not have been the stereotypical homemaker mother that other families seemed to have had, but she loved and supported her children in anything they did. She raised them to be independent, while still pushing them to their potential just enough so as not to be overbearing.
During her children's younger years, she was a Boy Scout Den Mother, Girl Scout leader (various positions) and Sunday School teacher. She also volunteered in a number of other similar organizations.
In the early 80's, Hank had an accident at work that broke his hip and left him disabled. Carole went back to school to finish her bachelor's degree, then went back to work to support her family in 1983. At first she got a job at a local group home for mentally handicapped adults. A couple years later she moved the family to Boulder, Montana to work at the Montana Development Center as a special education teacher for profoundly mentally handicapped students.
Two years after that move, she was hired as the manager of a group home for mentally handicapped adults located in West Texas. On the long drive from Montana to Texas, she insisted on stopping at EVERY FREAKIN' historical marker along the way. Her children tired of this rather quickly.
After almost three years as the group home manager, she went back to teaching special education in a public elementary school in Midland, Texas.
As you can see, Carole spent most of her professional career working with and caring for the mentally handicapped. This was indicative of her big heart and caring nature. She loved each and every one of the residents/students she worked with. She used her determination and stubborness to their benefit, making sure they were pushed to their full potential. She was probably the strongest advocate any of them had in their lives.
One quality that drove her husband crazy was that she was generous to a fault. Giving anything she could afford (and sometimes what she couldn't) to those who asked. Without hesitation, she handed out "loans" that would never be repaid. She lived for the moment, with "we'll worry about that later" a common refrain when discussing (arguing about) finances.
Shortly after she retired, Carole moved to a nursing home due to health issues that required round-the-clock care that could not be provided by her family. Making the most of her situation, she quickly made friends with everyone in the nursing home - including the staff. She was their counselor, their seamstress, their teacher, their friend. She touched so many lives and will be missed by all who really got to know her.
Some random facts about Carole...

loved pistachios
avid card player - especially cribbage and canasta (she loved the concealed hand)
dog-lover, her house was rarely without a dog
---
As part of her Master's Thesis in Human Services (with an emphasis on Family), she gave her siblings a questionaire asking, among other things, for specific positive and negative characteristics of each family member during the time they were children growing up together. My sister told me about this when we were all together for the service. Luckily I was able to dig up and sneak off with a copy. It provides an interesting take on her personality (along with that of her siblings and parents).
Here is what her siblings had to say about her in the questionaire:
Youngest sister:
Positive:

Ability to see things in a "different" perspective.
Good friend.
Inner strength


Negative:

Stubborn to a fault
Too sensitive
Impulsive
Younger sister:
Positive:

If you needed something and she had it she would give it to you.
She would dare to do anything.
She would include you in on whatever she was doing.


Negative:

Liked to bully.
Didn't know when to quit.
She would break the rules just to make Mother mad.
Older brother:
Positive:

Creative and intelligent.
Positive life outlook.


Negative:

No specific goals.
Headstrong
And here are the positive and negative characteristics she saw in herself:
Positive:

Took care of sisters.
Took care of smaller children.
Loved animals.


Negative:

Never "good enough".
Couldn't learn quick enough or remember it.
Never saw the "joke" in books, conversations, etc.
I think that about sums her up (the good and the bad). I would note that some of the good and bad go hand in hand. For example, her "impulsive" nature was why she was so quick to be generous without stopping to think how that generosity might negatively affect her or her finances.
Carole leaves behind her husband, 5 children and 13 grandchildren, brother and 2 sisters who all love her very much and thought the world of her.