Last week, in Number Sense 035, we took a look at a proof for the formula we developed for adding up series of numbers. I really wasn't happy with the way it turned out, so we are going to shift gears a bit, and bring back the goats.
The goats joined a close order drill society and learned how to march in formation.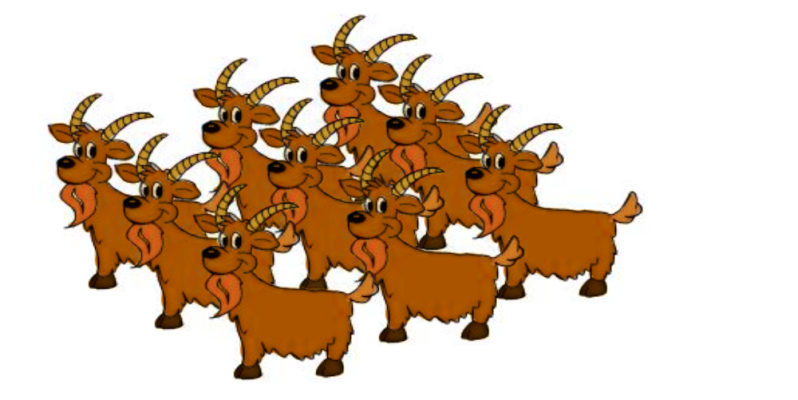 They quickly discovered that it mattered how many goats showed up to practice. Some numbers, like nine, gave them a nice formation. If ten goats showed up, they had to change the number of rows and columns...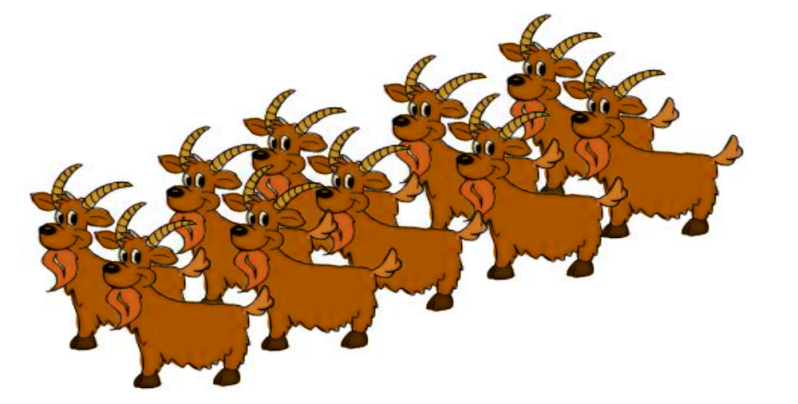 but they could still get into a nice neat formation to practice their close order drills.
But some numbers, like eleven, were just plain awkward.


Whatever they tried, they either wound up with an extra goat, or a hole in their formation...
Unless they marched in a single file
Or shoulder to shoulder.
They began calling the numbers where they could only march single file or shoulder to shoulder: "Awkward Numbers."
Numbers like two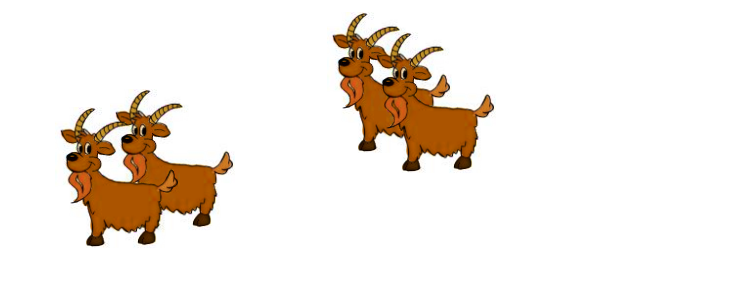 Or three
Or five
It got so bad that when a goat showed up and made the total an awkward number, the other goats would make the last goat stand on the sidelines until another goat showed up to make a total number that wasn't awkward. (Somehow, one more goat was all it took)
One day, as awkward goat watched the others march in formation around the field, he noticed something interesting.
"Hey guys!" he shouted, "Did you know you have an awkward number of goats in each row?"
And, "Did you know you have an awkward number of rows?"
"We don't have to," taunted the other goats. "We just picked this formation for today!"
"Oh yeah?" answered awkward goat. "I don't think so. Let's see a formation without awkward numbers in each row, and an awkward number of rows."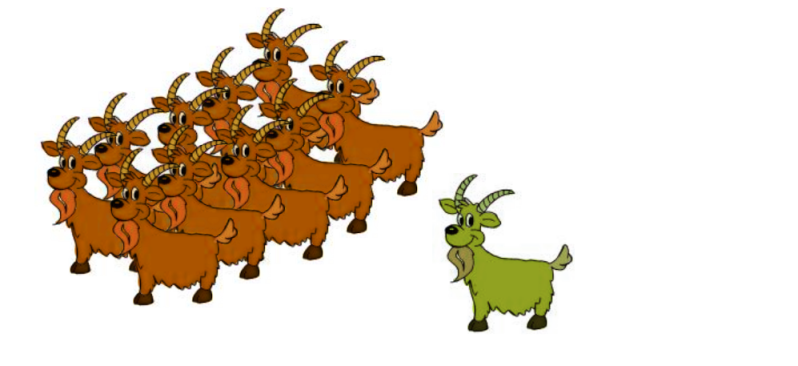 So they regrouped. "Nope," said awkward goat, "Still awkward."
They tried different numbers:
"Three columns, three rows. Three columns, two rows... Still awkward."
"Well, how about this formation, smarty hooves?"
And sure enough, there were four rows, and four wasn't an awkward number.
"But wait," said awkward goat, "Four may not be an awkward number itself, but it is the product of awkward numbers!"
"In fact," continued awkward goat, "I don't think they are awkward numbers at all. I think they are like primary colors, red, yellow and blue, and you can mix primary colors to get any other color. So I think you can multiply primary numbers to get any other number!"
"What's a primary number?" asked the other goats.
"It's what you used to call an awkward number," said awkward goat, now imagining himself to be crowned primary goat, for coming up with his wonderful idea. "And I say, all numbers are either primary numbers, or the product of two or more primary numbers."
Goats can be stubborn critters, almost as stubborn as donkeys, when they put their minds to it.
"We can't prove that you're wrong this week," they complained, "because we are only ten goats. But next week, we will come back with a lot more goats, and we'll prove you wrong then!"
Have fun in the comments.