Top Chinese government officials have decided to curtail development of genetically engineered rice in their country, in the world's first state level GE ban.
While the decision is not yet final, the draft legislation has top tier support, and will now go through the legislative process, to severely restrict any research or deployment of GE rice or any other GE food products, culminating a 7 year struggle by Greenpeace on this and other issues in China.
A lynchpin in the decision has been China's staunch determination to prohibit foreign control of it's domestic production and markets, rejecting restrictive patent claims on GE seed stocks by corporations like Monsanto.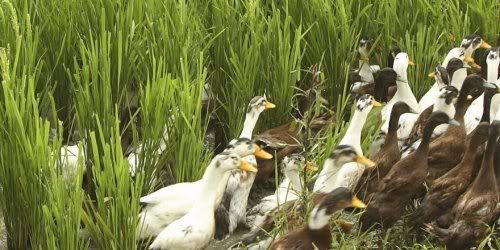 Increased focus is being put on returning to 2,000 year old traditional methods like duck-rice agriculture, where flocks of duck eat the bugs and fertilize the fields, instead of using pesticides and chemical fertilizers.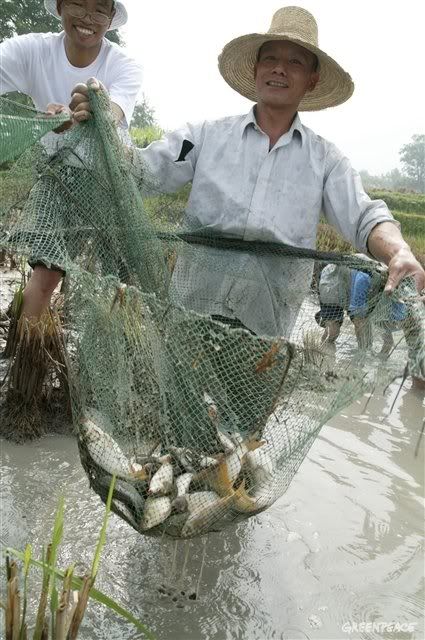 Fish-rice farming is another traditional method now being encouraged over "conventional" dependence on harmful chemicals.
The origins of rice cultivation can be traced to the valleys of China's Yangtze River, with some estimates putting it at over 7,000 years ago.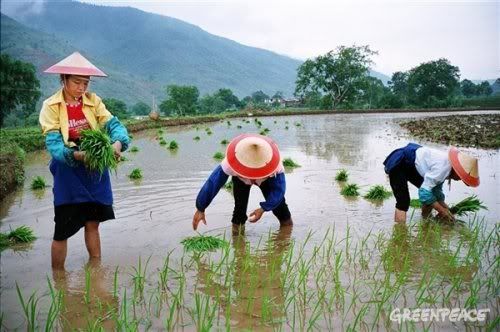 Greenpeace has made significant inroads in China, where they are a recognized NGO, working with the government and the people to inspect, monitor and advise on a full gamut of environmental issues, including helping to document and prosecute corruption, and even being allowed to educate and agitate in the masses around environmental issues.
While China has fairly good, strict environmental laws, enforcement at the local levels has been weak, and that's where Greenpeace goes into the field to research conditions and practices, to then report and make recommendations to the government, which has increasingly embraced and adopted their input, including vigorous legal action against corruption and polluters.
The government has included Greenpeace reports in top level deliberations concluding the conclusion that climate change endangers food security, and the top official, Chinese Premier, Wen Jiabao has agreed to implement stricter regional controls on air pollution.
As the Chinese government enters into plenary sessions for 2012, Greenpeace is also now pushing hard to bring coal to the top of the agenda, urging the government to make up for lost time and act quickly, to go green, instead.
Footnote: Obama is very popular in China.