You know, every time this fat pusbag opens his mouth, he sinks to an even lower level. Why in God's name is Premiere Radio Networks allowing him to stay on the air? Now he's telling his listeners that welfare recipients and poor citizens are like the wild animals in the national parks who become dependent on food from park visitors. "A fed animal is a dead animal," he "quotes" park signs asking visitors not to feed the animals.
We need to redouble our efforts to get this squalling son of a bitch off of our airwaves and reduce the toxins in our media environment. He's managed to defame and insult every group of people in this nation who aren't affluent, conservative white males. It's time for Rush to be gone from the public discourse. A bit more over the transom.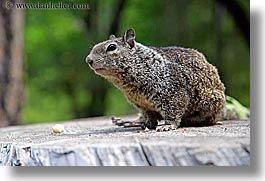 This Yosemite Park squirrel has a damn sight
more dignity and decency than Limbaugh.
So does every poor person in the US.
It doesn't take high-level analysis to determine just how horribly offensive Limbaugh's statements are. The poor are like "kept" animals, dependent on "real" people to feed and clothe them? Are poor people our chattel, to be fed or ignored at our leisure? Are they foraging in the wild, living on nuts and thistles? Do they wear skins and grunt at each other? What the pure bleeding fuck, Limbaugh?
And of course, in LimbaughWorld, Democrats want nothing more than to perpetuate this state of affairs. Democrats want to keep the poor in this state, so they'll continue to live like wild boar hogs or muskrats or whatever Limbaugh thinks they are, and keep them voting in some sort of unified Democratic bloc. Once the poor "break this cycle of dependency," Limbaugh thinks, they'll See the Light and flock to the Republican side. Sure they will, shitbug.
This was part of a conversation he had with a caller who, if we are to believe her, says she bootstrapped herself off of the dole, is now living productively, and is a Proud Dittohead. I don't believe a word of it, she probably does Limbaugh's nasty sheets. I have no problem with the idea that a welfare recipient can work their way into financial independence, even if it's living in a two-room apartment and living month-to-month. That's the way the system is supposed to work, supporting indigent people while helping them find their way towards independence and off of government assistance. It would work a fuck of a lot better if assclowns like Limbaugh would shut their suppurating cigarholes and stop encouraging the idiot GOP to block every effort the rest of us make to expand and improve the assistance programs. But I doubt very seriously that they're flocking to Limbaugh's show to act as a shill for his hateful slobber about the poor being half-sentient animals.
Word to your idiot listeners, shitbrain. Poor people are real people. They have dignity. They want to be independent. The vast majority of them work like pluperfect hell to try to get ahead, get off the government dime, and control their own financial lives. And when they do manage to get off government assistance and get something built for themselves -- which doesn't happen nearly often enough -- most of them have a damn good idea what bunch of overprivileged shitbags were blocking them, vilifying them, and heaping hatred and scorn on them at every turn. They may or may not be politically active, but whatever they do, they won't be turning en masse to the same hateful fucks who spend their lives keeping them oppressed and subservient.
Get the fuck off the people's airwaves, Limbaugh. If you won't, we'll make it happen.
(Edited for clarity.)