Here's a great video from Peter Sinclair and Yale Climate Forum that offers a compelling explanation for why the weather's been so goofy recently. Meteorologists and climate scientists make the case that the warming Arctic leads to a weaker, more meandering jet stream whose meanders (loops) are more prone to get stuck in place. Cold or warm air comes behind the jet stream, and, depending where you are, you can get extreme weather, either hot, cold, wet, or dry, that lasts and lasts.
This video is perfect for sharing with those curious about the weather (and who isn't?) even if they aren't (yet) freaked out about climate change.
Images and quotes below the squiggle.
The video gets to the point at about 2:30, when Dr. Jeff Masters (Wunderground.com) says:

The loss of Arctic sea ice in recent years could be causing some dramatic effects on the weather pattern in the Northern Hemisphere in the winter. And it makes sense, because if you remove a whole bunch of Arctic sea ice, now you've got this big area of open water that's relatively warm, and that allows all that moisture and heat to escape to the atmosphere.
As the theory goes, the position of jet stream determines what kind of winter we have in the Northern Hemisphere. Deke Arndt (NOAA):
What the jet stream does is it divides the cold air to the north from the warm air to the south. Where the jet stream hangs out over the winter, where it stays persistently, can have a big impact on the outcome of that winter.
Here is Dr. Arndt with a map showing extreme warmth in the eastern part of the US vs. the west. The jet stream was the cause - it meandered far south over the western part of the country and back north over the east.
Jeff Masters again:

If the jet stream is south of you, you're going to have very cold winter, like we saw the previous two winters; if the jet stream pushes to the north of you, as happened this winter, you get very warm conditions and record warmth.
Dr. Jennifer Francis of Rutgers:
This difference in temperature between high latitudes and low latitudes is what drives the jet stream.
This brings us back to Dr. Masters' first point - with a melting Arctic, the temperature difference between regions is less, leading to a weaker jet stream. And a weaker jet stream takes a more meandering path - it has more north-south loops that lead to anomalous weather. Further, these big loops are prone to get stuck, in what's called a "blocking pattern." That can lead to weeks of record breaking weather, causing Chicago to look like this in March, while it's snowing in Flagstaff:
Here's why - a persistent jet stream meander: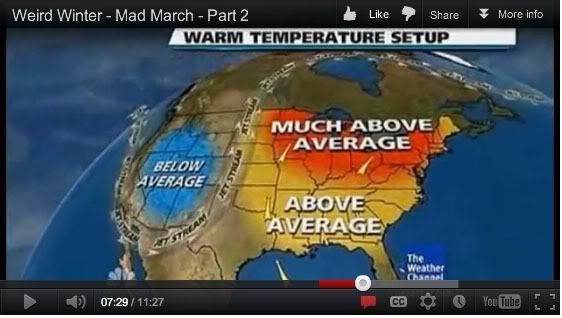 The persistence of these loops in the jet stream means that whatever kind of weather is happening is likely to keep happening. For example, last year, it meant repeated intense snowstorms in the eastern US. Europe faced intense cold spells this year while the eastern US was anomalously warm. Also it can mean droughts last longer. Dr. Francis:

What we're finding is this tendency for waves [meanders] to move more slowly is increasing the probability for the types of weather that are related to slow-moving weather conditions, or prolonged weather conditions, or weather patterns that seem to be stuck.
This is a neat theory that clearly connects a global warming phenomenon (warming Arctic) with extreme weather of various kinds that we've been seeing for the past few years. This is the connection that needs to be made publicly, because likely people's first encounter with climate change is strange weather.