Two Philadelphia priests charged with child endangerment and covering up child sex abuse in the Catholic Church, have been found thusly:
Msgr. William J. Lynn was found guilty on one count of child endangerment, and acquitted on two counts, including conspiracy.
The jury was deadlocked on attempted rape and endangerment charges against the Rev. James J. Brennan.
The is trial over, with a mistrial on the Brennan charges. (Although Prosecutors could decide to try him again.)
(Pictured Below - Monsignor William J. Lynn and Family)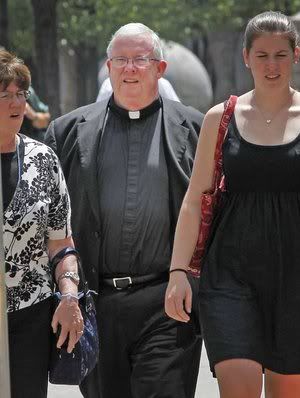 The jurors were weighing conspiracy and child endangerment charges against Lynn, the longtime secretary for clergy under Cardinal Anthony J. Bevilacqua. A codefendant, the Rev. James J. Brennan, is accused of attempted rape and endangerment.

On Wednesday, jurors declared they were deadlocked on all but one count. Common Pleas Court Judge M. Teresa Sarmina instructed them to keep talking.

This is a landmark case, because for the first time, someone affiliated with covering up child sexual abuse has been convicted. What implications will this have for the Penn State officials who are facing perjury charges, we will have to wait and see...
Lynn, 61, was the first church official nationwide to be tried for enabling or covering up clergy-sex abuse. He was accused of recommending that Brennan and another priest, Edward Avery, be allowed to live or work in parishes in the 1990s despite signs that they might abuse minors.

Nearly 20 victims testified at the trial, some describing in graphic detail how parish priests had groped, molested or raped them when they were young and how the abuse shaped their lives. Two witnesses described being abused by Avery. Another testified that Brennan tried to rape him when he was 14.

Lynn, who spent 12 years as Bevilacqua's adviser and chief investigator on clergy misconduct, was never accused of touching a child.

Prosecutors asserted that as clergy secretary he failed to take adequate steps to remove pedophile priests and that his conduct showed he cared more about protecting the church than children.

Lynn, they said, lied to some victims, never sought out others, and, in a few cases, suggested to admitted sex abusers that they may have been seduced by their young accusers.