Paul Ryan tried to blame President Obama for the GM plant closure in his Wisconsin district in 2008, before Obama became President. So the Republicans are trying to muddle the story by playing around with the dates.
Is this guy an idiot or what?

Paul Ryan Statement on GM's Announcement

October 13, 2008

WASHINGTON - Wisconsin's 1st District Congressman Paul Ryan released the following statemtn regarding General Motors' decision to discontinue production of their current product at the Janesville Assembly Plant on December 23, 2008:

"GM's decision to end production of their SUV's at the end of this year gets at the heart of our economic crisis. Today's announcement is disappointing, although not surprising given the drop-off of sales of SUV's. I will continue to do all that I can to support those in our community hit hardest by this loss, as we work to rebuild and revitalize Southern Wisconsin.

"Contrary to headlines I've read this morning, it is also critical to note that this accelerated timeline applies only to the current SUV product at the plant. I am encouraged by the tireless work of state, local, and union leaders who have offered a comprehensive incentives package to GM to bring another product to the plant. GM and local officials have continued their dialogue on keeping GM in Janesville, and I am hopeful that their talks will be successful. "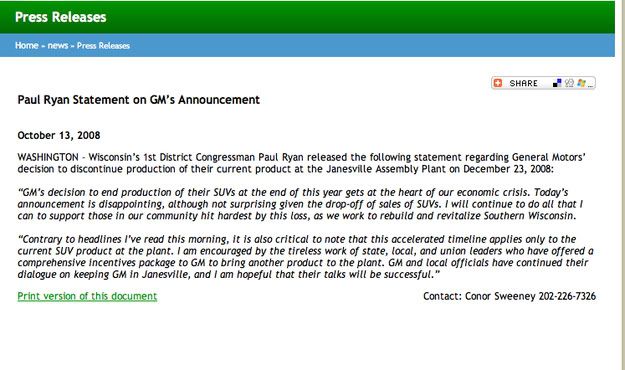 If there's any politician who can be blamed for the failure to keep the plant open, it's Paul Ryan. Time for some of that accountability the Republicans like to beat their chests about. After the plant closed he bragged about receiving federal money to help displaced workers.

According to a rudimentary LexisNexis search, Ryan made multiple public pleas to GM, including op-eds in his home state newspaper, to keep the plant open. He and fellow Wisconsin lawmakers went to the automobile company's headquarters to present plans to extend the plant's life. When the Bush administration itself called the decision to close the plant evidence that the auto industry was trimming fat and improving its bottom line, Ryan called the news "gut-wrenching."
And as it became clear in early-fall 2008 that GM wouldn't relent, Ryan publicly touted the federal tax money he secured to help displaced workers -- a use of funds that would seem at odds with his limited-government, fiscal conservative image.
h/t to henrythefifth
for links to Ryan's
press release
from
6/3/2008
announcing the sending of a letter to GM CEO Wagoner expressing disappointment at the announcement that the plant would be closed.
and a PDF of the actual letter.

h/t to Christian Dem in NC for the link from the wayback machine, with Lyin' Ryan's smilin' face.
3:56 PM PT: Thanks for putting this on the Rec List so fast. This needs to get out there. Please share to Facebook, tweet, email etc.
6:52 PM PT: Nicholas Kristof has tweeted the story, so this is getting some airplay!



Paul Ryan sent out press release, Oct 08, announcing GM plant closure that he blamed on Obama, dailykos.com/story/2012/08/…


— Nicholas Kristof (@NickKristof) August 31, 2012