I've read about your defense of your husband during a radio show and just wanted to say that you have my support and understanding. Of course you're upset at how those in your Party are treating your husband. I would be as well. Wives do not like it when we see the father of our children being treated disrespectfully, do we?
It is difficult to see our husbands heading out the door every day, doing all that they can to keep a roof over our heads and food on the table, only to be treated badly by their employers.
And it hurts to see the looks on the kids' faces when they hear about it. That's almost the worst, isn't it? Such things can bring out the mother bear in all of us.
It is perfectly understandable to me that you rose to your husband's defense.
But there are some things that are not so understandable and frankly concerning.
Your husband is going to have to face far harder circumstances if he becomes President of the United States.
We still have a war going on. Tensions in the Middle East. An economy that is still recovering from an economic collapse due to - forgive me please, I do so hate to say this - the very policies your party enacted. Millions of people are still looking for work. And of course, there is the major problem of climate change's world wide effects on food production. We know what it is like to worry about making sure our children have enough to eat, don't we?
The last thing I want to do is cast doubt upon your hard working husband, but if running for President is so hard, how is he going to handle the actual work of being the President during these difficult times?
He seems to have the economy figured out. Just reinstate the policies that broke it in the first place.
And I know he's not going to be that worried about the middle east. He said so. It seems he has that figured out as well. It's either ignore it or go to war.
The thing is, our sons and daughters have been fighting the longest war in American history. You may recall that the war in Afghanistan has been going on for over ten years. Of course, there was also the war in Iraq.
Our sons and daughters have served multiple deployments. They've lost friends, health and lives. And now they've been coming home to discover that finding work in this economy is even harder for them than most people.
There was a bill to help them with that. A bipartisan bill. Four Republican Senators helped write it. Then they and 36 other Republican Senators voted against it.
That's hard, Mrs. Romney. Watching the Party who voted to send our children off to war turn around and stab them in the back is hard.
Watching the Party who wants your husband to be the Commander in Chief betray our troops in that fashion, was more than hard actually. It was a stunning betrayal.
So, I just wanted you to know that I get it. i understand how you feel when your husband is betrayed by those who should be guarding his back.
It is, after all, what his Party just did to our Iraq and Afghanistan Veterans, and all to help your husband's election.
I'd hoped that my husband, a disabled Vietnam Vet, could share with you his thoughts on this. Unfortunately, it's hard for him to do so at the moment. He's so angry at what was done to the "kids," as he calls them. You see, he has been worried about them since the wars in Afghanistan and Iraq began. To learn that Republican Senators voted against a bill that they helped write, a bill to help our "kids," all for political expediency, hit him rather hard.
But I can say for both of us that we sincerely hope that your husband's heavy load decreases and that our troops who have sacrificed so much have the Commander in Chief that they deserve.
Re-electing President Obama and Democrats down ticket will ensure both. Those of us living far from $50,000 a plate fund raising dinners will do everything in our power to ensure that result.
Looking forward to easier days for us all.
Sincerely Yours
The wife and mom of a military family.
11:25 AM PT: All races, Presidential, House, and Senate, need our help. Spread the word. Let your family, friends and neighbors know what these Republican Senators did to our kids.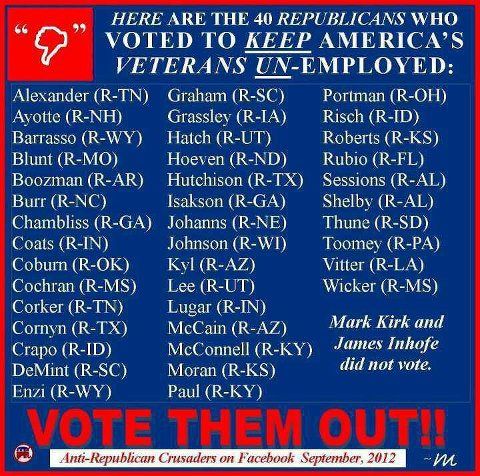 GOTV and remove them from office.

11:56 AM PT: Crashing Vor has a diary up with a straight to the heart new ad.
Please rec it up and share the ad far and wide.