Help me make this go viral. I want the phrase, "Don't Roof Rack Me, Bro!!" not just to go viral for the rest of the campaign, I want it to become short hand for opposition to everything the Rethugs represent. I've edited a number of Big Bird versus Romney pics into a Photobucket Album. If you click on any of the pics, you should be taken to the Photobucket album. You can copy its link from there and post it anywhere on the web and/or download it to use it on your computer. I'm going to make the first image my picture at the center of my desktop from now until the election.
Many thanks to the various Kossacks, especially pollwatcher, who have posted these images into various diaries.
My first image combines the admonition: "Don't Roof Rack Me, Bro!!" with an image of Big Bird on top of Mitt's car.
Please make it go viral.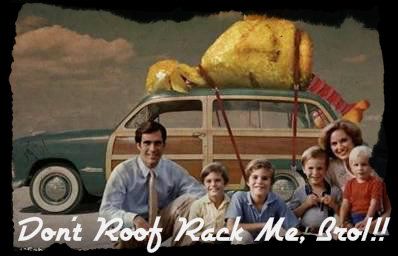 There is also a wonderful song (actually there are several, but this is my fav), in honor of Seamus, the most unfortunate Irish Setter to ever live in a 1%er's home.

You would be surprised how many people do not know the story of Seamus.
Mittens handed us one of the most effective anti-rethug memes in history. We are stupid if we don't run with it. Attacking a cultural icon like Big Bird was a gift not unlike Nixon's Checkers speech and his remark about Pat Nixon's good Republican cloth coat.
Giving Sesame Street characters a reason to become Democrats may not be good for them when budget time arrives in Washington, but it gives Obama and the Democrats a funny and poignant tag line which can can be pulled out again and again.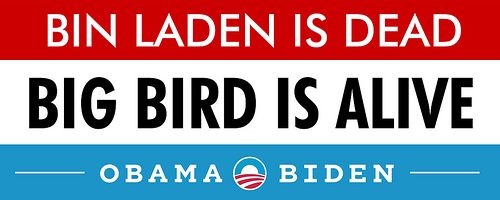 Pointing out that targeting Big Bird is absurd can be telegraphed in a simple graphic like this. Keeping your eyes on the prize is another relevant cultural association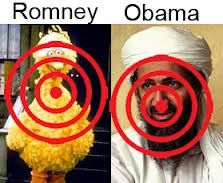 Highlighting Romney's ghoulish lack of empathy. He came alive while delivering the lines, "I like you Jim and I like Big Bird" while proposing to axe them.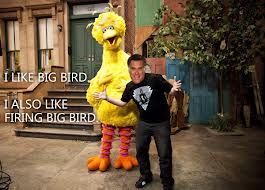 Allowing Big Bird to speak for the 47 percenters who mooch is also a good idea.
Expanding the meme to a whole group of vulnerable Muppets who are a stand in for those who have less (The Muppets were developed with the idea that they should appeal to low income children who don't have much and were literally closer to living in trash cans than living in McMansions).
Expanding all this to the idea that government helps keep us safe has to be a good thing.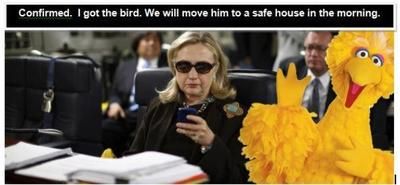 Ridicule is a good political tool. Placing Big Bird in your sights is as ridiculous as it looks.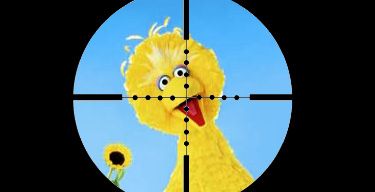 Making allies is always a good thing.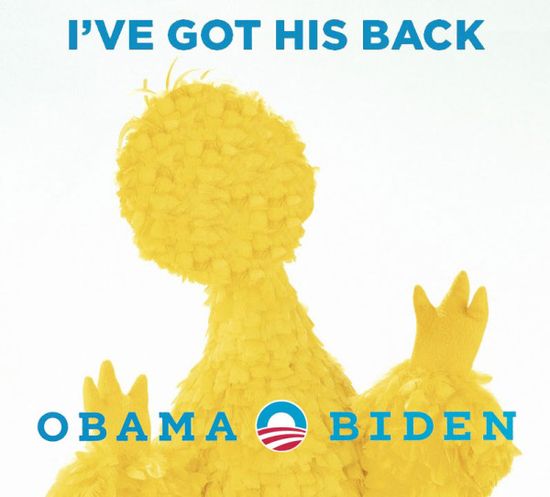 Maybe we don't want to use this association for general consumption, but Che's ghost is always around.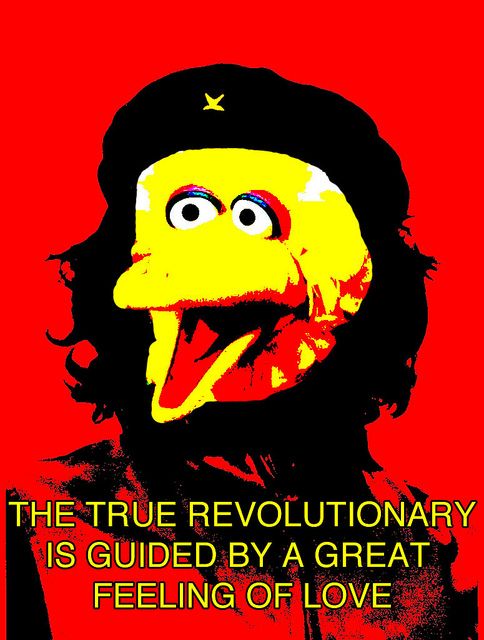 Imagining Barack as the Terminator is another good way to stick it to the Rethugs and Arnold.
A point of identification is a good way to win over supporters.