Do you ever wonder about this Republican Meme from recent debates (last night included)?

ROMNEY: When the president took office, the price of gasoline here in Nassau County was about a buck eighty-six a gallon. Now it's four bucks a gallon.
(snip)
PRESIDENT OBAMA: He said when I took office, the price of gasoline was 1.80 (dollars), 1.86 (dollars). Why is that? Because the economy was on the verge of collapse; because we were about to go through the worst recession since the Great Depression as a consequence of some of the same policies that Governor Romney is now promoting. So it's conceivable that Governor Romney could bring down gas prices, because with his policies we might be back in that same mess.
Turns out the gas prices were in a literal freefall between just before the election and inauguration. Isn't that interesting?
Romney makes it seem like the price of gas was normally $1.86 and it somehow doubled since Obama took office.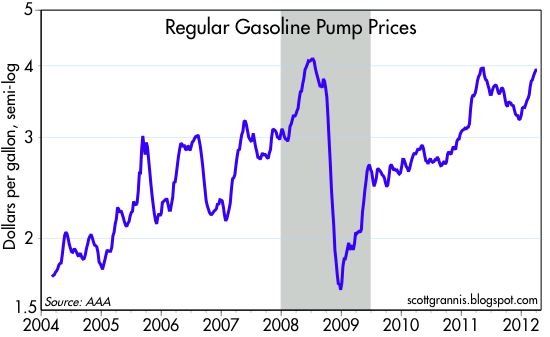 I wish I knew more about this but I remember it happening at the time and thought it a bit odd. If anyone else wants to flesh this out, I'd appreciate it.