The Daily Bucket is the place where we record and share the things we've seen in Nature. This time of year it could be about the changing colors of the forest around you or northern migrants at your bird feeder, or the fact that frosty nights have stilled the insects in your neighborhood. Doesn't matter where or what it is or how big or small, if it's part of the natural world around you then we'd love to hear about it. So please join in and tell us what Nature's been up to in your neighborhood. And let us know the general area you are reporting from, whether it's in the middle of an Ozark woods, deep in a southern swamp, your local city park, or your downtown apartment. It's all good.
Although I hear them often, I seldom see owls of any species around here but on the rare occasion that I do spot one sitting on a fence post or in a tree, it is almost always a Barred owl. They are very vocal birds and it isn't uncommon to hear several calling back and forth to each other during the night. Judging from what I see and hear they are by far the most numerous nocturnal winged predator in these parts. I do hear Great Horned Owls now and then but far less often than Barred Owls. I have noticed that the Barred Owls almost always cease calling if a GHO joins in the conversation. If they don't go completely silent they at least move further away. I don't know if they are preyed upon by GHOs but I suspect they are. They are often harassed by crows but that is more of an annoyance than a threat to them. Other than that, they have few predators to worry about. I suppose a coyote or bobcat would kill one if given the opportunity but doubt that it happens often. But they do have one danger to contend with that takes a high toll on their numbers. I see them lying dead along the roadways on a regular basis. It isn't hard to figure out why so many fall victim to automobiles. Road signs and power poles lining the highways make handy hunting perches and I expect that the headlights of an oncoming car would totally blind a bird with eyes sensitive enough to spot a tiny mouse in the dark, thus creating a highly dangerous situation when swooping down for it's prey just as a car or truck is passing.
Monday evening just before dark, my granddaughter and I were returning home from town when we came upon one sitting squarely in the middle of the highway. It sat there without moving when I pulled up along side it and stopped so it was clear that it had been unlucky enough to have been involved in just such an incident. A quick check of my rearview mirrors showed no cars coming so I jumped out with my mind rushing to figure out a way to quickly get this bird off the highway. It swiveled it's head around watching me closely but made no attempt to fly off. A Great Horned Owl had taught me many years ago what those talons were capable of and I had no gloves or anything else to put between me and those needle sharp hooks of his, but had no time to waste since I knew another car could come down the road any moment. So before I could talk myself out of it I quickly made a Hail Mary swipe for his legs and luckily managed to capture both of them, effectively neutralizing his best weapons. I definitely do not recommend doing that but as I said I had no time to take a more cautious approach. Ignoring the beak popping noise it was making at me I jumped back in my truck and sped on down the road, driving with one hand on the wheel while clutching the owl with the other. It was an interesting drive but luckily we had only a couple miles left to go and made the rest of the trip home with no problems. Once we got home we looked the bird over and could tell that one wing was broken and one eye was not opened quite as wide as the other so we suspected a problem there. But we could find no blood and no outward evidence of any other damage. We have a raptor rehab place about an hours drive from here but they had shut down for the day so I put it in the barn over night hoping that it didn't have any hidden injuries so serious that he wouldn't survive the night. I thought of keeping him in the house overnight but thought it might be too hot for him inside so decided the barn was a better choice. In the morning I was happy to see him looking unhappy but quite alive. No oncoming traffic to contend with in the hayloft so I had time to plan out a more cautious capture this time and in a few moments I had him in hand again with both legs securely in my grasp. I carried him up to the house where we took a couple quick pictures before placing him in a cardboard box for the trip to the raptor rehab center.
The trip was uneventful until we got there when, within the first minute or two the owl managed to get those talons into the hand of the staff member who was looking it over. When I say talons I mean, all of them, both feet, fully wrapped around, and into, the poor guys hand. I had some personal experience unwrapping the talons of a great horned owl many years before and have handled several smaller owls and various hawks over the years and I offered to help peel the bird off his hand but not knowing me from Adam I guess he didn't trust my abilities so he declined my offer of help and called for another staff member as he grimaced in pain. It took about four or five minutes, which I know seemed much longer to the guy wearing the owl, but they finally got the hooks out and the new staff member took over tending to the owl while the first one tended his own injuries. I think the guy took it very well though he was obviously in a lot of pain. I imagine he will be working with only one hand for a few days. Hopefully the wounds won't develop any kind of infection and will heal quickly for him. I had warned my granddaughter about the danger of the owls talons since we first picked him up and I think after watching that whole thing go down she believes me.
The prognosis of our owl was good, one broken wing bone which they said would heal as good as new and some possible eye damage that would be looked at by someone else later but they said that he was otherwise in very good condition and had a high likelyhood of being released back into the wild eventually. That is always their main goal there but when the injuries are substantial enough to prevent that then the bird remains with them and is well cared for.
We filled out a short form asking where we had found the bird and the circumstances and then left the bird in their care. They have many birds there in various stages of recovery and many of those birds can be seen. We saw raptors of all shapes and sizes, from screech owls to Eurasian Eagle-Owls, and Kestrels to Golden Eagles. It is a truly remarkable place, ran with the help of many dedicated volunteers and financed entirely on the donations from the public. We left a small amount in the donation box but know it will not even cover the costs of caring for the one owl we left with them but was all we could afford at this time. We do plan to visit again and increase our donation at that time. The name of this place is the World Bird Sanctuary. Anyone wanting to check it out, here is the link for their website. Navigate around the site a bit and you'll find some interesting reading and pictures. If you happen to live anywhere near , or plan to visit, St. Louis , I highly recommend taking time to visit this place. You'll find a remarkable, dedicated, and friendly staff and many beautiful birds.
And if you want to see lot's of smiles, then please take your kids, your neighbors kids, your grandkids, nieces, and nephews. The staff there go out of their way to tweak the interest, education, and enjoyment of the little ones.
Below are some pics of just a few of the birds we saw there.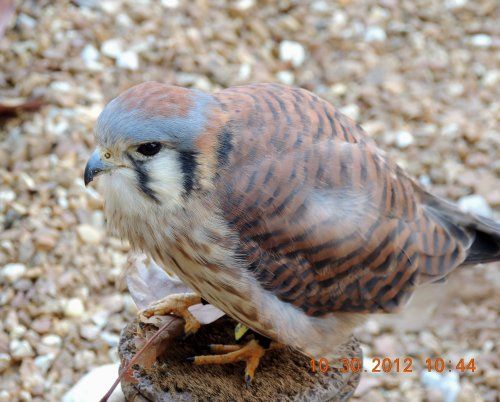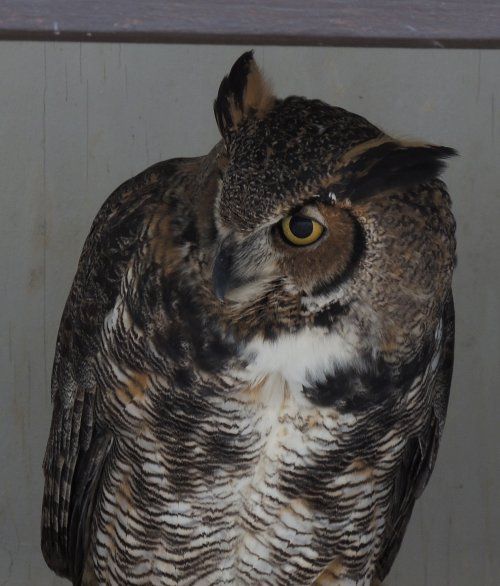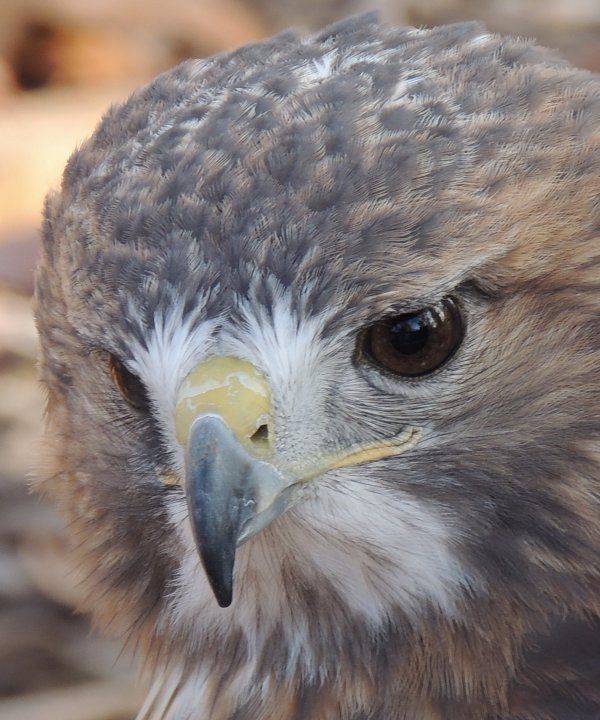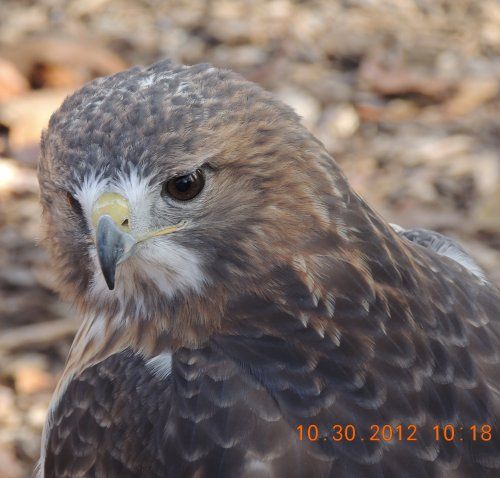 We've woke up to frosty mornings all this past week here in mid Missouri but by noon the sun warms things up enough to make great walking weather and we've been taking advantage of it whenever we have the chance. Yesterday we saw a new flock of green winged teal on a local lake. Purple finches are starting to show up at the feeders. We've had a flicker coming into one of the suet blocks for a few days. We've had them in the yard off and on all year but this is the first one to use the feeders so we are happy about that. The fall colors are about gone and the woods are taking on their winter look as the dry leaves fall and cover the forest floor.
That's about it for mid Missouri, what's happening in your neighborhood?