Today (Saturday) is the last day of early voting in NC. This is also the last day, when people can register and vote on the same day.
I know there are lots of procrastinators out there, who are waiting until the last possible minute to make their move. If you haven't yet voted and if you live in NC, please, please, please MAKE time and vote today. Lines are NOT going to be as long as on Tuesday and this will save you some time. Bank that vote for Barrack today, because things happen and you don't want to be caught in last minute hustle to get your vote counted.
Follow me below to see how you can help keep Carolina Blue.
The number have been very encouraging so far in NC, although this past week couldn't really keep up with the euphoria of the first week, where we were just crushing it. A few solid Obama counties have been really disappointing. But, I hope these counties will come out in full force on Tuesday to vote for the President.
Orange County and Durham County, I'm talking to you. Both these counties usually vote between 70-80% Blue. But, their numbers of voters is below (or only very slightly ahead) the 2008 pace.
Durham County has 200+ eligible voters and only 80k have voted early. Orange county has 110k eligible voters and only 42k have voted so far.
Overall, African American turnout is well above the 2008 pace.
I will be getting out the vote in Wake County all day today.
Tomorrow we will be welcoming Bill Clinton in Raleigh. We all need to really be proud of the job he has done for the President, the Democratic Congress and House. This "Old Man" has been touring the country, doing multiple events per day from one timezone to another. For a guy his age and a history of heart problems, that's amazing.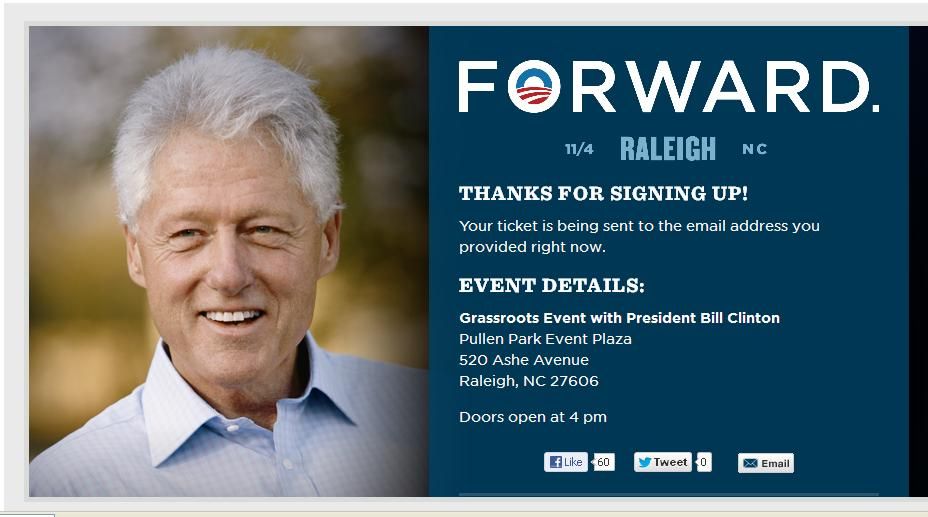 If you don't have plans for today, please think about phone banking, canvassing or anything else you can do to give the president the Senate and the House he needs to implement the policies that matter to you.