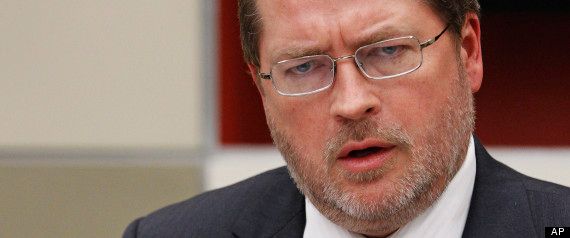 Tensions over tax policy escalated today as Grover Norquist became so carried away he cast decorum aside and charged that President Obama won on the basis of portraying Mitt Romney as a 'poopy head," not on policy. Therefore, Norquist asserts President Obama does not have a mandate for increasing taxes, or any other policy changes. Right wing eight graders through-out our nation must be cheering as they see a new hero rising in the cultural wars.

"The president was committed; elected on the basis that he was not Romney and Romney was a poopy head and you should vote against Romney and he won by two points," Norquist said on CBS' "This Morning" Monday. "But he didn't make the case that we should have higher taxes and higher spending, he kind of sounded like the opposite."

Host Norah O'Donnell pushed back. "Well, I'm not sure that's what the president called Mitt Romney, Grover," she said. "That's not the debate that was had ... he said very clearly throughout the debate that the wealthiest Americans should pay more and he won eight of the nine battleground states and Republicans failed to reclaim the White House or the Senate."

Norah O'Donnell pushed back, again, noting that "exit polls show a broad support for raising taxes on the wealthiest americans."
This is real folks, and not an Onion satire, or something I made up for your amusement.
Here, we see another "ugly," funny, and pathetic real-life example of the desperate extremes some right-wing ideologues are willing to go to in order to spin this election in a way that minimizes the extent to which their losses will have political consequences on policy matters. (Did you notice how relatively mature I was in this sentence been by not using an obvious scatological pun in my alliteration of adjectives? After I post this, I'm going to tweet Grover saying, "Na, na, na, na, nanna no, I'm more more than you are!")
Until a few months ago, Grover Norquist was content to play the role of a behind-the-scenes power broker, but increasingly, he has come under attack for putting Republican candidates into obstructionist, unrealistic, and unpatriotic straight jackets.
As he ventures out more onto the public stage to defend himself, he seems to be making his situation worse. A few months ago Grover Norquist appeared on on interview (maybe Jon Steward or Stephen Colbert?) he claimed he thought up his "tax pledge" in eight grade. He apparently has not progressed much since then in his rhetorical sophistication either.