With a plethora of diaries on national and state politics, let's try something more local. I'll contribute to this with a diary on my hometown: the great City and County of San Francisco.

Enter, all ye who can afford the skyrocketing rent.
The 14th largest city in the United States, San Francisco consists of about 800,000 people stuffed onto a roughly 7-mile-by-7-mile square. Once the largest city on the West Coast, it still commands outsized economic, social, cultural, and political influence. It is still the center of the San Francisco Bay Area, home to 7.1 million people, and is home to the California Supreme Court, Twitter, and the Sierra Club. Bank of America and Wells Fargo both began here, and the city is filled with numerous Web 2.0 startups, corporate headquarters, mom-and-pop shops, and interesting personalities.
The city's politics is as complicated as its neighborhoods, microclimates, and inhabitants. New interest groups and constituencies have been added to the mix through the years, but established players still hold much sway. While conservatives may love to portray San Francisco as a place full of nude stoned gay hippies eating tofu salad out of compostable boxes (and I'm sure a few of them exist here), politics here is much more multifaceted than that.

No person or political issue shall be deemed odd or unseemly in these chambers.
Facts on the ground
San Francisco is both a city and a county. It has its own jail and sheriff, and can (or must) do many things other cities can't do under California law. Its highest office is the mayor, and its city council is called the Board of Supervisors (the term used for county governing councils in California).
Virtually all elected officials in the city are Democrats. This shouldn't be too hard to grasp. The only non-Democrat is Republican James Fang, who sits on the BART Board of Directors (BART, or Bay Area Rapid Transit, is the major commuter rail system for the Bay Area). Virtually all elected officials, from the most conservative to the most progressive, support (in word, at least) the usual mill of liberal causes: marriage equality, universal healthcare, woman's right to choose, etc. The last major Republican politician from the city was Milton Marks, Jr., who served in the state senate until switching to the Democrats in 1988. The Green Party used to be a formidable force, but after Matt Gonzalez, a Green supervisor, lost the 2003 mayoral race to Gavin Newsom, it started withering away, and is pretty much moribund these days.
A "San Francisco progressive" is quite different from a "progressive" in national or even state politics. A corollary is that a "San Francisco moderate" is also quite different from a "moderate" in other places. More on that below.
Generally, higher voter turnout means more moderate outcomes, while lower turnout means more progressive outcomes. This usually applies to ballot propositions rather than elected offices. Progressives are much more highly organized than moderates, but they tend to lack numbers.
Most elected officials in San Francisco aren't locals. Only a third of the city's inhabitants were actually born and/or raised in the city. Also, born-and-raised locals who get elected tend to more moderate, while many progressive politicians moved into the city during adulthood. Running on local roots or "old-fashioned San Francisco values" doesn't get a candidate very far, since most people have no concept of what they are or it's perceived as an attack on them.
The city uses ranked-choice voting (otherwise known as instant-runoff voting, but we call it ranked-choice voting here) in municipal elections. Approved by voters as Proposition A in the November 2002 election and instituted in 2004, a voter is allowed to rank at most three candidates in a race (to see what a San Francisco ranked-choice ballot looks like, see here). This was a reform pushed by progressives to both save money and to allegedly maximize their power. While it did eliminate costly runoff elections, the alleged "progressive boost" failed to materialize and has been a wash for both moderates and progressives.
The players
There are three main factions that hold significant sway in San Francisco politics. The lines between them are sometimes fuzzy, and people and politicians shift between the groups, but they are roughly coherent and it's just easier to understand things this way. Other groups exist, but any elected official that wants to get ahead usually garners support from one or more of these groups.
The moderates are more or less the establishment. They tend to be pro-business, pro-development, and advocate lower fees and taxes. They like big projects and focus on citywide issues, except for neighborhood schools (a contentious issue in a city where neighborhoods are often defined by race and class). They tend to center their views on pragmatism and fiscal prudence, pushing change where need be but holding back in other times. Their strongest constituencies are the upper- and middle-class neighborhoods in the city's northern tier and the steep hills in the center.

For the longest time, they have held the mayor's office, but they currently can't hold it now without outside help (more on that later). The most prominent moderates in city politics are supervisors Sean Elsbernd and Scott Wiener. On a more macro level, moderates include Dianne Feinstein, Nancy Pelosi, and Gavin Newsom.

Wait, what? Pelosi and Newsom, moderates? No, I'm not kidding. The titans of liberal politics are considered moderates in this city. Insert "only in San Francisco" cliche here.

The progressives, for lack of a better term, form much of the political opposition to the establishment. They tend to be more pro-tenant, pro-neighborhood, and anti-development. They advocate more city funding for social services, especially for the homeless and the poor. While not exactly anti-business, they tend to advocate for better worker protections and business restrictions (both big and small business, varies depending on the issue). They tend to revolve around the principle of social justice writ large and small, be it drug rehabilitation or foreign policy. They draw their inspiration for figures such as Harvey Milk, the late supervisor and activist.

Almost all challenges to the political status quo begin here. Former congressman Phil Burton and former mayor Willie Brown started their careers here, defeated the establishment of their time, and became the new establishment. Some challenges are successful, but many are not. Local progressives include state assemblyman Tom Ammiano, sheriff Ross Mirkarimi, and supervisors David Campos and John Avalos. Their strongest constituencies are the middle- and lower-class neighborhoods in the city's core.

The moderate progressives (confused yet?) are the newest kids on the block. This group emerged in the late 1990s and early 2000s as the moderates began to wane and the progressives began to gain power. The faces of this group tend to be heavily Asian due to it coinciding with rising Asian American political power in the city, though this faction also includes people of other groups, most notably supervisor Malia Cohen, who is African-American. Like other progressives, they are pro-tenant and advocate for more social services to the poor. However, they have pro-business and pro-development tendencies and tend to focus on streamlining bureaucracy and effective government.

They currently form the swing bloc in San Francisco politics, having sided with the progressives in 2008 and the moderates in 2010, eventually taking control of the mayor's office in 2011 with the help of moderates. Prominent members of this group include current mayor Ed Lee, consultant and community activist Rose Pak, and supervisors David Chiu, Jane Kim, and Eric Mar. The base of this group include the heavily Asian neighborhoods in the city's northeastern corner and the western and southern peripheries.
More names you should know:
Willie Brown is a former mayor (1995-2003) and former Speaker of the California State Assembly (1980-1995). His political start was in the 1950s and 1960s under then-Congressman Phil Burton and alongside now-California Democratic Party chair John Burton (Phil's younger brother). Winning his first political office in the state assembly in 1964, time and experience connected Brown with influential big-moneyed interests and sharpened his political skills, becoming the self-styled "Ayatollah of the Assembly." As Speaker, he controlled everything from the flow of bills to a member's parking space to campaign donations. He even had Republicans on his side, converted through small favors or caucus infighting fallout. As mayor, he was pro-development and anchored the pro-business moderate wing, leading to projects such as the development of Mission Bay and the revitalization of City Hall, often alienating progressive groups and neighborhood interests. Today, he runs the Willie L. Brown Institute on Politics and Public Service, a nonprofit oriented towards careers in local government, and is a columnist for the San Francisco Chronicle. His deep connections to business, labor and the social scene makes him an still-influential force in the city's politics.
Ron Conway is a tech investor, and his main contribution is money. Squarely in the moderate camp, he has many connections in the business world, and he isn't shy about showing who or what issues he supports. He is a monster networker and fundraiser, and he is probably the biggest reason why San Francisco is undergoing a massive tech boom (and the perks and problems that come with it). As a major investor in Twitter, he was instrumental in getting it the (in)famous payroll tax break from the city in exchange for staying in San Francisco. Of course, he benefits from all of this financially too, but welcome to politics.
Chris Daly and Aaron Peskin are stalwarts of progressive politics in the city. Serving on the Board of Supervisors in the 2000s, they were the core of any progressive movement and led the opposition to the mayoral administrations of Willie Brown and Gavin Newsom. As they and their allies controlled a majority of the board when they were in office, they forced the mayors to compromise with them on a host of issues, lending a progressive bent to otherwise moderate policies. Now out of politics, they hold nominal but waning influence even on the progressive scene.
Kamala Harris is the California Attorney General and the former district attorney for San Francisco. In 2003, she defeated incumbent district attorney Terence Hallinan, a progressive. Interestingly (and as many Californians here are aware), she holds many progressive positions, such as opposing the death penalty and new approaches to fighting crime. She straddles the moderate-progressive divide, having endorsed (and received the endorsements) of both sides. Incidentally, she dated Willie Brown in the 1990s.
Mark Leno, Leland Yee, Fiona Ma, and Tom Ammiano are San Francisco's representatives in the state legislature: Leno and Yee in the state senate, Ma (soon to be replaced by current San Francisco Assessor-Recorder Phil Ting) and Ammiano in the state assembly. They hold a varying amount of influence in the city's politics, with Ammiano holding sway in progressive circles while Ma, an extremely effective fundraiser, and Leno being more identified with the moderates. Yee is a maverick, too progressive for the moderates but alienated from both progressive wings, especially the Asian moderate progressives. He sort of does his own thing, having been "kicked upstairs" in a way. Leno is rumored to run for Congress whenever Pelosi decides to retire, Yee is running for California Secretary of State to succeed termed-out Debra Bowen, while Ma is running for the Board of Equalization to succeed termed-out Betty Yee. Ammiano might run for Leno's state senate seat, but he's 70 and may decide to just retire from politics, having been an elected official since 1990.
Rose Pak is a consultant for the Chinese Chamber of Commerce. But that title understates her immense influence in San Francisco politics. A journalist by trade, Pak brokered connections between Chinatown nonprofits and groups, especially the Chinatown Community Development Center (CCDC), and mobilized them for political action. Pak also holds immense influence in the Chinese American community due to her ability to get the city to pay attention to their interests, which were neglected for a long time. She is instrumental to the rise of the moderate progressives and is willing to ally with or spurn both moderates and progressives as it suits her purposes. Pak is quite a personality, openly criticizing her opponents and mocking politicians in profane tirades before the press and the public. She is also very pro-PRC (mainland China), which accounts for a relative lack of pro-Taiwan or Chinese democracy sentiment on the side of the moderates and the Asian progressives.
The San Francisco Chamber of Commerce and the San Francisco Labor Council are the bigwigs in business and labor. Naturally, the CoC is moderate while the labor council (read: unions) lean progressive. However, the building trades unions are considered moderate (they have to be pro-development in order to stay employed). The largest union in the city is the SEIU, specifically SEIU Local 1021.
The San Francisco Chronicle and the San Francisco Examiner are the two major newspapers in the city. The Chronicle is much larger than the Examiner, with the Chronicle being the usual paper and the Examiner, once the more dominant of the two, relegated to free tabloid format. Four years ago, the Examiner endorsed McCain over Obama, erasing the little credibility it had. It has improved a lot since then, but it has a long way to go. Prominent alternative weeklies include SF Weekly and the San Francisco Bay Guardian, a progressive paper. The two aforementioned weeklies have a longstanding feud.
Note: You often hear of the "Willie Brown-Rose Pak machine" in San Francisco politics, which came into vogue when Ed Lee was appointed mayor in 2011. This is a marriage of the moderate wing (who had a ton of money) and the heavily Asian moderate progressive wing (who had the boots on the ground), forming a formidable bloc. For the most part, this alliance of sorts have held the most sway in City Hall. However, this isn't a completely true representation of San Francisco politics, since there are numerous conflicts between the two. The "Rose Pak" side of the machine is actually a progressive one, with Asian American moderates chiefly subsumed under the broader moderate wing. Therefore, it's best to understand the landscape by visualizing three groups whose alliances shift constantly (think George Orwell's Oceania-Eurasia-Eastasia).
Geography
The city is divided into 11 supervisorial districts, shown here. For shorthand, I will abbreviate district names with "D(number)", which is how it's done here. When in Rome...
District 1 consists mainly of the Richmond district and Golden Gate Park and has a nearly even mix of whites and Asians. The district is full of duplexes and apartment buildings and largely middle class. Politically, it tends to vote for progressive supervisors and moderate on ballot measures. The current supervisor is former school board member Eric Mar, who is squarely in the moderate progressive camp and was propelled into office with the help of progressives.
District 2 is the bastion of old-time San Francisco. Consisting of the Marina, Cow Hollow, Pacific Heights, Laurel Heights, and Seacliff (plus the Golden Gate Bridge), it is home to the city's wealthiest residents, both long-established families and newer young professionals. The homes of Dianne Feinstein and Nancy Pelosi are located here. Not surprisingly, this district is one of the most conservative in the city. The current supervisor is venture capitalist Mark Farrell, a moderate.
District 3 is what tourists think of when they see San Francisco. Cable cars, Coit Tower, Fisherman's Wharf, Chinatown, North Beach, and the Ferry Building are all located in this district (ok, Lombard Street is across the street in D2). It is extremely diverse, from the high-rises in the Financial District to the alleyways in Chinatown to the steep slopes of Nob Hill. This district generally votes progressive, but it does slip to the moderates on propositions every so often. The current supervisor is attorney David Chiu, elected with the help of progressives in 2008.
District 4 is the Sunset District. It consists mainly of Asian middle-class families in single-family homes: the quintessential bedroom community, the prototype of the Asian suburb. Staunchly moderate, its supervisor is Carmen Chu, first appointed by then-mayor Gavin Newsom in 2007.
District 5 is home to the world-famous Haight-Ashbury (now generally called Upper Haight or Cole Valley). It also includes Japantown, the Fillmore, the Western Addition, Hayes Valley, NoPa (short for North of the Panhandle, with the Panhandle being a block-wide extension of Golden Gate Park), and the Inner Sunset (distinct from the Sunset in D4). This is a progressive stronghold, and moderates don't tend to see the light of day here...until this year. A split progressive field allowed London Breed, director of the African American Art and Cultural Complex and the most moderate of the candidates, to win, knocking off appointed incumbent Christina Olague, a progressive with moderate hues (I guess she was paying her dues to the mayor, who appointed her).
District 6 consists of the Tenderloin, SoMa (South of Market), and Mission Bay. This district has changed to most of any district in the last twelve years. In 2000, it mainly consisted of single-room occupancies and apartments, with much of the district filled with empty lots or warehouses. The arrival of AT&T Park and UCSF into Mission Bay hastened development and gentrification in the eastern parts of the district, attracting young professionals and people with the means to purchase prime waterfront views. Once extraordinarily progressive, the district has moderated substantially, though progressives are still strong here. The current supervisor is former school board member Jane Kim, supported by the moderate progressives against Debra Walker, who have the full-throttle support of the more established progressive wing. This particular election alienated many Asian progressives (and the Asian community as a whole) from the progressive faction, driving them into the alliance with moderates that still holds today.
District 7 consists of West of Twin Peaks, Golden Gate Heights, West Portal, Forest Hill, Sunnyside, Parkmerced, Lakeshore, and St. Francis Wood. Essentially, it's full of rich and upper-middle-class people. Needless to say, this district, along with D2, is one of the most conservative in the city. Parts of this district actually voted for Steve Cooley over Kamala Harris for Attorney General in 2010, which is probably as Republican as you can get in this city. The current supervisor is termed-out Sean Elsbernd, a former aide of then-mayor Gavin Newsom who was appointed in 2005. Like D5, this year's election for this seat produced a surprise winner: school board member (so many school board members!) Norman Yee, the most progressive of the candidates, narrowly won election over labor leader FX Crowley and thoroughly beat moderate candidate Mike Garcia.
District 8's most famous neighborhood is the Castro, but it also includes Noe Valley, Glen Park, Diamond Heights, and parts of the gentrified Mission District. Most people think of this district as Harvey Milk's district, but D8 has been the home of moderate supervisors since its creation in 2000. D8 does have a penchant for voting progressively on propositions, though even that is slowly slipping away as the Castro gentrifies. The current supervisor is moderate stalwart Scott Wiener, former chair of the San Francisco Democratic County Central Committee.
District 9 (not to be confused with the movie of the same name) is home to Bernal Heights and the heart of the Mission district. It also has the Portola neighborhood attached to it for population purposes. Why so derisive a description? Because the Mission and Bernal Heights form a progressive stronghold of whites and Latinos, while the Portola, tacked onto the district over two redistricting cycles, is small, heavily Asian, and conservative. D9 is currently the only supervisorial district in the city with undisputed progressive cred right now, and it shouldn't change anytime soon. The current supervisor is David Campos, who came from Guatemala when he was 12 as an undocumented immigrant and subsequently graduated from Stanford and Harvard Law.
District 10 is a hodgepodge of disparate neighborhoods on the eastern side of the city. It combines gentrified Potrero Hill, mostly African American Bayview-Hunters Point, and heavily Chinese American Visitacion Valley into a melting pot. This district is one of the poorest and the most crime-infested in the city. The district's neighborhoods tend to be parochial about the candidates they support, resulting in tangled messes whenever this seat opens up. The two supervisors it ever elected, Sophie Maxwell and Malia Cohen, were swingy votes who tilt moderate, especially Cohen. Both draw on the active African American base in this district, but the exploding Asian American population, especially in the Bayview, may start to assert itself. On propositions, this district often serves as a bellwether for the city. The current supervisor is Malia Cohen, who won a 21-way race.
District 11 consists of the Excelsior, Outer Mission, Crocker-Amazon, Ingleside, and Ocean View neighborhoods. Over half of the district is Asian (mostly Filipino and Chinese), but there is a significant Latino mark here, and its most prominent politicians tend to be Latino. This district, like D1, tends to elect progressive supervisors but votes more moderately on propositions, though not to the extent as D1. The current supervisor is John Avalos, a former supervisor's aide who ran for mayor (and came in second) against Ed Lee in 2011.
Political bases and strategy
The moderate strongholds in the city are D2 and D7, with D1 and D4 further to the left but often firmly in their column. The progressive strongholds are D5 and D9, with D6 and D8 also serving as reliable players. D3, D10, and D11 are the swing districts, being diverse ethnically and politically.
Political strategy usually centers around two maps.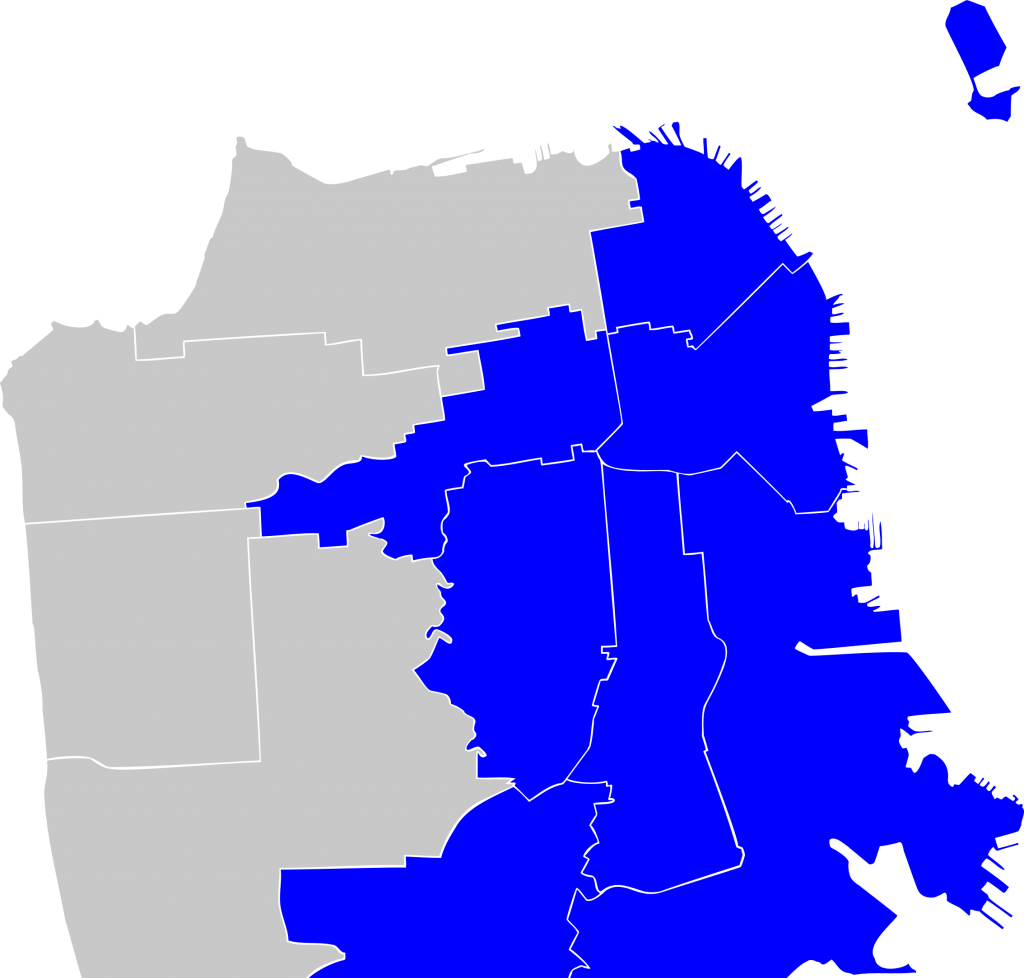 The map on the left is the "conservative C" used by moderates to win citywide races and ballot propositions. It takes in the moderate bases of D1, D2, D4, and D7, and pulls in the swingy D3, D10, and D11. This tends to be seen in mayoral races and major mayor-backed initiatives, especially in the 2000s.
The one on the right is the "progressive block" used by progressives to win races. It takes in the progressive bases of D5, D6, D8 and D9, along with the swingy D3, D10, and D11. This tends to be seen more in ballot propositions.
With the blurring of political lines and the ascent of Mayor Ed Lee, these maps have faded away, especially in initiatives. As moderates and progressives have shied away from confrontation, most ballot propositions tend to be supported by both business (moderates) and labor (progressives) or opposed by both. Especially in this year's elections, the seven propositions saw lopsided citywide margins, with all the districts uniformly for or against. However, it remains to be seen whether this trend will hold up.
Resources
There are many resources if you want to keep up with San Francisco's ever-changing political scene. Much of this information was picked up by me over my years of living here, but even I'm still learning new things daily. Some useful places include:
The San Francisco Department of Elections has one of most accessible websites of any elections department. It has election results stretching back to 1995 and voter information pamphlets dating back to 1907 (courtesy of the San Francisco Public Library). It also has a new eData tool for some of your statistical needs.
Usual Suspects, operated by Barbary Coast Consulting, is a one-stop shop for the latest San Francisco political news, candidacy rumors, and the like. An important resource for any political junkie interested in San Francisco.
Linda Post is a blogger who has an ability to catalog every single scheduled political event in the city. Her posts detail when the event is, who's the main attraction, who's hosting, and where it is. A good way to get free food and networking opportunities.
Of course, there's the newspapers: the San Francisco Chronicle and the San Francisco Examiner. There's also the SF Weekly and the SF Bay Guardian.
Feel free to contribute your knowledge below!
Tue Nov 20, 2012 at 1:04 PM PT: A shoutout to SF Usual Suspects for posting this diary on their front page. Thanks!