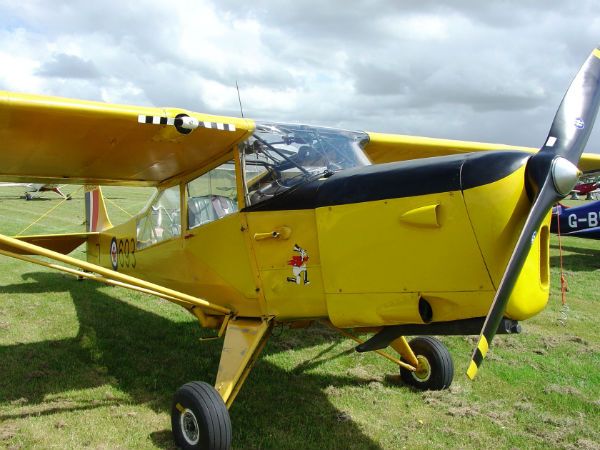 In the 1920s two brothers from Nottingham, Clarence and Gordon Taylor, left for the USA and better times. The brothers formed their own aircraft company to build a light, two-seat trainer and 'club' aircraft. Relocating to Ohio, from Rochester, NY, they were joined by an oilman, William Piper, who quickly engineered a take-over of the company for his own benefit. Piper later renamed the firm, and the rest is, as they say, history. Clarence Taylor (his brother having been killed flying one of their aircraft) was forced out, and went on to found a new company which became Taylorcraft. Always concentrating on two-seat, high-wing and fabric-covered machines, these products were in direct competition with the much-more aggressively marketed Piper Cub.
In 1938, a company was formed in Leicestershire, with the express purpose of building a licenced version of the Taylorcraft. Called British Taylorcraft, its first premises were in a disused osier shed, on the outskirts of Leicester, and the first aircraft type to be produced was called the Model B. Incremental improvements gave rise to a capable two-seat 'club' aircraft and trainer. It is difficult to speculate just how well the British Taylorcraft would have faired in the long term against the might of de Havilland, because the outbreak of World War Two altered everything.
Here we can see another sheep-in-wolf's-clothing, this time it is a G-BLPG, formerly G-AZIH, built in 1959 as a four-seat Auster J-1N Alpha. Powered by a de Havilland Gipsy Major 10 Mk1 engine of 145hp, and driving a Hoffman HO21 propeller, it has been re-painted to represent an Auster AOP6 of the post-war Royal Canadian Air Force (which it very closely resembles). The AOP6 (where AOP stood for Air Observation Post, an artillery co-operation type) was also used as a communications machine and general 'hack'. Designed postwar to fulfill a need to replace all the worn out Auster AOP aircraft, it was sold successfully to the Royal Air Force, South African Air Force, the Belgian Air Force, the Royal Canadian Air Force and others. It is finished in an all-over yellow scheme - apart from anti-glare matt black areas - which was intended to aid searchers, should the aircraft be forced down over wilderness or snow-covered areas, something that Canada has a great deal of!
It carries some interesting 'nose art' (a practice that went on right through the Gulf War); in this case it is a drawing of Captain A.R.P. Reilly-Ffoull, the leading character in a British cartoon strip, 'Just Jake', which appeared in the Daily Mirror during WW2. It was drawn by Bernard Graddon, from 1938 until his death in 1952. The small propeller on leading edge of the starboard wing is, of course, attached to the aircraft's electrical generator - something that many small boys are intrigued by!
'16693′ is now owned by Mr Peter John Gill, and is a regular visitor to European airshows and fly-ins. I think you'll agree with me that it is a very smartly turned-out aircraft.