Welcome to Sunday All Day Brunch. This is an open topic thread so help yourself to the goodies and sit a spell and let us know what is going on in your life. I have been scanning like crazy trying to get old pictures into the computer so I can preserve them on discs before they fade away. The past is a fascinating place to visit.
These were my Mom's parents Una Mae Hensley Hughes and Hiram Walter Hughes.
These were Hiram's parents James Harvey Hughes and Laura Belle McIntyre Hughes.
This was Una Mae's Dad Robert Hensley who was a Civil War veteran.

This was Una Mae's mother Nancy Cunningham Hensley who was pure blooded Cherokee. She was adopted at 15 by white people and raised as white.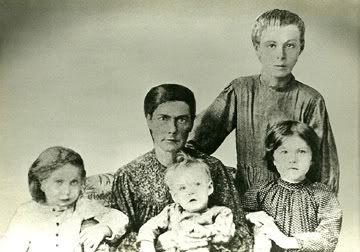 This was my Dad's father James Francis Wilson.
This was Dad's mother Gertrude Amelia Wiseman Wilson
These were his father's parents James William Wilson and Mary Elizabeth Middleton Wilson.
This was his mother's mother Mary Elizabeth Tiffany Wiseman, with Gertrude, and her brother Chauncey at the time with the funeral photograph of her husband Theodore Wiseman.