GUS (Gave Up Smoking) is a community support diary for Kossacks in the midst of quitting smoking. Any supportive comments, suggestions or positive distractions are appreciated. If you are quitting or thinking of quitting, please -- join us! We kindly ask that politics be left out.

You can also click the GUS tag to view all diary posts, or access the GUS Library at dKosopedia for a great list of stop-smoking links. Check it out! Want to make sure you never miss us? Follow (♥) the GUS tag to keep GUS in your Stream. It's just that easy!

A message to ALL quitters. You don't have to avoid GUS if you have a failed quit. We won't give you a bad time and we consider the failed quits as "practice" for the real quit.
Okay, I had some really ambitious plans for this week's GUS diary, and even did a bit of research while I could, since next week will be in the middle of that pre-Christmas flurry of activity and I won't have a chance...but somehow, it never quite came together for me. Part of it was a busy weekend, and an even busier work week. Some of it was due to unavoidable family stuff, which happens when you have an immediate family bigger than the population of some West Texas towns.
And some of it comes down to my being in a spectacularly grumpy mood the other night, when I should have been writing.
This time of year is filled with good cheer for a lot of us (and I usually manage to find some of that good cheer myself, when I get a chance to take a breath and release myself from the obligation to be perfect and get everything done on time and under budget, with absolutely no misunderstandings, emotional blow-back, or train-wreck plans to interfere with the Holiday Perfection (TM) I had planned.
But for many of us, the time leading up to the holidays is fraught with doom and gloom. The days are so short. Our S.A.D. kicks in. Half of us have the flu, or at least a really irritating case of the sniffles, plus a persistent tension headache from all that juggling we end up doing to get stuff done on time. It kind of sucks.
But alas, we have to socialize, at home or at work or with friends and neighbors, when all we really want to do some days is curl up with a book or shiny magazine, or a game of Angry Birds, or the most mind-numbingly plot-free TV show or movie we can find, and tune it all out. We want to climb into bed and wait until it passes, so we can start fresh when the days are getting longer and brighter, instead of darker and drearier. We want to be left alone to stew in our own grumpiness, and do unhealthy things like eat raw cookie dough or chain-smoke, even if we don't actually follow through with those plans. We want to de-grumpify if and when we are good and ready, thank you very much.
There's something different this year, though. We may be grumpy---perhaps even HOLIDAY grumpy, which is a special, bedazzled, eggnog-soaked, jingle-bell-Muzak-from-Hell version of grumpy---but none of us can out-grump the reigning Internet Champion of Grump, Tardar Sauce the Grumpy Cat. She's on Facebook, Pinterest and YouTube; she has her own Meme Generator....heck, someone even got a tattoo of her face! She's freakin' EVERYWHERE.
And for some reason, she doesn't look all that thrilled about it.
See, that's the thing: you can be doing well, objectively speaking, getting lots of positive attention, having what should be a good time, getting support and encouragement and pats on the back (literally or figuratively) and you STILL might be feeling a little out of sorts. Or---dare I say it?---grumpy.
Some of us push the feelings down and just plow onward, knowing that the holidays are going to arrive whether we feel ready to enjoy them or not. We distract ourselves with tasks, or bury ourselves in work, or busy ourselves with doing things for others. And quite a few of us, deliberately or not, sort of forget to take good care of ourselves in the process. Maybe because we're stressed, missing folks who are no longer with us, or feeling overwhelmed by all that we have to do.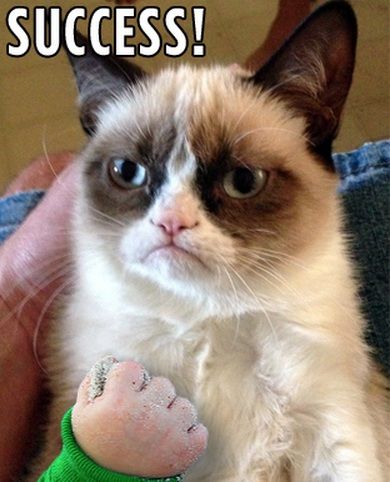 Many of us feel locked into celebrations we don't enjoy, rituals that don't mean much to us, or holiday routines that would make no sense if we attempted them at any other time of year (for example, trying to see two or three different groups of relatives over a very short period of time...or trying to see two or three feuding groups of relatives all at once in the same place). It's no wonder that some of us get our grump on right around Thanksgiving and don't let go of it until we ring in the New Year.
But y'know, at least some of this can be avoided, if you decide that it's okay to embrace change, let go of old routines that aren't working, and recognize that nobody (even uber-cheery Buddy The Elf) is super cheerful 24/7 this time of year. And this year, we have a furry little avatar of grump to remind us of that fact.
Who's your little buddy?
1BQ, 3rdGenFeminist, A Man Called Gloom, Abra Crabcakeya, Actbriniel, addisnana, AfroPonix, aishmael, Alise, Alpha99, ambeeeant, American in Kathmandu, amk for obama, andsarahtoo, angry marmot, Anne933, anodnhajo, aoeu, AoT, aquarius2001, arcadesproject, Archie2227, arodb, Arthur Wolf (in memoriam), assyrian64, awkawk, b4uknowit, bamablue, BARAKABETH, barnowl, b barrie, bdizz, beatpanda, beefydaddy18, BFSkinner, bgblcklab1, BigAlinWashSt, Bike Crash, BirderWitch, BJKay, bleeding heart, blingbling65, blue husky, Blue Intrigue, bluedust, BluejayRN, BlueJessamine, Bluerall, bluestatedem84, BoiseBlue, boudi08, Brahman Colorado, breedlovinit, BrenP, Bronxist, BrowniesAreGood, bsmechanic, buddabelly, bumbi, BusyinCA, Carol in San Antonio, CathiefromCanada, CathodeRay, CDH in Brooklyn, cee4, Cen Den, ChiTownDenny, ChocolateChris, ChurchofBruce, ciganka, cinnamondog, citizenx, ClapClapSnap, Cleante, claude, Code Monkey, codobus, Coldblue Steele, Colorado is the Shiznit, coloradomomma, common green, commonmass, Common Sense Mainer, congenitalefty, coppercelt, dadanation, dangoch, DarienComp, dauber, Dauphin, Dave in AZ, Dave in Northridge, David54, deedogg, demkat620, Dexter, Diana in NoVa, Dickie, DiegoUK, Dingodude, dirtdude, distraught, djMikulec, docreed 2003, dolfin66, donnamarie, Donna O, dotsright, Dr Teeth, DRo, droogie6655321, Dube, duckhunter, Eclectablog, Eddie C, EdgedInBlue, effervescent, elbamash, El barragas, el vasco, entrelac, ericlewis0, Everest42, Ex Con, ezdidit, fhamme, Fineena, fiona2, fishhawk, Flea, flumptytail, Friend of the court, fritzi56, FrugalGranny, Garrett, Gator, gchaucer2, GDbot, Geiiga, GenXangster, glorificus, glpaul, gooderservice, gooners, gravlax, GreenMountainBoy02, greylox, grndrush (in memoriam), GrumpyWarriorPoet, gzodik, Haole in Hawaii, HappyinNM, henlesloop, HeyMikey, hideinplainsight, High Tide, hiliner68, history first, hold tight, Hugh Jim Bissell, hulibow, I love OCD, I said GOOD DAY sir, Im a frayed knot, imisa, Indexer, indubitably, indyada, Interceptor7, Inventor, IsaacsDad, itsbenj, Jahiz, JamesEB, janl1776, Janeo, JayinPortland, jayjaybear, jbou, Jeffersonian Democrat, jillwklausen, jmadlc55, jmonch, Joes Steven (aka Steven), john07801, johngoes, johnny wurster, jsfox, JVolvo's Mom, jwinIL14, Kai99, kailuacaton, Kamakhya, kat herder, katchen, Kelly of PA, kestrel9000, khloemi, Khun David, Kitsap River, kittania, KrazyKitten, Kristina40, Ksholl, labwitchy, Lady Kestrel, ladypockt, Lahdee, langerdang, LarsThorwald, LA rupert, last starfighter, LaughingPlanet, Laurie Gator, Leo in NJ, Lipstick Liberal, litoralis, lmdonovan, lockewasright, Lonely Liberal in PA, Lonely Texan, longislandny, Lorinda Pike, luvsathoroughbred, maggiemay, magicsister, mango, Marc in KS, Marjmar, Mark E Andersen (Kodiak54), marknspokane, marsanges, maryabein, Matt Esler, Maxiemax, mdemploi, Meteor Blades, Micburke, michael1104, MillieNeon, minerva1157, MinervainNH, Missys Brother, mjbleo, MnRaindog, mntleo2, Morague, MotoGP, Mr Bojangles, mrsgoo, mskitty, msmacgyver, MsWings, Murphoney, nannyboyz, ncsuLAN, NearlyNormal, Nedsdag, Nick Zouroudis, notgivingup, NY brit expat, oceanview, OleHippieChick, Olkate, one pissed off democrat, Onomastic, operculum, OrangeMike, Ordvefa, Overseas, Over the Edge, Pager, paige, PaintyKat, paradox, parryander, paulitics, peglyn, Pennsylvanian, phrogge prince, Positronicus, post rational, PowWowPollock, Proud Mom and Grandma, psycho liberal, ptolemynm, Purple Priestess, PvtJarHead, racheltracks, randallt, ray bob, real world chick, red mittens, Reepicheep, regis, relentless, revelwoodie, revsue, Rex Manning, rexymeteorite, RiaD, rickeagle, ridemybike, rightiswrong, Rileycat, rincewind, rkex, roadlion, Roger Fox, Rosebuddear, roses, rscopes, Rudini, Safina, SallyCat, Sanuk, Sark Svemes, sboucher, scooter in brooklyn, Scrapyard Ape, seenaymah, sfbob, sgary, Shahryar, sheddhead, shesaid, Shifty18, shmuelman, shopkeeper, sidious666, sidnora, slowbutsure, smartcookienyc, smeesq, Smoh, snoopydawg, snorwich, SnyperKitty, SoCalHobbit, sofia, soonergrunt, sostos, sowsearsoup, SpecialKinFlag, spmozart, spotDawa, SpotTheCat, StateOfGrace, Statusquomustgo, stiffneck, stonekeeper, sunbro, Super Grover, Syoho, tallmom, Tay, tdslf1, teknospaz, theatre goon, The Eyewitness Muse, TheGeneral, TheStoopingRabbit, TigerMom, Tim DeLaney, tiredofcrap, TomP, tonyahky, Toyotabob7, TracieLynn, TreeFrog, triciawyse, tripodisblack, trs, trueblueliberal, ttanner, Tulsonian, Turn VABlue, Turtle Bay, Tyto Alba, uc booker, UncleCharlie, Unduna, Unforgiven, ursoklevar, USArmyParatrooper, VA02 femocrat, Vacationland, valadon, Vayle, vc2, Vetwife, vgranucci, Village expects idiot home soon, vulcangrrl, waytac, webranding, weelzup, Wes Opinion, Whimsical Rapscallion, willy be frantic, willy mugobeer, Wood Dragon, wolfie1818, Wordsinthewind, Wreck Smurfy, x, xopher, yet another liberal, Zotz
Have you had some experience with the effects of smoking, and want to write a GUS diary or host an open thread? Please sign up in the Butt Can (Tip Jar), and name the day and time that works for you (AM, PM, late-night, early-bird...). Weekly GUS Diary Schedule (regular diarists featured in bold) is below; look at all those nice open slots just calling your name!


Wed PM: Vacationland (You Are Here)
Thu AM: Open
Thu PM: FrugalGranny
Fri AM: flumptytail
Fri PM: Open
Sat AM: effervescent
Sat PM: Open
Sun Am: gchaucer2
Sun PM: Open
Mon AM: Open
Mon PM: Open
Tue AM: gchaucer2
Tue PM: Open
Wed AM: Open

If you can spare a few hours, please consider hosting GUS! Not sure where to start? Just ask for help in the Butt Can (Tip Jar). Seriously, it doesn't have to include specific elements or require all sorts of fabulous diary formatting skills. The regulars will make sure stuff gets carried over from diary to diary, so if you want to just tell your story or provide an open thread and host for a few hours, that's cool too. We would be ever so grateful!