Hey there! Looks like we're all still here. That means I'd better get to work ordering those presents I put off. And paying those bills. Darn it. Also I don't get to get out of going to the gym tonight.
Some Tweets I found on the Internets:

@LOLGOP: The GOP as an obese man: I don't have an exercise problem. I have an eating problem. THUS I MUST NEVER EXERCISE.
@andytfield: They laughed one last time at the superstitious Mayans and returned to preparing for the anniversary of the magical God-child.
@JohnFugelsang: O Come Let Us Adore Him then ignore him 30 yrs then listen to his teachings til we're freaked out & demand his execution.
History Lesson time!
On This Day
In 1807. the Embargo Act, forbidding trade with all foreign countries, was passed by Congress, at the bidding of President Jefferson. It was in response to violations of U.S. neutrality, where American merchantmen and their cargoes were seized as contraband of war by belligerent European navies.
In 1937, the Lincoln Tunnel opened to traffic in New York City.
In 1965, in the United Kingdom, the first speed limit was applied to all rural roads including motorways (70 mph).
In 1984, Bernhard Goetz shot four African-American alleged muggers on an subway train in Manhattan, New York City.
In 1989, Berlin's Brandenburg Gate re-opened after nearly 30 years, effectively ending the division of East and West Germany.
In 2001, Richard Reid tried to destroy an airliner by igniting explosives hidden in his shoes. We can all thank him for making us take off our shoes every time we pass through security.
In 2010, President Obama signed the repeal of the Don't Ask Don't Tell policy, the 17-year-old policy banning homosexuals serving openly in the United States military.
Born on This Day
1639 – Jean Racine, French dramatist (d. 1699)
1702 - Jean-Étienne Liotard, Swiss painter (d. 1769)
1812 - Johanne Luise Heiberg, Danish actress (d. 1890)
1856 – Frank B. Kellogg, 45th U.S. Secretary of State, Nobel laureate (d. 1937)
1858 – Giacomo Puccini, Italian composer (d. 1924)
1888 – J. Arthur Rank, British film producer (d. 1972)
1889 – Minor Watson, American actor (d. 1965)
1899 – Gustav Gründgens, German actor (d. 1963)
1905 – Kenneth Rexroth, American poet (d. 1982)
1905 – Pierre Brasseur, French actor (d. 1972)
1907 – Dame Peggy Ashcroft, English actress (d. 1991)
1909 – Patricia Hayes, English actress (d. 1998)
1912 – Lady Bird Johnson, First Lady of the United States (d. 2007)
1915 – Barbara Billingsley, American actress (d. 2010)
1919 – Lil Green, American Blues Singer (d. 1954)

1922 – Ruth Roman, American actress (d. 1999)
1939 – James Gurley, American musician (d. 2009)

1943 – Paul Wolfowitz, oily haired American politician
1945 – Diane Sawyer, American journalist
1946 – Rick Nielsen, American musician (Cheap Trick)

1949 – Maurice Gibb, English musician (The Bee Gees) (d. 2003)
And…
1949 – Robin Gibb, English musician (The Bee Gees) (d. 2012)

1960 – Jean-Michel Basquiat, American artist (d. 1988)
1962 – Ralph Fiennes, English actor
Died on This Day
1738 – Constantia Jones, British prostitute (b. c. 1708)
1880 – George Eliot, English writer (b. 1819)
1915 - Arthur Hughes, English Pre-Raphaelite painter (b. 1832)
1939 – Ma Rainey, American singer (b. 1886)

1940 – Nathanael West, American writer (b. 1903)
1944 – Harry Langdon, once hugely popular and now forgotten American film comic (b. 1884)
1959 – Gilda Gray, Polish-born American dancer and actress (b. 1901)
1985 – D. Boon, American singer and guitarist (The Minutemen) (b. 1958)

1989 – Samuel Beckett, Irish writer, Nobel Prize laureate (b. 1906)
2002 – Joe Strummer, English musician (The Clash) (b. 1952)

2007 - Jos De Mey, Belgian painter (b. 1928)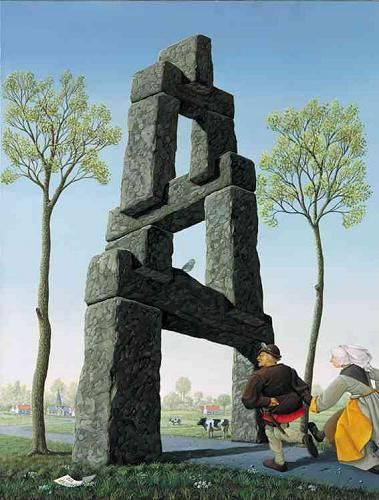 Today is
The first day of the rest of your life (if the world did not end yesterday)
National Date Nut Bread Day