Good evening, Kossacks.

WYFP is our community's Saturday evening gathering to talk about our problems, empathize with one another, and share advice, pootie pictures, favorite adult beverages, and anything else that we think might help. Everyone and all sorts of troubles are welcome. May we find peace and healing here. Won't you please share the joy of WYFP by recommending?
As some of you know, we had our own mini-apocalypse here at casa blue jersey on December 21st. At about 4:15 in the morning, a huge tree fell on our house. The tree landed on the bedroom where Dad and I were sleeping, and we woke up when the ceiling fell on our heads. While the tree did a lot of damage to our house, it could have been a lot worse. Please follow me below the fold.
Here you can see the tree on the top of the house: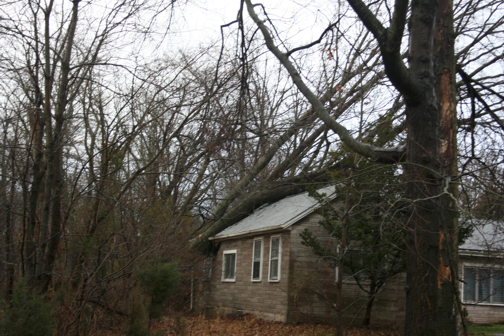 As you can see, it was a very big tree. The contractors had to bring in a crane to get the tree off the house: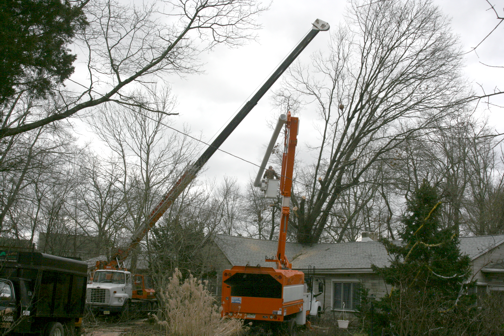 Here is the ceiling in our bedroom: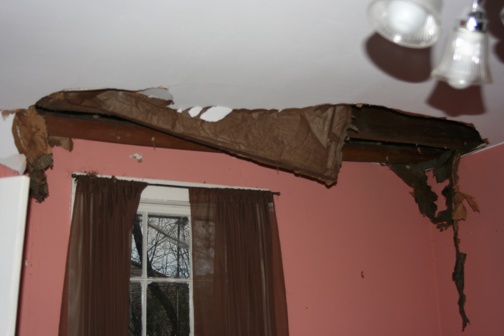 As much as the tree did a lot of damage to my house, it could have been a whole lot worse. The tree landed on the roof just over our bed. We were very lucky that we were not killed or seriously injured. Dad received a couple of cuts on his face, and I had a slightly sore spot on my head, but we were basically unscathed. Our contractor thinks that the closet that we built in our room may have prevented the tree from falling on our bed. I think that we were very lucky.
It cost over $9000 to remove the tree from our house, but the insurance company has already given us a check for the full amount. The insurance company is also willing to pay for the repair of both the interior and exterior damage to the house. All we are responsible for is a small deductible.
I am also grateful that, with the exception of the back bedroom, our house is still habitable. I am also glad that we built a spare bedroom in the basement two years ago, so dad and I have some place to stay until our house is repaired.
In short, it could have been a whole lot worse.
I wrote this last week, because we had some confusion about the WYFP? Schedule. Let me add that I am furious that the last congress did not take up the bill to aid the victims of Superstorm Sandy. I grew up in Queens and Long Island, and I have spent most of the life in NJ. We were devastated by the storm. We are donor states who pay for the military bases in the South and the farm supports in the Plains States. This was a big FU to all of us. the bill that was passed this week was too little and too late.
I also want to add that I have decided to take a break from the GOS. This is a TTFN for me. I am sure that the powers-that-be won't care, but I thought that I would tell you all why I am doing this. I have been here for a long time, and I am interested in political activism, building a progressive community, and electing more and better Democrats. It has been an honor to be a part of the IGTNT team, and I really enjoyed working on Obama Nightly News group this fall. I was also an active participant in the December 2011 fundraiser/subscription drive since I recognized the importance of the 2012 elections and the need for alternative sources for revenue for the site.
Unfortunately, the site seems to be changing in ways that make me a bit uncomfortable. Yes, there will always be disagreements and pie fights. I have been here since 2005. However, we seem to be less and less engaged in activism. From my perspective, climate change is the existential threat of our lifetimes, and we seem to be less and less interested in environmental issues. With the exception of Animal Nuz (written by a long-time member of our community), the comics don't add much to the site. With a couple of notable exceptions, the front-pagers have very little to do with us peons. (Thanks to DK4, we can see what folks are recommending, and many of the front pagers just recommend each others' diaries.) For me, one my most recent concerns was the piece on luxury car shopping that appeared on the front page a few weeks ago. This is DKos, not GQ. Someone should be exercising some editorial judgement here. How about a piece on fuel-efficient cars instead? The site could also use some even-handed moderation, but it is clear that management has no interest in that.
This is not a GBCW. I would like to be here when we can finally put the IGTNT series to rest and welcome all our servicemen and women home. I will come back when we return to electing more and better Democrats and trying to build a progressive community. Stay in touch. BJM