Welcome to Sunday All Day Brunch. This is an open topic thread so help yourself to the goodies and sit a spell and let us know what is going on in your life. Today I am proudly confessing that I am a geek. Okay so no one is surprised. ;-)
When I was eight years old I discovered the science fiction/fantasy section of my library. That started me on the road to geekdom and I've been a geek ever since. I have attended and even run science fiction conventions. I watched Star Trek, Star Wars, Doctor Who, the Prisoner, Battlestar Galactica both old and new, etc. I have read The Lord of the Rings multiple times. I love the movies. I'm going to go see The Hobbit today.
My bookshelves are crammed with Tolkien, Marion Zimmer Bradley, Roger Zelazny, Arthur C. Clarke, Terry Pratchett, and many, many more. I still love reading science fiction and fantasy. I am writing a fantasy series. Much of my art has a fantasy or science fiction bent to it.
When my monitor decided to go wonky on Christmas day I was able to disconnect it and trade it out with the monitor on the other computer. I have two desktops, a laptop, a pocket PC, and a cell phone that connects to the Internet. I have two digital cameras and a 35mm one.
I love science and space exploration. I stayed up live blogging here on Daily Kos to watch Curiosity land on Mars. I read astronomy books. I watch Brian Greene's NOVA shows on string theory. I follow Michiko Kaku and Neil DeGrasse Tyson on Facebook. I loved Carl Sagan's Cosmos.
A statue of Marvin the Martian guards my front door. My house is filled with dragons and unicorns and other fantasy figures. My walls are filled with space and fantasy art.
I have finished my first short story collection called Sean's Stories and just finished the first story Aurora's World in the new collection that will be called Sean and the China Doll. In this collection I am giving girls a kick-ass heroine called Princess Jade.
My greatest accomplishment as a geek was to influence my niece to be a geek. She in turn is raising three geeks. Her kids think I am a kick-ass Aunt. I introduced Tristen to Dune and he loved it. We have missed exits and had to double back because they were so interested in my stories of science fiction conventions and the guests that I have worked with that they missed telling me where our exit was. When people tell me I'm a geek or a nerd I tell them thank you. For me being a geek means that I am able to think outside the box. It means that I believe there is life out there and that we are not alone. It means that I love science. It means I refuse to be boxed into a mold that does not fit me. I am what I am, a geek and proud of it.
Sean and the China Doll: Aurora's World
The cover art for the next story A Study in Black.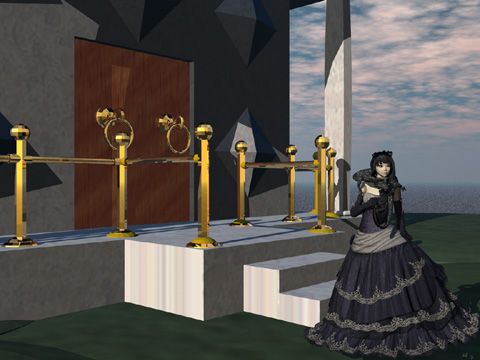 3:15 PM PT: Geek Heaven achieved! Check out the new edition of Christopher J. Garcia's Hugo award winning on-line fanzine with art work by yours truly on pages 12, 39, and 47