Good Morning Kossacks and Welcome to Morning Open Thread (MOT)
We're known as the MOTley Crew and you can find us here every morning at 6:30am Eastern. Feel free to volunteer to take a day - permanently or just once in awhile. With the Auto Publish feature you can set it and forget it. Sometimes the diarist du jour shows up much later: that's the beauty of Open Thread...it carries on without you! Volunteer in the comment threads
Click on the MOT - Morning Open Thread ♥ if you'd like us to show up in your stream
Ok folks lets play: where are we now? What ultrahip trendy place has exlrrp brought us to now? What international jetset playground is he ensconced in today? Manitou Springs Colorado?? Edisto Beach, SC?? Santiago Chile?? No! No! We've done those already! Those are so 2012!
Surprise!! Its---Wait for it---
(spins globe, pokes finger) Bend, Oregon!!!!
yes that ultra hip cowtown to the jetsetters, Bend, Oregon! And the ultra hip ski place for the Western, er part---Mt Bachelor!!.
So whats our ultra hip jetsetter doing? Well, tryiing to ski for one thing.
Ol' Global warming's got me cold! Raining! I got rained on while skiing, which is like all suckamundo, you get wet.
Never the less (said in a Katherine Hepburn voice)(The African Queen) as I said nevertheless, when I go someplace and spend money You just bet I better have a good time. Won't leave without it!!! I insist!!
So anyway here's a picture of me enjoying myself skiing. You should see what I look like when I'm NOT having fun!!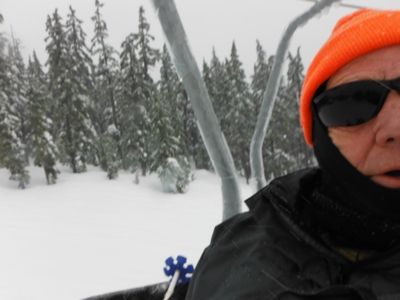 Yes! YES!!! youre right!!! Great guess!! That IS Mt Bachelor, famous ski place for the stars and exlrrps. Unfortunately they were only running 3 ski lifts so it was somewhat limited.But I had freakin' fun anyway, you betcha. Wouldn't have had it any other way!
Well, Bend itself is so cool you don't even need to wear a Disneyland t-shirt. Restaurants! Boutiques!! Shopping!! The fastest growing place in Oregon. After being cool and groovy all day with the jetestters and a fabulous dinner at The Black Bear Diner (complete with $2 coupon), I snuggled into bed to watch Stewart and Colbert.
I stayed at the Red Lion which is the in place to stay in Bend for the jetsetters, the staff were very nice and th accomodations excellent, tho the hot tub was outside---cools off the wild parties some.
I met a strange lady, she made me nervous--then she turned to me and said::
"Morning Open Thread will begin RIGHT FREAKING NOW!!!"