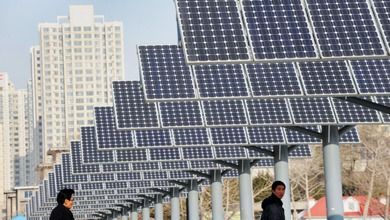 China announced Monday that it plans to add an additional 10 gigawatts of solar energy generating capacity in 2013 after already more than doubling its total solar capacity for generating solar electrity in 2012, to a total of seven GW. To put this into perspective, this is a whole lot of watts, folks! As Carl Sagan might say, "billions and billions" of watts.
In 2011 China had 3 GW. From what I can gather, the U.S. appears to have had just under 4 GW, and we were expected to add just under 3 GW more in 2012, (although these numbers may include other forms of solar thermal generation.)
China's plans to ramp up capacity in 2013 adds to solar shine.
BEIJING - China, the world's top energy consumer, will more than double its installed solar power capacity this year from 2012, the government said on Wednesday, driving up shares of US-listed Chinese solar companies.

China aims to add 10 gigawatts (GW) of installed solar power capacity this year, up from 7 GW at the end of last year, the government said on its website (www.gov.cn), citing an annual national energy work conference this week

.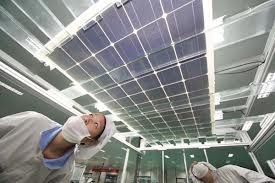 Wayne Ma tells us more in a Wall Street Journal report entitled
China Plans To Ramp Up Solar-Power Capacity.

The ambitious target would put China's solar capacity within striking distance of its goal of reaching 21 gigawatts of installed solar power capacity by 2015, and suggests the government could either exceed or even adjust its goals.

The state-run Xinhua news agency reported last month that "high-ranking government officials" are considering doubling China's solar-capacity target to 40 gigawatts by 2015 to support local solar manufacturers, citing Meng Xiangan, deputy board chairman of the Chinese Renewable Energy Society.

Yes, you read that correctly. Seeing itself on track to meeting its 2015 goal of 21 gigawatts of generating capacity. China is considering doubling its target for 2015 to 40 GW. To put that into perspective PV Magazine reports cumulative U.S. photovoltaic capacity was just under 4 GW at the end of 2011 with 2.8 GW of new capacity predicted for 2012, for a presumed total of just under 7 gigawatts of photovoltaic capacity.
While there are non-photovoltaic ways of producing solar electricity, from what I can gather China has just about added as much solar generating capacity in the last year, as we, in the U.S.A. have accumulated in our entire history. Although, I am still trying to get better data, as this sounds nearly impossible. At the end of 2011, the cumulative installed solar photovoltaic electrical generating capacity of the world was 68 GW according to a
European Photonics Industry Consortium (EPIC) report. The global installed electrical generating capacity of wind power is reported to be 238GW.
This graphic is quite a few years old, but it illustrates the long-term trends of the historical context, and the magnitude of the Chinese commitment for the upcoming years.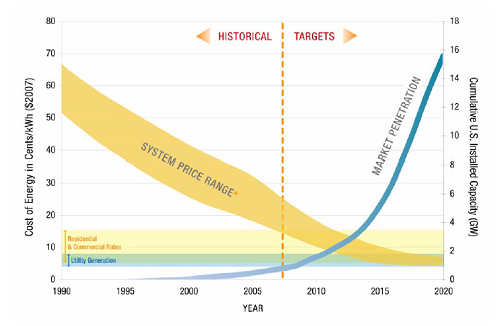 U.S. Market Installs 684 MW in Q3 2012; Continues Record Year

The third quarter 2012 was the third largest on record for the U.S. solar industry and raised the total installed capacity through the first three quarters of the year to 1,992 megawatts (MW)- already surpassing 2011's annual total of 1,885 MW. There were 684 MW of photovoltaic (PV) capacity installed in Q3 2012, representing a 44 percent increase in deployment over the third quarter of 2011. SEIA forecasts that an additional 1,200 MW of PV capacity will be installed in the fourth quarter of 2012 alone, bringing the total for the year to 3,200 MW. (All data from SEIA/GTM Research "U.S. Solar Market Insight Q3 2012" unless otherwise noted.)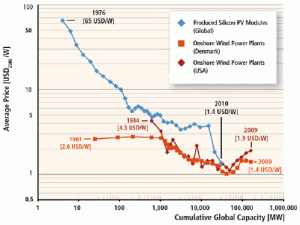 This plot from last year, represents the famous "learning curve" observation that the manufacturing cost of products tends to decline by a steady percentage for each doubling of the installed base. If China follows through with commitments of this magnitude it will lead the world in taking the costs of solar photovoltaic production another step towards grid parity.
So when it comes to adding solar photovoltaic generating capacity, stand aside world, China takes large steps.


The Daily HoundDogs
PS One of my New Year resolutions was to do more to combat global warming by learning more about renewable energy generation and promoting our conversion to sustainable energy. Thanks for joining me in this exploration. Woof, woof!
5:43 PM PT: This plot from 2010, of Chinese production capacity may have provided a clue to what we are seeing today. One aspect of the Chinese expansion of domestic use is to help their manufacturers get through a period of global excess capacity caused in large part from their aggressive over expansion without appearing to provide direct subsidies during the international trade suits.