This is the time of year when many more than usual are trying to get off the nicotine addiction associated with and the overall nastiness of smoking in general.
This is an open thread for the purpose of me goofing off but also to provide a clearinghouse of gripes, questions and frustrated bitching which are sometimes associated with the effort to get rid of an addiction that will probably end up killing you.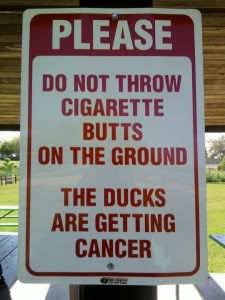 Our body's ability to mend is beauty to behold!

Within ...
• 20 minutes - Your blood pressure, pulse rate and the temperature of your hands and feet have returned to normal.
• 8 hours - Remaining nicotine in your bloodstream will have fallen to 6.25% of normal peak daily levels, a 93.25% reduction.
• 12 hours - Your blood oxygen level will have increased to normal and carbon monoxide levels will have dropped to normal.
• 24 hours - Anxieties have peaked in intensity and within two weeks should return to near pre-cessation levels.
• 48 hours -Damaged nerve endings have started to regrow and your sense of smell and taste are beginning to return to normal. Cessation anger and irritability will have peaked.
• 72 hours - Your entire body will test 100% nicotine-free and over 90% of all nicotine metabolites (the chemicals it breaks down into) will now have passed from your body via your urine. Symptoms of chemical withdrawal have peaked in intensity, including restlessness. The number of cue induced crave episodes experienced during any quitting day will peak for the "average" ex-user. Lung bronchial tubes leading to air sacs (alveoli) are beginning to relax in recovering smokers. Breathing is becoming easier and the lung's functional abilities are starting to increase.
• 5 - 8 days -The "average" ex-smoker will encounter an "average" of three cue induced crave episodes per day. Although we may not be "average" and although serious cessation time distortion can make minutes feel like hours, it is unlikely that any single episode will last longer than 3 minutes. Keep a clock handy and time them.
link
GUSroll
The Buddy List:
1BQ, 3rdGenFeminist, A Man Called Gloom, Abra Crabcakeya, Actbriniel, addisnana, AfroPonix, aishmael, Alise, Alpha99, ambeeeant, American in Kathmandu, amk for obama, andsarahtoo, angry marmot, Anne933, anodnhajo, aoeu, AoT, aquarius2001, arcadesproject, Archie2227, arodb, Arthur Wolf (in memoriam), assyrian64, awkawk, b4uknowit, bamablue, BARAKABETH, barnowl, b barrie, bdizz, beatpanda, beefydaddy18, BFSkinner, bgblcklab1, BigAlinWashSt, Bike Crash, BirderWitch, BJKay, bleeding heart, blingbling65, blue husky, Blue Intrigue, bluedust, BluejayRN, BlueJessamine, Bluerall, bluestatedem84, BoiseBlue, boudi08, Brahman Colorado, breedlovinit, BrenP, Bronxist, BrowniesAreGood, bsmechanic, buddabelly, bumbi, BusyinCA, cactusgal, Carol in San Antonio, CathiefromCanada, CathodeRay, CDH in Brooklyn, cee4, Cen Den, ChiTownDenny, ChocolateChris, ChurchofBruce, ciganka, cinnamondog, citizenx, ClapClapSnap, claude, Cleante, Code Monkey, codobus, Coldblue Steele, Colorado is the Shiznit, coloradomomma, common green, commonmass, Common Sense Mainer, congenitalefty, coppercelt, dadanation, dangoch, DarienComp, dauber, Dauphin, Dave in AZ, Dave in Northridge, David54, deedogg, demkat620, Dexter, Diana in NoVa, Dickie, DiegoUK, Dingodude, dirtdude, distraught, djMikulec, docreed2003, dolfin66, donnamarie, Donna O, dotsright, Dr Teeth, DRo, droogie6655321, Dube, duckhunter, Eclectablog, Eddie C, EdgedInBlue, effervescent, elbamash, El barragas, el vasco, entrelac, ericlewis0, Everest42, Ex Con, ezdidit, fhamme, Fineena, fiona2, fishhawk, Flea, flumptytail, Friend of the court, fritzi56, FrugalGranny, Garrett, Gator, gchaucer2, GDbot, Geiiga, GenXangster, glorificus, glpaul, gooderservice, gooners, gravlax, GreenMountainBoy02, greylox, grndrush (in memoriam), GrumpyWarriorPoet, gzodik, Haole in Hawaii, HappyinNM, henlesloop, HeyMikey, hideinplainsight, High Tide, hiliner68, history first, hold tight, Hugh Jim Bissell, hulibow, I love OCD, I said GOOD DAY sir, Im a frayed knot, imisa, Indexer, indubitably, indyada, Interceptor7, Inventor, Isaacsdad, itsbenj, Jahiz, JamesEB, janl1776, Janeo, jarbyus, JayinPortland, jayjaybear, jbou, Jeffersonian Democrat, jillwklausen, jmadlc55, jmonch, Joes Steven (aka Steven), john07801, johngoes, johnny wurster, jsfox, JVolvo's Mom, jwinIL14, Kai99, kailuacaton, Kamakhya, kat herder, katchen, Kelly of PA, kestrel9000, khloemi, Khun David, Kitsap River, kittania, KrazyKitten, Kristina40, Ksholl, labwitchy, Lady Kestrel, ladypockt, Lahdee, langerdang, LarsThorwald, LA rupert, last starfighter, LaughingPlanet, Laurie Gator, Leo in NJ, Lipstick Liberal, litoralis, lmdonovan, lockewasright, Lonely Liberal in PA, Lonely Texan, longislandny, Lorinda Pike, luvsathoroughbred, maggiemay, magicsister, mango, Marc in KS, Marjmar, Mark E Andersen (Kodiak54), marknspokane, marsanges, maryabein, Matt Esler, Maxiemax, mdemploi, Meteor Blades, Micburke, michael1104, MillieNeon, minerva1157, MinervainNH, Missys Brother, mjbleo, MnRaindog, mntleo2, Morague, MotoGP, Mr Bojangles, mrsgoo, mskitty, msmacgyver, MsWings, Murphoney, nannyboyz, ncsuLAN, NearlyNormal, Nedsdag, Nick Zouroudis, nokkonwud, notgivingup, NY brit expat, oceanview, OleHippieChick, Olkate, one pissed off democrat, Onomastic, operculum, OrangeMike, Ordvefa, Overseas, Over the Edge, Pager, paige, PaintyKat, paradox, parryander, paulitics, peglyn, Pennsylvanian, phrogge prince, Positronicus, post rational, PowWowPollock, Proud Mom and Grandma, psycho liberal, ptolemynm, Purple Priestess, PvtJarHead, racheltracks, randallt, ray bob, real world chick, red mittens, Reepicheep, regis, relentless, revelwoodie, revsue, Rex Manning, rexymeteorite, RiaD, rickeagle, ridemybike, rightiswrong, Rileycat, rincewind, rkex, roadlion, Roger Fox, Rosebuddear, roses, rscopes, Rudini, Safina, SallyCat, Sanuk, Sark Svemes, sboucher, scooter in brooklyn, Scrapyard Ape, seenaymah, sfbob, sgary, Shahryar, sheddhead, shesaid, Shifty18, shmuelman, shopkeeper, sidious666, sidnora, slowbutsure, smartcookienyc, smeesq, Smoh, snoopydawg, snorwich, SnyperKitty, SoCalHobbit, sofia, soonergrunt, sostos, sowsearsoup, SpecialKinFlag, spmozart, spotDawa, SpotTheCat, StateOfGrace, Statusquomustgo, stiffneck, stonekeeper, suesue, sunbro, Super Grover, Syoho, tallmom, Tay, tdslf1, teknospaz, theatre goon, The Eyewitness Muse, TheGeneral, TheStoopingRabbit, TigerMom, Tim DeLaney, tiredofcrap, TomP, tonyahky, Toyotabob7, TracieLynn, TreeFrog, triciawyse, tripodisblack, trs, trueblueliberal, ttanner, Tulsonian, Turn VABlue, Turtle Bay, Tyto Alba, uc booker, UncleCharlie, Unduna, Unforgiven, ursoklevar, USArmyParatrooper, VA02 femocrat, Vacationland, valadon, Vayle, vc2, Vetwife, vgranucci, Village expects idiot home soon, vulcangrrl, waytac, webranding, weelzup, Wes Opinion, Whimsical Rapscallion, willy be frantic, willy mugobeer, Wood Dragon, wolfie1818, Wordsinthewind, Wreck Smurfy, x, xopher, yet another liberal, Zotz
I hope everyone has a blessed day and always remember that: