My sister's/brother-in-law's cat died this morning. Her name was Ashy and she was 19. This is the last picture that I have (from this morning) of her. She's resting on her favorite rock.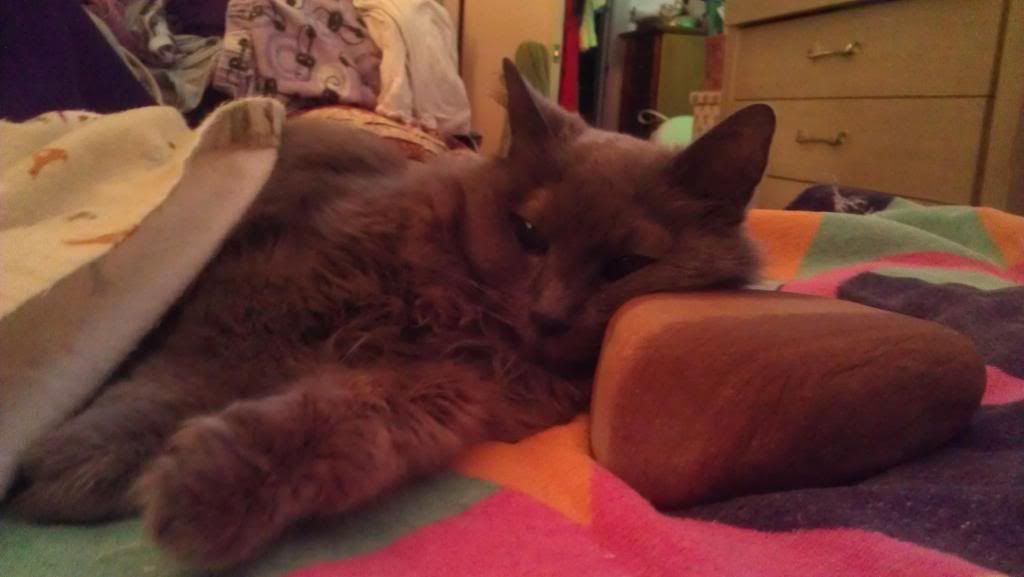 Ashy was not my cat but she was always vocal and very sociable when I went down to visit (unlike her brother, Olivar). She was at least 19 when she died this morning. Renal failure made her life less pleasurable but since my experience with my own cat dying over two years ago, I was able to help out with what treatments my sister should look into. We were able to extend her life and make her last couple years better, quality of life wise.
Thanks, again, to RenaRF who helped me with Camo and who helped my sister (tangentially and directly) with Ashy.
But my day isn't done. It turns out that my brother-in-law's (my wife's sister's husband's) cat died this morning for no discernible reason. His name was Lynxie and there was no disease, no symptoms, nothing that was visibly wrong with him. He cuddled up with my brother-in-law last night and never woke up this morning. He's the one on the left in the picture below.
I can't even imagine waking up to one of my kitties not breathing anymore.
I'm not able to even offer a hug to my sister (she's hours away) and my wife is crying at home.
Everyone else can argue about firearms and legislation or any of the RKBA related items. I'm out for a bit.
1:22 PM PT: You have to laugh or you'll cry, right? My sister was talking to someone about how she's gone but not really gone. Her response?

She will always be with us also because her fur is EVERYWHERE.
Thu Jan 17, 2013 at 12:42 AM PT: Thanks for all of the kind comments. And Rena, you're forgiven for the auto-play. ;-)
Though the person I was on the phone with (for work) was wondering what I was doing...