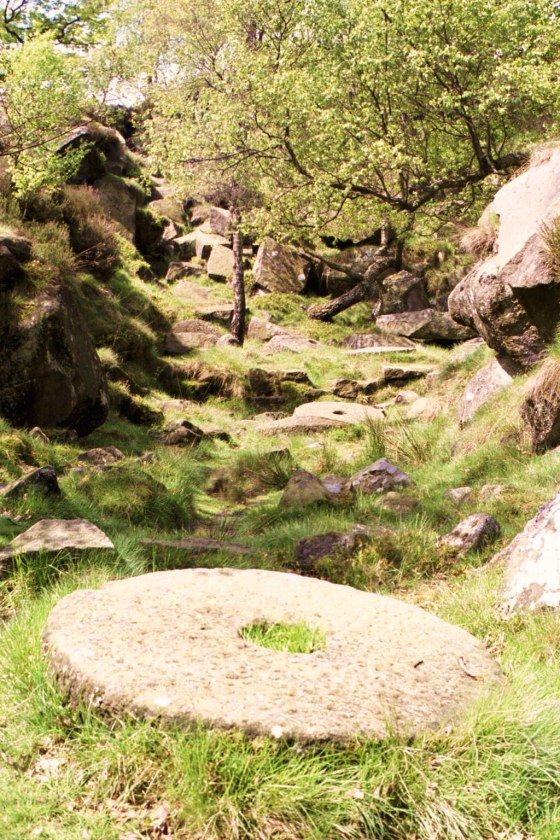 Derbyshire is the county in which I was born, and I am well aware of the wonders of nature with which it is blessed. It is hardly surprising, therefore, that the Derbyshire Peak District was selected to be the site for the first National Park in Great Britain. It opened on 17th April, 1951, and incorporated small parts of the surrounding counties of South Yorkshire, Cheshire and Staffordshire. Gradually, over the years, more land access was agreed with the (in some cases, aristocratic) local landowners, and a National Park Ranger Service, the Peak District Mountain Rescue Organisation and the Edale Mountain Rescue Team were established, to make the Park safer for its millions of visitors.
Some of these visitors may be a little puzzled to see full-size replica millstones, marking the boundaries of the National Park, displayed on the side of each road giving access to the Peak. When you penetrate deep into the gritstone hills of the Park, you will be amazed to see hundreds of partially finished millstones littering the floors of abandoned quarries. Along with sheep farming, the extraction of limestone (used primarily in road-making and the steel industry) and some lead mining, the production of millstones and pulpstones had been a major economic activity of the Peak District since the 14th century. As you can imagine this was a skilled activity, and a workman could only produce about 16 pairs of finished stones per year. They were moved down from the quarries, according to Daniel Dafoe, who travelled and wrote about the area, by fitting an axle between the stones and trundling them across the moors! The boom time for this activity had come with the rise of the Industrial Revolution (and the overall increase in production, which gave rise to a boom in the population) and the intermittent state of war and/or political unrest between Britain and France during a large part of the 18th century. The reasons why this unusual industry declined so rapidly, leading to the workers literally abandoning their quarries, was two-fold. Firstly, access to the less-coarse grained French millstones (French production was semi-industrialized, and gave a better quality product) was restored with peace between the two nations, and the fact that Peak District stones ground a coarser-textured flour with a somewhat greyish hue. Since the fashion was now for more expensive, fine white, flour, this contributed to the demise of the Peak District millstone. The final quarries ceased production in the early part of the 20th century.
If you wish to seek them out, the abandoned millstones may be found in many small quarries near the communities of Baslow and Hathersage in Derbyshire.