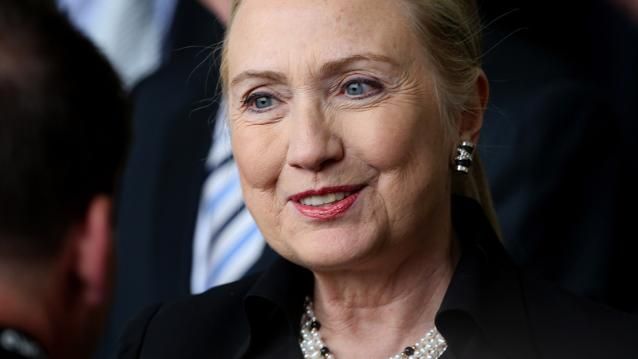 Sparks flew at today at Secretary of State Hillary Clinton's testimony during the Congressional Benghazi hearings when Senator Ron Johnson (R-Wis.) kept pointedly interrupting her responses trying to raise issues with the State Department's initial report that the attack on the Consulate in Libya on September 11, 2012 was in response to a spontaneous protest over an anti-Islamic YouTube video. Huffington Post reports:

"With all due respect, the fact is we had four dead Americans," Clinton responded, raising her voice at Johnson, who continued to interrupt her. "Was it because of a protest or was it because of guys out for a walk last night who decided to kill some Americans? What difference at this point does it make? It is our job to figure out what happened and do everything we can to prevent it from ever happening again, Senator."

Clinton continued, defending the State Department's efforts in the wake of the assault.

"Honestly, I will do my best to answer your questions about this, but the fact is people were trying their best in real time to get to the best information," she said, before blasting the senator's line of questioning. "Give me a break, Senator Johnson. This whole thing is the biggest fairy tale I've ever seen."

Earlier in the hearing, Clinton spoke about the aftermath of the attack, her voice cracking as she recalled meeting the families of the four Americans killed, including that of U.S. Ambassador Chris Stevens.

The Associated Press reports additional details of the hearing:

Her voice rising at another point, she defended U.N. Ambassador Susan Rice, who was vilified for widely debunked claims five days after the attack that protests precipitated the raid rather than terrorism. She challenged the GOP focus on Rice's comments, which were based on intelligence talking points. ...

Clinton parried tough questions from Republicans, offering a detailed timeline of events on Sept. 11 and the Obama administration efforts to aid the Americans in Libya while simultaneously dealing with protests in Cairo and other countries.

GOP lawmakers repeatedly questioned Clinton about whether she had seen earlier requests for beefed-up security.

"I did not see these requests. They did not come to me. I did not approve them. I did not deny them," she said.

She took House Republicans to task for recently stripping $1 billion in security aid from the hurricane relief bill and the Senate panel for failing for years to produce an authorization bill.
Secretary Clinton said four State Department employees were put on administrative leave while the incident is being investigated.
I've lost a lot of respect for many Republican Congressmen who have been exploiting the tragic deaths of Americans in Benghazi in their attempts to score political points by grandstanding for the extremists in the GOP, and for trying to make a big deal out of an unfortunate tragedy.
I'm glad Sectary Clinton has stood up to this ugly bullying. And, even more delighted to see her up and about, and fully recovered from her concussion last month. She seems just as healthy and feisty as ever. We are lucky to have her back in the field fighting for our progressive Democratic causes.
Thank you Secretary of State Hillary Clinton and please take good care of yourself because we need you to keep fighting for us, American and the World, for a long, long time. Best Wishes and Stay Well Forever!
BTW, today is my 57th birthday.
9:45 AM PT: I just realized that Barbara Morrill posted the video of part of this exchange after I checked to see if this had been posted. Otherwise I would have put the link in this story. Here's a link;
Hillary Clinton blasts Republican senator at Benghazi hearing by Barbara Morrill
10:12 AM PT: Hey thanks for the birthday wishes and putting this on the rec list. I hereby invoke artistic license and birthday latitude to promote an unusually important post I did late last night on the most progressive Democratic strategy I've seen so far on how to make up the rest of the budget deficit with tax reform to bring the ratio of revenue enhancement to spending cuts back to 1 to 1. We need to respond to Senator Mitch McConnell's declaration that the revenue discussion is over, and all other budget balancing will be with cuts to government spending by saying -- NOT! Here's a great plan that balances the budget entirely with more progressive tax reform everyone should support.
And, the Daily HoundDogs are just such joy how could I resist.
Thanks again.
How to replace sequester cuts and balance the budget with progressive tax code reform
The Daily HoundDogs