Unlike in 2000, Democrats currently have an Electoral College advantage, but INOKIYAD. Despite our current advantage, the president should be whoever gets the most votes nationwide.
Nationwide Obama beat Romney by 3.9% or about 5 million votes. Obama's margin of victory was greater than 5% in states with 272 electoral college votes. So Democrats have a small but potentially meaningful advantage in the Electoral College through 2020.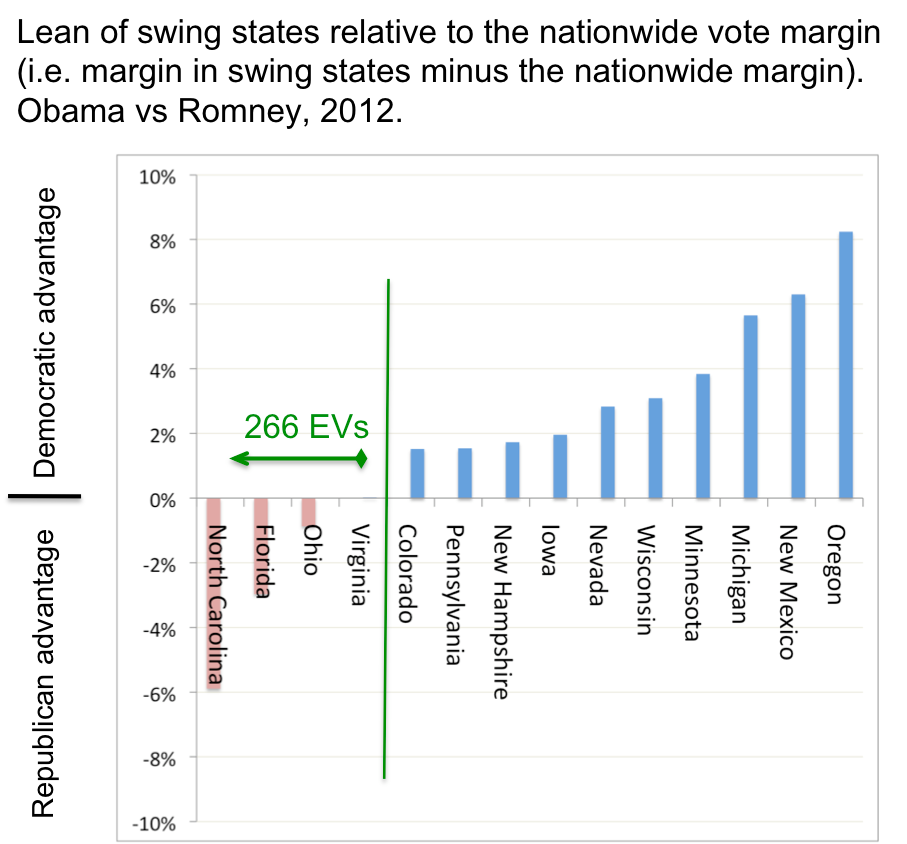 In both Colorado and Pennsylvania, Obama beat Romney by 1.5% more than the popular vote margin of 3.9%. These critical swing states (i.e. the tipping point states in 2012) are democratic-leaning compared to the nation as a whole. So even if Romney had won nationwide by 1% (some 1.3 million voters), he probably still would have lost the election.
Given trends in swing states, it's likely that the Electoral College map will become more and more difficult for Republicans going forward. After the 2012 election, Nate Silver noted that
a large number of electorally critical states – both traditional swing states like Iowa and Pennsylvania and newer ones like Colorado and Nevada – have been Democratic-leaning in the past two elections. If Democrats lose the election in a blowout, they would probably lose these states as well. But in a close election, they are favored in them.
- 538. "As Nation and Parties Change, Republicans Are at an Electoral College Disadvantage," 11/08/2012.
This is why some Republicans are trying to change the Electoral College rules in their Democratic-leaning states. Instead of running with their current scheme, which will lead to chaos and be wildly unpopular with voters, Republican state legislators should join their Democratic counterparts and help create the National Popular Vote.
This can be accomplished without amending the Constitution and abolishing the Electoral College (EC). States, with at least 270 votes in the EC, need to agree to the "National Popular Vote interstate compact" to give their EC votes to the winner of the national popular vote.
This reform is half way to implementation. States with 132 EC votes have already agreed (CA, DC, HI, IL, MD, MA, NJ, VT and WA) and are now waiting on their compatriots.