Apparently they've gotten tired of having their racist rants and Nazi slurs removed from Facebook. So they've apparently done a giant shameless rip of FB's code base (or coded their own to look Just Like the Real One, I don't know these things) and created their own through-the-looking-glass social community.


Join the Tea Party Community to connect and share with "We The People" in your life.

If you like FB, you're going to love the Tea Party Community.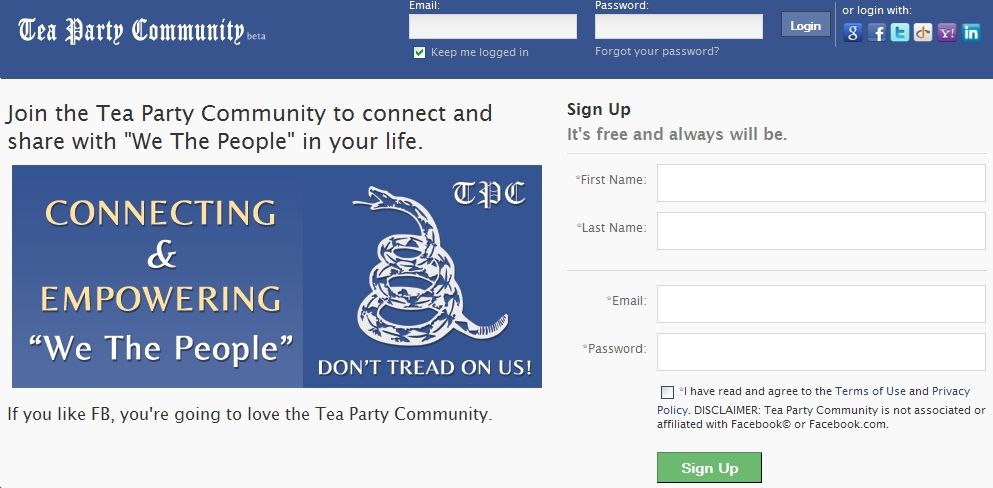 Sure looks like Facebook to me, except for the ripped-off and misused "Don't Tread on Me" sigil.
You probably can't see the screenshot completely. Here's a link to the entire screenshot, in all its Not-Facebook-How-Dare-You?!? glory.
This diary is just a heads-up and a conversation starter. When I get the time, and the stability of stomach, to venture in under an assumed name to check out the new face of teh stoopid, I'll update or comment. Meanwhile, you guys feel more than free to venture into the den of teabagger oafdom and report back, though I'm fairly sure we all know what we'll find.
9:05 AM PT: Comment from a real Facebook posting on the thing:

Coupled with Fox News and Conservapedia, they are indeed well on their way to isolating themselves on Bullshit Mountain.