A couple of weeks ago, during a conversation about vacuum cleaners with a friend of mine, I randomly thought of this story from my childhood. I'm glad I did, too, because it brought a smile to my face and made my friend laugh. Later, I called my mom and reminded her, and we had a good laugh about it. So, as I promised in an earlier TC diary, you will hear about how my family obtained a $3,000 vacuum cleaner.
Yes, those really do exist. Curious? Follow me below the orange dustball that this vacuum cleaner would surely have no trouble picking up.
But First, A Word From Our Sponsor:
Top Comments recognizes the previous day's Top Mojo and strives to promote each day's outstanding comments through nominations made by Kossacks like you. Please send comments (before 9:30pm ET) by email to topcomments@gmail.com or by our KosMail message board. Just click on the Spinning Top™ to make a submission. Look for the Spinning Top™ to pop up in diaries posts around Daily Kos.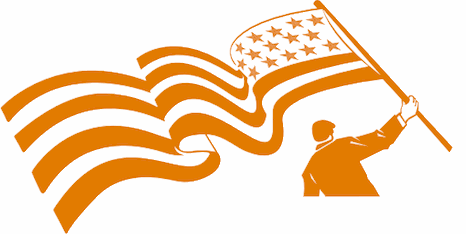 Make sure that you include the direct link to the comment (the URL), which is available by clicking on that comment's date/time. Please let us know your Daily Kos user name if you use email so we can credit you properly. If you send a writeup with the link, we can include that as well. The diarist poster reserves the right to edit all content.
Please come in. You're invited to make yourself at home! Join us beneath the doodle...
It all started when a door-to-door salesman arrived at our house. We lived in the boondocks, so somebody coming to our house and trying to sell us something was kind of a novelty in itself. As you probably guessed, he was selling vacuum cleaners. He asked if he could come inside and show us what he had. My mom said yes, and my dad, who was in the process of trying to get our very old car to work again, came inside for the demonstration.
Now, if you're wondering what made this vacuum cleaner so special, I'm not sure I can tell you. It came in two pieces, though--a long handle leading to the sucker-upper part of the vacuum and a large tank hooked to the sucker-upper by a hose. In the back of the tank, there was a mechanism that emitted pleasant smells. The vacuum cleaner really was quite nice. The vacuum itself had a granite look to it, and it did an amazing job cleaning the floor in the demonstration the salesman gave us. I remember being especially impressed with it, but I was just a small child. I'm sure I'm missing some other features, but rest assured that it was a nice vacuum cleaner. I don't remember what brand it was, but I can still picture that thing in my mind.
My mom was sucked in, no pun intended.
After schmoozing with us, complimenting our dog (who was a cute puppy at the time), and giving us the demonstration, the salesman revealed the price: a mere $3,000.
My dad got up and said, "We're not interested." But my mom, eyeing the vacuum cleaner again, retorted, "I am."
Dad gave her a sort of incredulous look, and then walked outside to work on our car some more, undoubtedly thinking there was no way she was going to actually shell out $3,000 for a vacuum.
Long story short: My mom bought the vacuum cleaner. She arranged to make affordable monthly payments, signed for it, and was the proud owner of a two-piece, granite-colored, fragrance-emitting, three-thousand-dollar vacuum.
Now, I don't really know--even to this day--why exactly my mom bought the vacuum cleaner. I'm from a very frugal, working-class family. We were most definitely not the 1%. But it's important to keep in mind that we didn't have much in the way of luxuries. In fact, other than this ridiculously-priced vacuum cleaner and a (nearly) new car my mom bought after my dad died, I can't think of anything really, truly nice that Mom indulged in. She sacrificed a whole lot, worked long hours at a clothing factory, and did not have much, materially speaking, to show for it. This was one time when she decided to splurge and buy a luxury for herself. And I'll defend her--after all she'd done for our family, she deserved a $3,000 vacuum cleaner if that's what she wanted.
My dad, on the other hand, was not happy. He exclaimed, "I could've bought another car with that money!" And it's true. But my mom was content with her new vacuum cleaner.
For a while. The funny part of the story is that, after using it for a while, Mom realized that pulling a tank around the house isn't that easy. After just a short period of use, she went back to using her old vacuum cleaner. For the rest of my childhood and teenage years, that $3,000 vacuum cleaner sat in my parents' bedroom, unused. My mom continued to make payments.
After Dad died and Mom decided to sell the house and move to an apartment in the nearest city, we sold the vacuum cleaner at a yard sale. For $20.
It's a good thing we waited until Dad was gone. Although, when we sold it, I was pretty sure I heard him shouting at us from the grave about how he could have bought a car with that $2,980 we lost.
TOP COMMENTS
February 8, 2013
Thanks to tonight's Top Comments contributors! Let us hear from YOU
when you find that proficient comment.
From Steveningen:

In my diary Rubio finally sells out Tea Party while Rove oinks, mrsgoo nails what the Tea Party has become.

Also, I would like to nominate all of the comments found in commonmass's diary announcing the death of his husband Terun Sabre Weed aka GreenMountainBoy02. The outpouring of community support is so genuine and real, and is surely a much need comfort to commonmass at this time.
From BeninSC:

Ginny in CO wrote a comment supportive of first responders, but I am recommending it for its overall thoughtfulness, and appreciation for community over divisiveness.

And this comment, by commonmass, I recommend because I believe with every fiber of my being in its deep truth and reality. Sadly, it will be out of recommendability by the time tonight's diary posts, but I am submitting it anyway, with love for commonmass and his beloved.
TOP PHOTOS
February 7, 2013
Enjoy jotter's wonderful PictureQuilt™ below. Just click on the picture and it will magically take you to the comment that features that photo. Have fun, Kossacks!