Overnight News Digest, aka OND, is a community feature here at Daily Kos. Each editor selects news stories on a wide range of topics.
The OND community was founded by Magnifico.


National News

Panetta notifies Congress of Pentagon plan to furlough civilians

By David Alexander

Defense Secretary Leon Panetta formally notified Congress on Wednesday that the Pentagon plans to put civilian defense employees on unpaid leave this year if $46 billion in across-the-board U.S. government spending cuts take effect on March 1.

The announcement of congressional notification begins a 45-day process that could ultimately lead to 22 days of unpaid leave for most of the department's 800,000 civilian employees around the globe.

In a letter released by House of Representatives Speaker John Boehner, Panetta said the furloughs would be "disruptive and damaging" to the Pentagon's defense mission, but there were no "viable alternatives" to reduce spending if the budget cuts occur.


Ohio woman claims in lawsuit she was fired for voting for Obama
By Steve Frank

Voter suppression may have taken a turn for the worse in Ohio.

Patricia Kunkle of Kettering says she was fired from her job at Q-Mark, Inc three days after the November election because she voted for President Barack Obama.

Kunkle has filed suit in Montgomery County Common Pleas Court seeking damages starting at $25,000. She alleges that company President Roberta "Bobbie" Gentile told employees last year that Obama supporters would be the first to be terminated if the president was re-elected.


Cash-Strapped Postal Service To Launch A New Clothing Line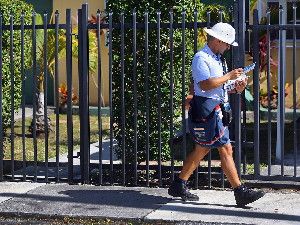 by Elise Hu

The U.S. Postal Service is getting creative in its search for new revenue after last year's $15.9 billion budget shortfall. The agency says it will debut a new clothing and accessories line called Rain Heat & Snow, inspired by its unofficial motto: "Neither snow nor rain nor heat nor gloom of night stay these couriers from the swift completion of their appointed rounds."

The line will not feature the navy blue shorts, safari hats and other uniform staples of your mail carrier. Sportswear and outerwear under the Rain Heat & Snow label will "have electronic wiring and capabilities that will allow people to plug in iPods and hear music while they're walking, jogging," said agency spokesman Roy Betts.

The licensing agreement with Cleveland-based Wahconah Group comes on the heels of an announcement that the Postal Service will soon stop Saturday mail delivery, a move that's estimated to save $2 billion a year.

This isn't the agency's first foray into retail. According to the Washington Post, the Postal Service introduced "a limited retail line in the 1980s that included items such as T-shirts, mugs and neckties, all sold exclusively in post offices."

It was discontinued.


How Could The U.S. Respond To Chinese Hacking?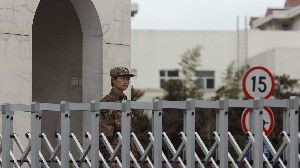 by Scott Neuman

If the Chinese military is regularly hacking into the computers of U.S. organizations, as an American security firm says, it raises all sorts of questions about how the U.S. should respond.

Is this a job for the military or the intelligence agencies? What role should diplomats and trade officials be playing?

The report issued this week by the IT security consultancy Mandiant says it has traced the hacking activity to the People's Liberation Army's Unit 61398, which has "systematically stolen hundreds of terabytes of data from at least 141 organizations."

As NPR's Frank Langfitt reported, Unit 61398 is headquartered in a nondescript neighborhood in Shanghai's sprawling Pudong district.

The Chinese government has strongly denied the report, but in the U.S., there's been a widespread belief for years that the Chinese have been deeply involved in computer hacking.


BP faces civil trial over gulf oil spill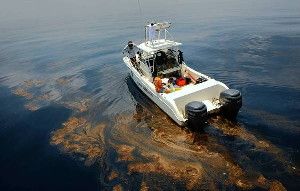 By Julie Cart, Los Angeles Times

With the ink barely dry on the record-breaking $4-billion check BP wrote to settle criminal charges stemming from its Gulf of Mexico oil spill disaster, the energy giant now faces a protracted court battle that could cost it billions more.

The civil trial scheduled to begin next week could expose BP to about $17 billion in fines for violating the Clean Water Act. If imposed, the fine would be the largest environmental penalty in U.S. history.

The first phase of the nonjury trial will focus on the cause of the April 20, 2010, explosion that killed 11 people and spewed an estimated 4 million barrels of oil into the gulf over 84 days.

Federal District Court Judge Carl Barbier in New Orleans will decide whether BP's actions on the drilling rig were negligent — as has already been determined in the criminal case — or grossly negligent, which could force the company to pay significantly higher fines.

International News

Antarctic Penguin Turns Up In New Zealand; Vets Say Condition 'Touch And Go'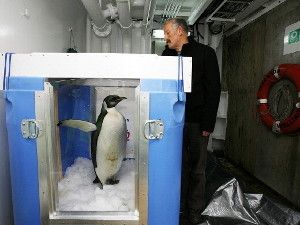 by Scott Neuman

New Zealand seems to be the destination of choice for wayward Antarctic penguins.

The BBC reports that a Royal penguin was found Sunday washed ashore on a beach in New Zealand, where another penguin, a three-year-old emperor dubbed "Happy Feet," turned up in June 2011. Months later, Happy Feet was released, ostensibly destined for a return to his homeland. Sadly though, he is believed to have been eaten, possibly by a shark, sometime after his release into the Southern Ocean.

Veterinarians say the latest arrival, "Happy Feet, Jr.," is being cared for at a Wellington Zoo. Scientists there believe the "young male" may have departed about a year ago from a breeding colony on Macquarie Island, more than 1,200 miles away, and drifting been around since then.

The BBC quotes Lisa Argilla, a vet at the zoo, as saying the flightless aquatic bird had possibly struggled to find enough food and come ashore to go through his seasonal molting.


Defense questions investigation in Pistorius case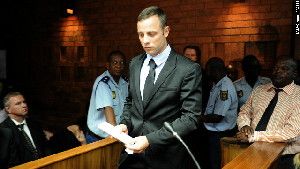 By Diane McCarthy, Michael Pearson and Ed Payne

Pretoria, South Africa (CNN) -- Sounds of arguing for an hour before the shooting. Blood stains on a cell phone and cricket bat. Boxes of testosterone and needles.

The shape of prosecutors' case against Oscar Pistorius began to come into focus Wednesday as they argued the Olympian charged with killing his girlfriend, model Reeva Steenkamp, should be denied bail because he might disappear if released from jail.

But the Olympic sprinter's defense team battled back, questioning the quality of the police investigation.

The bail hearing ended Wednesday with no decision. Final arguments are scheduled for Thursday morning.

And all Steenkamp's family wants is the truth, her half-brother Adam told CNN's Jake Tapper on Wednesday.


Amusement Park Planned In The Town Where Bin Laden Hid Out
by Jackie Northam

Developers in Pakistan will soon break ground on a new amusement park and outdoor activity center, a private, $30 million project billed as a state-of-the-art facility that will bring jobs to a hard-hit area.

But there's one issue that's raising some eyebrows: the site is in Abbottabad, not far from the place where Osama Bin Laden secretly lived until American forces killed him.

This does not trouble Sheikh Kaleemuddin, the project director, who is effusive about the picturesque spot where he plans to build.

A narrow, fast-moving creek courses over a bed of flat stones running through a steep valley in the foothill of the Himalayas. On each side are pine-covered hills, filling the air with the trees' fragrance.

"It's a beautiful area," he says. "You won't get such a beautiful landscape around anywhere in the world where the water is there, the mountains are there, the trees are there, the natural wildlife is there."


Pope may change conclave rules before leaving: Vatican
Philip Pullella

VATICAN CITY (Reuters) - Pope Benedict may change rules governing the conclave that will secretly elect his successor, a move that could move up the global meeting of cardinals who are already in touch about who could best lead Catholics through a period of crisis.

The Vatican appears to be aiming to have a new pope elected and then formally installed before Palm Sunday on March 24 so he can preside at Holy Week services leading to Easter.

The rule changes could mean that the conclave in the Sistine Chapel, where cardinals will choose the next leader of the 1.2 billion member Roman Catholic Church, might be able to start before March 15, which is currently the earliest it can begin.

Father Federico Lombardi, the Vatican spokesman, said on Wednesday that Benedict, who will lose all power when he abdicates on February 28, was considering issuing a "Motu Proprio," a personal document which has the force of Church law and addresses a specific need.


In hard-hit Spain, bartering becomes means of getting by
Meritxell Mir

BARCELONA — With two small children and no income for the past two years, Antonio Delgado, 44, says things were so bad he had considered taking his life.

Then a few months ago, Delgado found out about a group that rents small parcels of farmland cheap near his town of La Rinconada in southern Spain. Now he' s bringing home boxes of tomatoes, onions, peppers, lettuce, zucchinis and pumpkins. But he is not selling them.

Delgado and others are bartering, or trading, their way through a recession that has lasted years and left more than a quarter of the workforce unemployed. Tens of thousands of households have no wage earners, but they have skills and time on their hands to do work that can be traded for things they need but have no money to buy.

"I had no clue about agriculture," Delgado said. "But this has changed my life."