Hope you all will forgive me for being a bit "rusty" at this diary business. It's been a long time and I've had a lot of time trying to think of how I wanted to approach it.
Ok, I've brushed off the car (2-3 inches of snow last night - jeez, hope the weather is better wherever you are), I've got my extra large cup of Tim Horton's coffee, the suburban patio birds have seed in their feeders - so let's get this morning started with one of my favorite "birders" youtube videos.

Now let's celebrate Birders, birding and the birds that watch us!
I know I haven't been around much the past couple of years. While I might not have been spending much weekend time on the computer, I have been "out in the field" and spending more time with local birders, learning more about and exploring my local birding areas.


No matter what - we are always guaranteed very friendly, visiting Black-capped Chickadees! - Wyoming County, WNY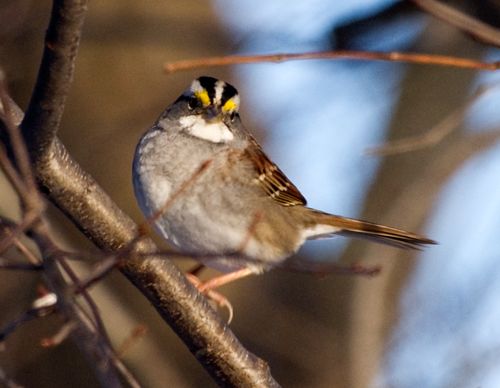 And the back brush area is always a great place to find White-throated Sparrows in the fall and spring
Backyard birding is great when the weather is lousy. But this time of year I'm getting "cabin fever" and starting to plan on where I want to go when the weather breaks. Lucky for me, I'm close to a couple IBAs (Important Bird Areas) There are also birding groups in the area that offer field trips and opportunities to participate in species counts throughout the year.


Short-eared Owl - Bethany NY, March 2012
Normally I'm not much for joining groups, but in the past few years I have been meeting fellow birders either through one of our local listservs (I found a really wonderful North American listing here) or by running into them while looking for birds.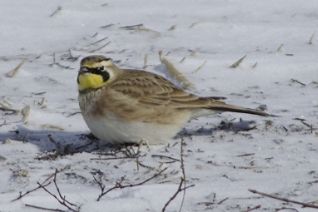 Horned Lark - Somewhere in Genesee County NY - February 2013
Not all bird outings turn out as planned, but there is always something unusual or surprising! Unfortunately I don't have the photo of the Great Horned Owl trying to grab a duck out of a creek a couple weeks ago, still it was a great moment to share with the older gentleman who has been mentoring me the past year :)


Northern Shrike - Wyoming County NY February 2011
Bird watching is no longer just a hobby for me. Last spring I took an Ornithology course at the college where I work. I'm volunteering to assist on more BOS (Buffalo Ornithological Society) counts in areas that have been neglected in past years.


Northern Harrier - Christmas Bird Count 2012
Data compiled by individuals and groups all over the country is becoming more valuable in studying the effects of global warning and changes in habitat. Currently Cornell Lab of Ornithology is expanding and promoting eBird to all who watch birds. Even submitting typical backyard birds is important as it will help show shifts in species populations over time. My New Year's resolution has been to be more proactive about submitting my daily counts.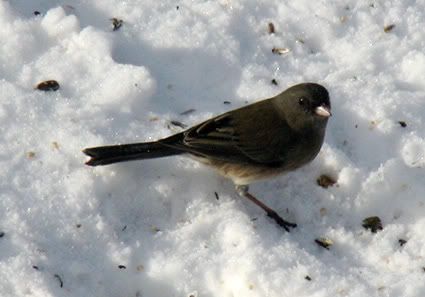 We've been seeing more Dark-eyed Juncos nesting in our area over the years.


And our region saw some of the largest numbers of Northern Cardinals for the area in this year's Christmas Bird Count!
Soon winter will be over. No more birding from a truck or car! The birds that spent the season with us here in WNY will be leaving to heading north to their breeding grounds.


American Tree Sparrow - spent the winter in our backyard, but soon heading to nest in the Canadian Tundra


And the few Snowy Owls that showed up this year will be leaving too
Soon the Eastern Bluebirds and Tree Swallows will be back, checking out nestboxes and flying all over the yard :) We will be out counting in the fields, woods, ponds, and marshes.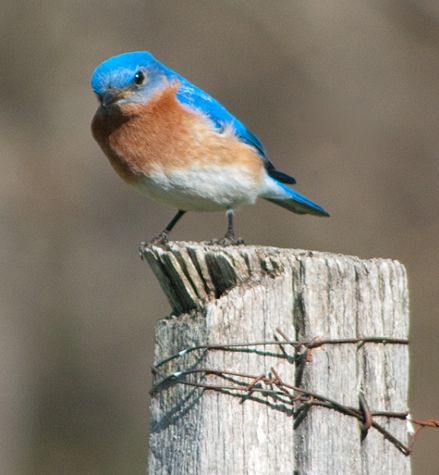 Another season of surprises, another season of young fledglings :) I'm so blessed to have fellow birders in my life that are willing to share their knowledge, and in turn I'm able to pass it on to those I meet along the way.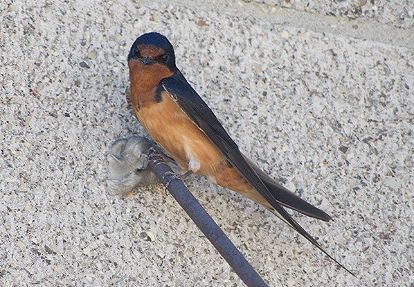 Barn Swallow at UB South Campus - Buffalo NY, August 2012


Young Cooper's Hawk - Wyoming County NY, August 2012
And to close - another YouTube clip. If people find out you're a "birder" then you will have heard at least some (if not all) of what is here :)
Happy Sunday Everyone! Now get out there, keep your eyes on the skies, spend a day with a "seasoned" birder, take a new birder out on a hike, share your binoculars or spotting scope with a stranger - celebrate being a birder!