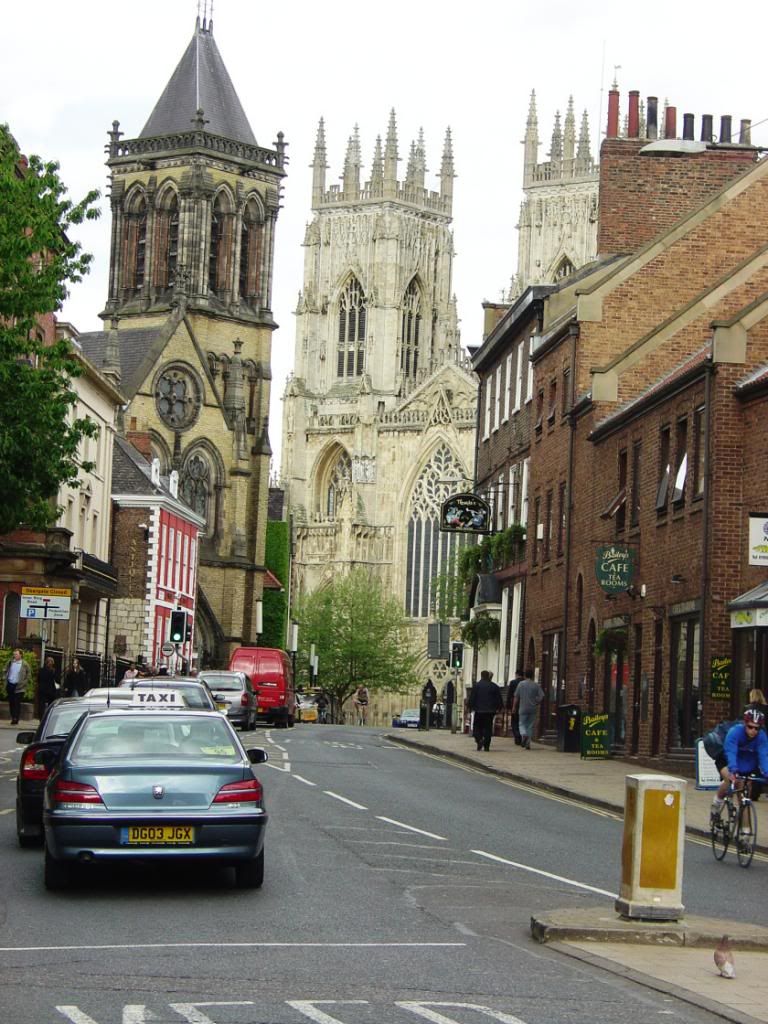 York – Jorvik – Eoforwic – Eboracum
Call it what you will, this city at the confluence of the Fosse and Ouse rivers has been a major settlement for more than a thousand years. The change in name reflects the transition from Roman to Anglo-Saxon to Viking rule. Many of the street names (as with Friargate in the city of Derby) end in '….gate'; this is a corruption of the Viking 'gatta' or 'street'.
York is a glorious patchwork of historical buildings, as well as other interesting sites. Here we are looking down Museum Street, and its continuation Duncombe Place, in the direction of that jewel of churches, York Minster. Although a simple wooden structure was erected on the site in 627, the present Minster was begun in 1220, and not finally finished and consecrated until 1472. The Minster has suffered greatly over the centuries with major fires, the collapse of the original central tower, and damage during the English Civil War period. There is a constant battle against the elements and the ravages of time to keep the fabric of this superb example of the Gothic style in good repair. The two bell-towers you can see at the western end of the church dominate the York skyline and the flat Plain of York which surrounds the city.
The large church on the left is St Wilfrid's, a Catholic church begun in 1862, and is in the Gothic Revival style. The 147 foot high bell tower of St Wilfrid's is dominated by its larger neighbour to the east.
On the right hand side of Museum Street, we pass, in some respects, from the sacred to the profane. Thomas's Bar has seen better times. It has had a jukebox/not had a jukebox; had 'real ale'/not had 'real ale', and one of the companies that owned it went out of business. Now, this once popular bar (in a University and tourist-driven city) has a chance to flourish again, under new ownership.